'Shootouts' with Law Enforcers: Nine killed in a single day
All were 'drug peddlers'; rights activists back tough stance against narcotics but worried at sudden surge in so-called gunfights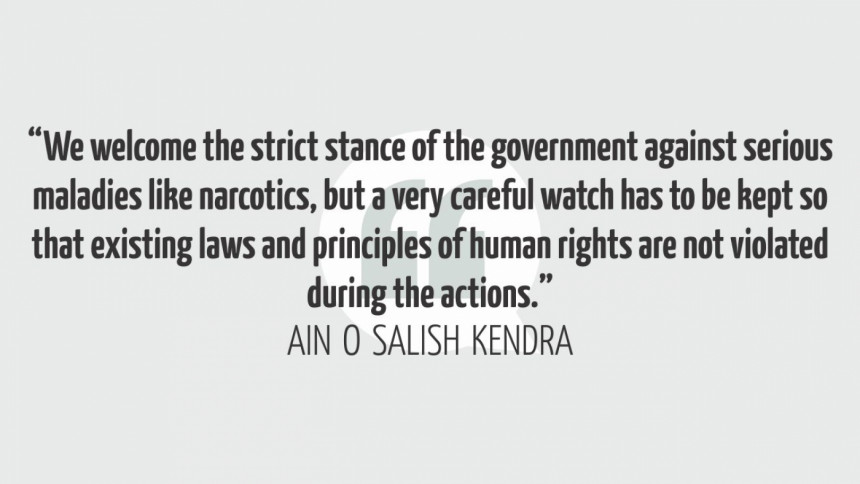 The tally of alleged drug peddlers killed in "shootouts" stood at 22 in the last one week with nine of them shot to death yesterday alone amid anti-narcotic drives of law enforcers across the country.
The incidents made rights activists and former top police officials worried as they believe killings cannot be the way of tackling the drug menace that has gripped every strata of the society.
Yesterday, six people were killed in "gunfights" with law enforcers during raids in five districts while three others were shot dead in Jessore due to "internal feud of their racket", officials said. 
Family members and neighbours of at least four of the dead, including the three in Jessore, alleged that they were picked up by plainclothes officials hours before they died. 
Police and Rab, however, claim that all the 22 had involvement in drug trade and some of them were named in drug cases filed with various police stations. They also say narcotics and weapons were recovered during the raids.
All the incidents took place at dead of night and none of the deceased was big fish. Those known in their areas as yaba godfathers remained untouched, reported our correspondents from different districts.
Addressing a programme in the capital, noted rights activist Sultana Kamal demanded a fair investigation into each of the killings and said, "We need to know whether firearms have been misused.
"There are laws in the country to try criminals … However notorious the criminals are, the state will formulate some rules and justice has to be done as per those rules."
Talking to The Daily Star, former inspector general of police Muhammad Nurul Huda said killing drug peddlers in the name of "shootout" can partly solve the drug problem. 
"It [shootout] can't be the only strategy. Law enforcers have to take other measures including intelligence gathering, filing of cases, arrest of patrons and detection of sources [of the drugs]," he added. 
"The drug traders have firearms. They are dangerous people and they have to be arrested. Some of them may get killed during face-off with law enforcers but the raid has to be continued. But if those killed turned out to be innocent, that's a different issue."
The main goal has to be bringing drug traders to book, he added.  
Jyotirmoy Barua, Supreme Court lawyer working on human rights, said, "Law enforcers are carrying out executions themselves and it seems they don't have any faith in the existing judiciary.
"It's not acceptable at all."
Apart from international covenants, the constitution of the country does not permit any extra-judicial killing, said Jyotirmoy.
Rights body Ain o Salish Kendra (ASK) expressed deep concerns over the death of a number of people in "shootouts" involving police and Rab. 
"We welcome the strict stance of the government against serious maladies like narcotics, but a very careful watch has to be kept so that existing laws and principles of human rights are not violated during the actions. We want the law enforcement agencies be given directives accordingly," it said in a press statement.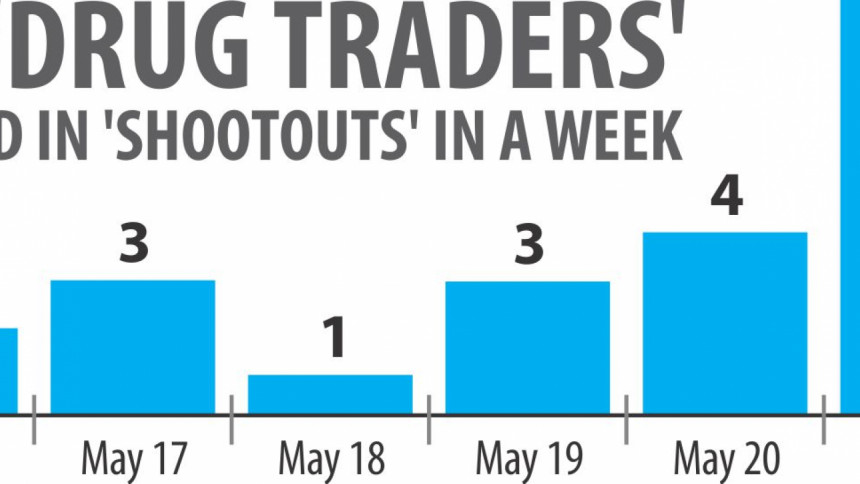 ASK believes a person should be given punishment following proper legal procedures no matter what his or her crime is. Otherwise, the society will deviate from the rule of law and there will be anarchy. 
It added, "Local and international human rights organisations have long been expressing concerns over such [extrajudicial] killings."
Another rights activist, Nur Khan Liton, said question is being raised among the public whether the killings of petty drug peddlers in the name of "gunfights" are in fact saving big fishes because vital information is getting lost with their death.
He also said drug problems cannot be contained by such drives. He referred to instances of Thailand where spread of yaba could not be controlled even after killings of yaba traders.
In 2003, Thai government declared a war on drug as yaba was having a devastating impact on the society. Some 3,000 suspected drug peddlers were killed in three months and the jails were overflowing with mass arrests. The invasion of yaba stopped for a short time and then it came back with the same force.
Nur Khan also said during any drive, an important duty of law enforcers is to ensure security of life and property. But people are being killed in "crossfire" one after another. 
Even it is not known whether they are really criminals, he said, adding that in the election year this would create a fear among people and hamper activities to hold free and fair polls.  
On May 4, Rab started its own anti-narcotics operations while the Police Headquarters recently instructed all police units across the country to conduct a special 10-day drive form the first day of Ramadan, officials said.
Rab yesterday arrested 44 persons for alleged involvement in drug trade. Its mobile courts jailed 75 people to different terms and fined 15 others.
During their drives, the elite force seized over 52,000 pieces of yaba, 218 bottles of Phensedyl. Details of arrest and seizure made by police could not be known immediately.
THE 'SHOOTOUTS'
The "gunfights" that led to death of nine people yesterday took place in Jessore, Rajshahi, Chuadanga, Jhenidah, Narsingdi, Gazipur and Tangail.
Three alleged drug traders were killed in two "internal feuds" in Jessore Sadar upazila's Shekhati and Kholadanga, according to police. Their family members, however, alleged plainclothes men picked them up from their respective houses early Sunday.
The deceased were identified as Sirajul Islam and Muttajul Morol of Sharsha and Shafiqul Islam Shafi of Chowgachha. 
Sirajul's son Ripon Hossain said his father was a farmer by profession and was picked up by six to seven plainclothes men, who identified themselves as police, from their houses.
Talking to The Daily Star, Mottajul's elder brother Sohrab Hossain and Shafi's brother Shukur Ali gave similar accounts.
The man who was killed in a "gunfight" with Rab in Puthia of Rajshahi was identified as Liakat Ali Mondol, 45, son of freedom fighter Zakkar Ali Mondol, of Namajgram village in the upazila.
The incident took place early yesterday after a Rab team went to a mango orchard at Jamira village for an anti-drug drive, says a Rab press release.
Liakat was accused in 11 cases of drug peddling, smuggling and extortion by kidnapping, it added.
Rab members claimed to have seized 823 pieces of yaba, a pistol, with two bullets from the spot.
Liakat's daughter Sharmin Akhter Hashi said his father had been missing since Sunday afternoon when two persons, Feroz and Momin, who identified themselves as Rab members, took him away from home.
Liakat's wife Neher Banu said he was earlier engaged in drug trade but quit it early this year and started raising cattle. She filed a general diary with Puthia Police Station stating that he went missing, she said.
In Chuadanga, alleged drug trader Janab Ali, 32, was killed in a "gunfight" with police at Uthli village under Jibonnagar upazila, said Mahmud Rahman, officer-in-charge of Jibonnagar Police Station.
Janab was reportedly accused in at least 11 drug cases. Police claimed to have recovered a shotgun, 70 bottles of Phensedyl from the spot.
The man who was killed in Kaliganj upazila of Jhenidah in similar incident involving Rab was identified as Sabdul Mondol, 42, son of Mohammad Ali Mondol of Narendrapur village.
The elite force recovered a 9mm pistol, two bullets, 100 bottles of Phensedyl, 150 pieces of yaba from there, said Golam Morshed, a company commander of Rab-6.
Officials said the gunfight that left Sabdul dead ensued when a Rab team was signalled to stop a motorcycle on information that a consignment of drug would pass through the area around 1:30am.
Abdul Mannan, a neighbour, however, said some plainclothes men picked Sabdul around 5:00pm on Sunday when he and Sabdul were working in their crop fields.  
According to some villagers, Sabdul was involved in drug trade for around 15 years. Recently, he had signed a bond promising Rab that he would leave the illicit business but still continued it.
In Narsingdi, alleged drug dealer Iman Ali, 34, was killed in "gunfight" with Rab in Palash upazila of the district.
Iman, an inhabitant of Nagarkandi village of Narsingdi Sadar upazila, is a top drug trader who was accused 11 cases for drug, murder and arms, said Jashim Uddin, a company commander of Rab-11.
The Rab official claimed Iman's mother Mamataz Begum alias Buri Mamataz is also involved in drug dealing.
In Gazipur, an alleged drug dealer, Rezaul Karim, was killed in "shootout" involving police in Tongi's Nimtoli, said Kamal Hossain, officer-in-charge of Tongi Police Station. Rezaul is accused in at least 14 cases, mostly for drug.  
In Tangail's Ghatail, suspected drug dealer Kalam Azad was killed after being shot during a "gunfight" between his gang and Rab men, officials said.
[Our Jhenidah, Benapole, Gazipur, Brahmanbaria and Kushtia correspondent contributed to the story.]