Shine, always
Top achievers in the O- & A- Level exams rejoice as The Daily Star awards them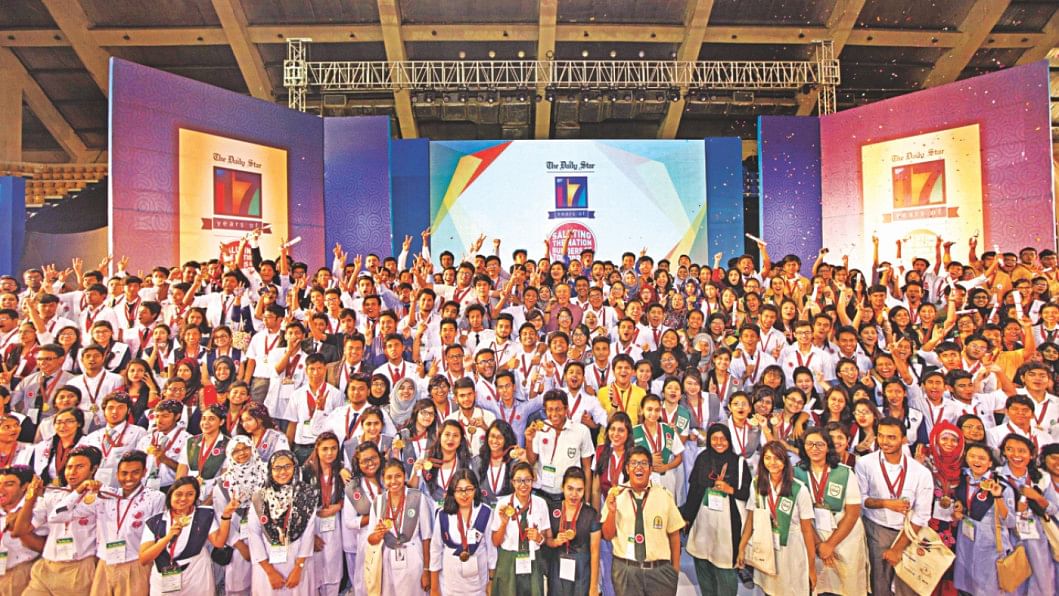 It was of course a celebration of success and brilliance.
But what came up prominently throughout the programme, organised to honour the O- and A-level achievers of the country, was love and respect for the motherland and those who laid down their lives for its birth.
While personal achievements are important, someone cannot really take pride in those unless they use the successes for the betterment of their country and its people, a message that rang through the Shaheed Suhrawardy National Indoor Stadium in Mirpur yesterday.
"When you will grow up and do many great things, remember that Bangladesh is your country," Prof Muhammed Zafar Iqbal said to some 2,000 students and several thousand guardians and teachers at The Daily Star 17th O- & A-Level Awards Presentation Ceremony.
"I love my mother not because she is very beautiful, educated and smart, but because she is my mother.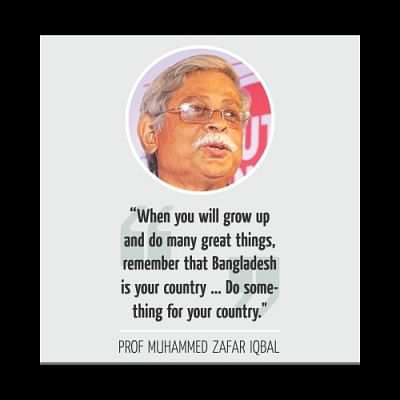 "You love Bangladesh not because it is the richest or the greatest country, but because it is your motherland," said the renowned educationist and litterateur, referring to those who embraced martyrdom in the struggle to liberate Bangladesh.
"Remember the country. Do something for your country," Zafar Iqbal said in his moving speech that set the tone of the ceremony to salute the nation builders of tomorrow.
A total of 1,915 students from 85 schools across the country received the award this year. Of them, 73 secured the highest marks in different subjects in the world and 132 in the country.
Certificates and medals were conferred on eight students who got the highest five A*s in the A-level.
They are Dibyatanoy Bhattacharjee of Chittagong Grammar School; Anika Faizah Jalil, Mashiyat Mayisha Ahmad and Shikhor Shams Wahed -- all from Scholastica; Maitraee Mistry of SFX Green Herald International School; Noorin Suhaila Asjad of Sunnydale; Shajedul Haque Thakur of Willes Little Flower School & College; and Mayisha Mahdiya Sultana of Techno-Cider International School.
With 11 A*s in one seating, Taaseen Rahman of International Turkish Hope School received special recognition in the O-level category.
The programme began with the national anthem.
The Daily Star Editor and Publisher Mahfuz Anam welcomed the guests shortly before introducing six iconic personalities of Bangladesh -- weightlifter Mabia Akter Simanta, swimmer Mahfuza Khatun Shila, Under-14 female footballers Krishna Rani Sarkar and Marzia Akter, Under-19 cricketer Mehedi Hasan Miraz, and Korvi Rakshand Dhrubo, founder of Jaago Foundation.
Zafar Iqbal then stepped onto the podium and began his electrifying speech that covered from ways to enhance one's intellectual abilities to the pleasure derived from helping others.
"Albert Einstein's brain was just like that of the others when he was born," he said.
But, Einstein used to think so hard and so deeply that his brain cells became more active than others'.
"If he can do that, you too can improve your brain. Don't be happy with what you have," said Zafar Iqbal, also a popular science fiction writer.
"If you do things for others, it is exciting. If you don't do that, you will be just like anyone else," said Prof Zafar Iqbal, who used to teach computer engineering at a US university, but later returned to his motherland.
In the meantime, students of BAF Shaheen English Medium School staged a dazzling performance depicting how farmers plant seeds, harvest crops and celebrate the Nabanno (harvesting) festival.
More such brilliant performances by Mastermind English Medium School, Bangladesh International Tutorial, ABC International School and Scholastica followed amid distribution of certificates and medals and speeches by distinguished guests.
Prof Omar Rahman, vice chancellor of Independent University of Bangladesh (IUB), said the students present at the ceremony were more privileged than most others in the country.
"You will enjoy your life amid more comfort, wealth and opportunity than the vast majority of people of this country. These privileges must come with accountability and responsibility."
He also encouraged the students to pursue their dreams at all costs.
"You need to further question and refine your goals. Take a chance. Step out of the box."
Zara Jabeen Mahbub, head of communications & service quality at BRAC Bank Ltd, shared how she pursued higher education despite study gaps due to familial reasons.
"Everything in life will not be ready for you. Therefore, what is needed is making the best decision based on the realities," she told the students.
Joshua Yap, associate dean (admission, recruitment & marketing) at the faculty of science of the University of Nottingham, Malaysia campus, said students need to strive for excellence.
"Keep up the energy. Generate energy … not only for yourself, but for your family and the society."
Saidur Rahman, country manager of Pearson Edexcel Bangladesh, hoped that the students would be able to pursue higher education in the top class universities of the world.
Ravi Chandran, country director of the IDP, a student consultancy firm, wished bright future for the students. "What could be more inspiring than the iconic figures present in front of you today?."
In his speech, Mahfuz Anam hoped that Bangladesh would lift the Asia Cup trophy this year, and said there should be efforts to make the country champion in every field.
Congratulating the outstanding achievers, he said, "Unless your country and people are respected, your personal achievement is half-done."
He also stressed the need for practising religious tolerance.
"You must teach your children to respect religions of others and differing views," Mahfuz Anam urged the parents.
The organising partners of this year's ceremony included BRAC Bank and Independent University of Bangladesh with Edexcel, IDP and University of Nottingham as associate partners. Channel i was the broadcast partner of the event.
A GREAT INSPIRATION
Md Shajedul Hoque Thakur, one of the highest A-level achievers, said, "The award is obviously a big deal for me. It reminds me that I've studied a lot, but it is also a reminder of my responsibility to the society as a nation builder."
Shajedul took the exams in June last year and earned A's in Physics, Chemistry, Mathematics, Further Mathematics and Accounting.
Md Mahmudul Basher, whose son Raiyan Basher obtained the world's highest marks in Mathematics and Further Mathematics in the O-level last year, recalled how The Daily Star award had inspired his son.
"He studied targeting The Daily Star award. He used to say that he must achieve it," said the proud father.