Barcelona, the jewel in Catalan independence crown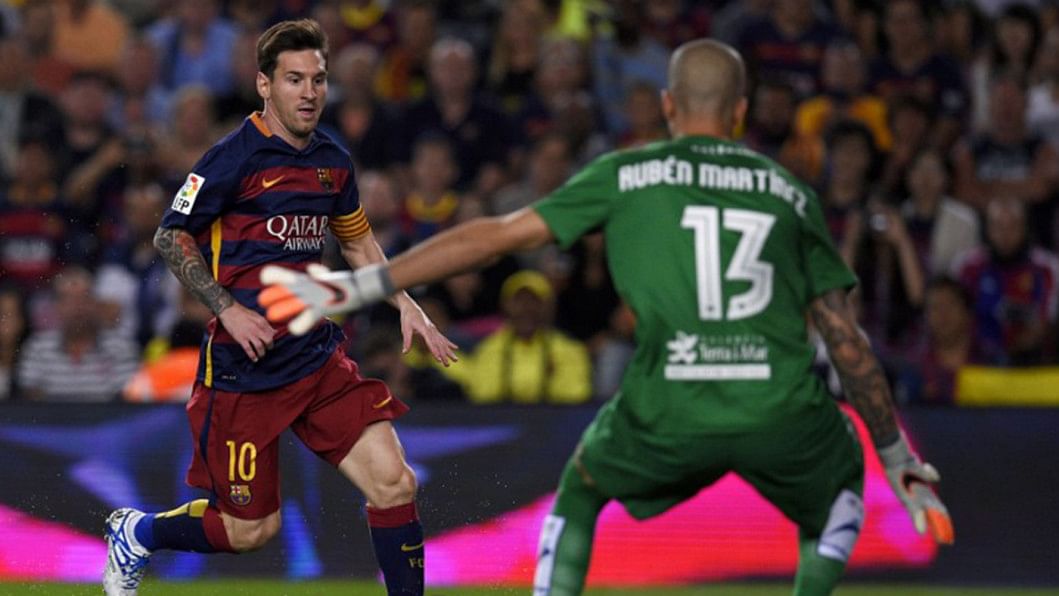 Catalonia may not be a state, but it can count on a small and symbolic red and blue army in the form of European football champions Barcelona.
Despite their international projection, Barca remain a banner for Catalan nationalists who are now seeking independence from Spain.
Although the club has preferred not to be involved in regional elections on Sunday that could launch a process towards secession from Spain, the electoral campaign could have serious ramifications for it.
If Catalonia becomes independent, Barca wouldn't be able to play in the Spanish league, the president of the league warned this week.
That poses a dilemma for the Barca fanbase who convert the club's 99,000-capacity Camp Nou stadium into a yellow, red and blue mosaic of pro-independence flags every weekend and where chants for independence are heard more than the name of their idol, the Argentine Lionel Messi.
In recent Spanish Cup finals, Barca fans have greeted the Spanish national anthem with a storm of boos and whistles, the last of which in May at the Camp Nou saw the club fined 66,000 euros ($74,000).
As a placard permanently hung at one end of the stadium reads: "Catalonia is not Spain."
- 'Unarmed Catalan army' -
Spanish writer and columnist Manuel Vazquez Montalban defined Barca as a "symbolic and unarmed Catalan army," especially during the dictatorship of General Francisco Franco between 1939 and 1975 which repressed the Catalan language and nationalism.
"The club was a bastion of freedom. People could speak in Catalan in public without fear and even listen to songs in Catalan," says historian Carles Santacana, who points out that in 1918 the club demanded that Catalonia be self-governed.
This political function of Barcelona, which softened during the first decades of democracy post-Franco, began to take shape once more during the 2003-2010 mandate of Joan Laporta as the club's president, which coincided with a pro-independence boom in the region.
In 2014 the club joined a group of institutions that demanded an independence referendum and has lent its stadium on various occasions to secessionist events. Two years ago, Barca's away strip bore the red and yellow colours of the Catalan flag.
"Currently, there is a coup within Barca. There is an ideological kidnap of the club that has allowed pro-independence leanings into its offices," said Ramon Miravitllas, journalist and writer of the book "The Political Function of Barcelona".
"But there is a significant group of fans who don't want independence and now feel out of place and deserted."
- Politics in the dressing room -
Politics has reached the dressing room. Various players have publicly supported the celebration of a referendum in the region, such as club legend Xavi Hernandez, who now plays for Qatari side Al Sadd, and central defender Gerard Pique who attended a huge independence march on September 11 in Barcelona.
"There is a very big movement and it ought to be listened to," said Pique, who has recently been booed by his own fans when playing for Spain.
Pep Guardiola, Barca's most successful ever coach, is making a symbolic stand for election for the independence coalition "Together For Yes", which leads in the polls.
Ahead of the elections, the club has decided to remain officially neutral.
"Barca has shown it is outside the electoral campaign. We have always spoken about sport, we will not campaign," club president Josep Maria Bartomeu said last Sunday.
Amid countless warnings from Madrid against independence, the president of the Spanish league, Javier Tebas, said: "Catalan teams could not take part in any competition in Spain unless they stayed in Spain."
If that happened, Spain's sports secretary Miguel Cardenal said, Barca may struggle to "reach the last 16 or quarter-finals of the Champions League."