Madness for money a disease
PM says at AL's Dhaka city council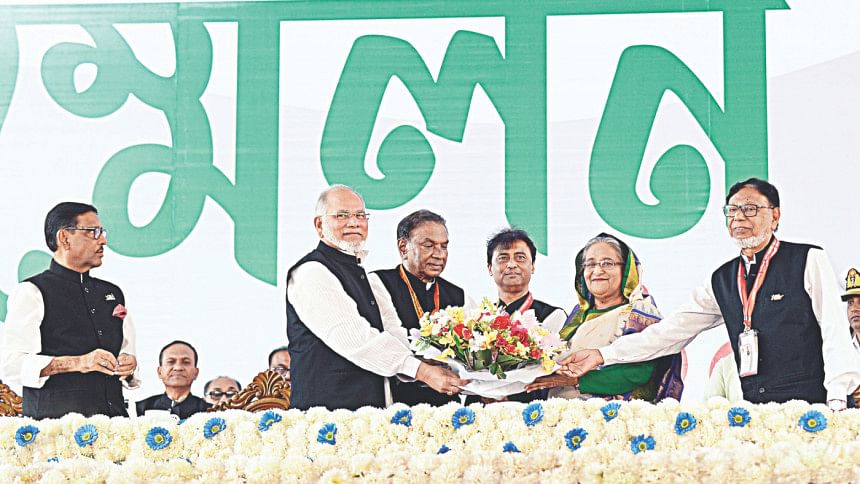 Terming the trend of making money illegally "a disease", Prime Minister Sheikh Hasina yesterday warned that her government would not allow anybody to lead a lavish life with stolen money.
"Someone will lead a luxurious life with the illegally-earned money, while someone will suffer from hardships by leading an honest and simple life -- it cannot be tolerated," she told the inaugural function of the triennial council of Dhaka North and South City units of Bangladesh Awami League at the historic Suhrawardy Udyan.
Hasina, also the president of the AL, reaffirmed to continue her government's ongoing drive against corruption, saying that the hard-earned money of the people will be spent for their welfare.
"Those who make money illegally always think about the stolen money. Actually, it's a disease … those, who once made money illegally, only wish to do the same. But those who earn money in the honest way could sleep in peace," she said.
The AL president said the children of those who earn money illegally go down to the wrong path, their studies are destroyed and they get addicted to drugs due to that money.
"The parents of these children have no time to look after their sons and daughters. They've no attention to the fact that their family is ruining … they're continuing to run after money," she said.
While talking about the BNP's demand for release of its chairperson, the PM said the case for which Khaleda Zia is serving jail is a corruption case, not a political one. 
"The case was filed against BNP Chairperson Khaleda Zia for embezzling the orphans' money and she is now in jail after being convicted in that case," she said.
"Begum Khaleda Zia and her two sons had indulged in bribery and graft and it was disclosed in the FBI investigation, not only in our probe," she said.
Referring to the BNP-Jamaat mayhem in 2013, 2014 and 2015 in the name of movement, Hasina said they killed people and destroyed buses, trucks launches, rails, CNG-run auto-rickshaws and public and private property through arson at that time.
The PM said the country had earned independence in exchange for blood of millions of martyrs. "So our work is to change the lot of the people and develop the country and we're continuing this work … we want that our every leader and worker will build the country with that ideology," she said.
Earlier, the PM opened the council of AL's Dhaka North and South City units as the chief guest by hoisting the national flag as well as releasing pigeons and balloons.