Seedlings crisis worries farmers
Massive damage of seedbeds in flood badly affects Aman cultivation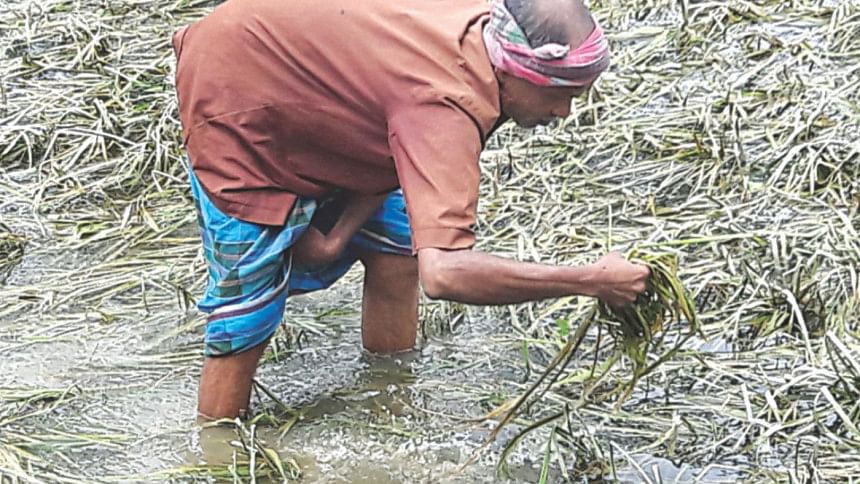 With crops on 6.11 lakh hectares of land damaged by floods, farmers in 32 districts are in dire need of Aman seedlings to recoup their losses by producing the foodgrain.
In many northern and central districts, farmers couldn't plant Aman seedlings as floodwater washed away most of the seedbeds.
Till the third week of this month, farmers could plant Aman on 40 lakh hectares across the country, around 16 lakh hectares short of the target, according to preliminary field assessment by the Department of Agricultural Extension (DAE).
In the corresponding period last year, Aman coverage was nearly 100 percent of the target.
Amid weather uncertainty and projections of more rainfall later this week, the DAE advised its staff all over the country to encourage farmers to reap Aus rice immediately so that no more grain is lost to floodwater. 
The agriculture ministry expects Aus harvest of at least 23 lakh tonnes from 10 lakh hectares.
Aman, grown during the monsoon, contributes 38 percent to the country's annual rice output, the second highest after irrigated Boro that accounts for 55 percent of the total. Aus contributes the remaining seven percent.
Given this year's loss of 20 lakh tonnes of Boro rice due to flashflood in haor areas and fungal attacks, production of the staple in the current Aman season is considered crucial for the country's food security.
Meanwhile, Prime Minister Sheikh Hasina distributed Aman seedlings among farmers during her visit to flood-hit Gaibandha.
Officials at the agriculture ministry and the DAE told The Daily Star that efforts are underway to provide flood-affected farmers with vegetable seeds and Aman seedlings.
Experts, however, cautioned that farmers would have to plant Aman by mid-September or else they would fail to achieve the targeted yield.
The disaster management and relief ministry statistics show crops were completely or partially damaged on 6.11 lakh hectares in 32 of the 64 districts till August 25 with Dinajpur, Naogaon, Kurigram, Jamalpur, Sunamganj, Bogra, and Manikganj being the worst-hit.  
Talking to this newspaper yesterday, Abdul Jalil, a farmer in Naogaon's Niamatpur area, said he lost more than 60 maunds of Aus to recent floods.
"My Aman seedbed was also ravaged by the floods."
Jalil thought of planting Aman once floodwater recedes from his cropland. But he failed to manage seedlings and decided to cultivate mustard instead. 
He said around a thousand flood-hit farming households in his area recently received 10 kgs of rice, two kgs of cooking oil and one kg of sugar each in relief but no seedlings to recoup the crop loss.
Prof Bahadur Meah, who teaches plant pathology at Bangladesh Agricultural University in Mymensingh, said that if farmers manage to plant Aman seedlings by mid-September, they could still recover the flood-induced losses.
He stressed the need for initiatives from both the government and non-government actors to provide seedlings to farmers.
FM Moinuddin, who heads Rice Farming System Division at Bangladesh Rice Research Institute (BRRI), told this newspaper that the government could help the farmers get seedlings from other areas not affected by floods. 
Besides, many farmers, who produced BRRI-52, are now doing fine, as the submergence-tolerant variety can survive up to 15 days of flooding, he added.
Our correspondents in flood-hit districts reported that the assessment of the damage was not complete yet.
Dinajpur is the worst affected district where standing crops were damaged on 121,170 hectares.
Ziaur Rahman, a farmer in Tentulia of Dinajpur's Chirirbandar upazila, said Aman on his two-acre land was washed away by the floods.
Vegetable farmers were also hit hard in the district.
In a recent visit to Majadanga village in Biral upazila, our correspondent found Roksana Begum, a 43-year-old farmer, checking her damaged pointed gourd farm. 
Roksana said she and her husband Rafiqul Islam spent Tk 30,000 for producing pointed gourd on the leased land.
But floods damaged the crop as they were about to reap it. 
"The price was good in the market…," she said while trying to choke back tears.
According to the DAE, vegetable on 550 hectares of land in Dinajpur was damaged by flood.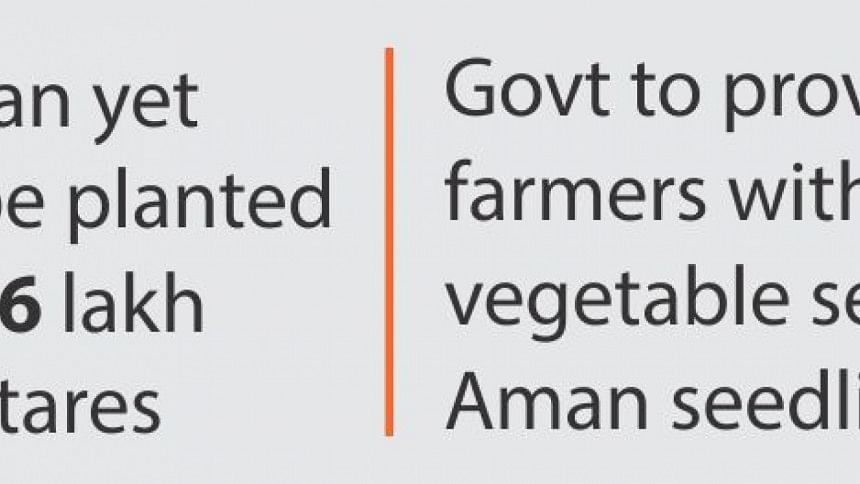 In Lalmonirhat's Dhairkhata village, farmer Khoda Baksh cultivated Aman in more than four acres of land, but the crop was destroyed by floodwater.
"I don't know how I will provide for my seven-member family," said the 55-year-old farmer.
There was no scope for him to replant Aman, as seedlings were not available.
DAE officials in the flood-hit districts are advising farmers to go for direct seeding of broadcast Aman if they fail to get seedlings.
Following flashfloods in haor areas of six northeastern districts in late March, the government is walking a tightrope as far as food stock is concerned. 
With losses of 20 lakh tonnes of Boro due to flood and fungi blast, the government revised its food import projection from nine lakh tonnes to 20 lakh tonnes for the current fiscal year. 
Experts note that a back-to-back loss of Aman would have a significant impact on the government's food reserve as it has to run a prolonged post-flood relief operation and provide rice to 50 lakh ultra-poor at a subsidised price of below Tk 10 a kg for the next three months.
[Our correspondents in the flood-hit districts contributed to this report]