'Save family land' now his struggle
Police say AL men attempted to evict 'save Buriganga' campaigner from his house; two arrested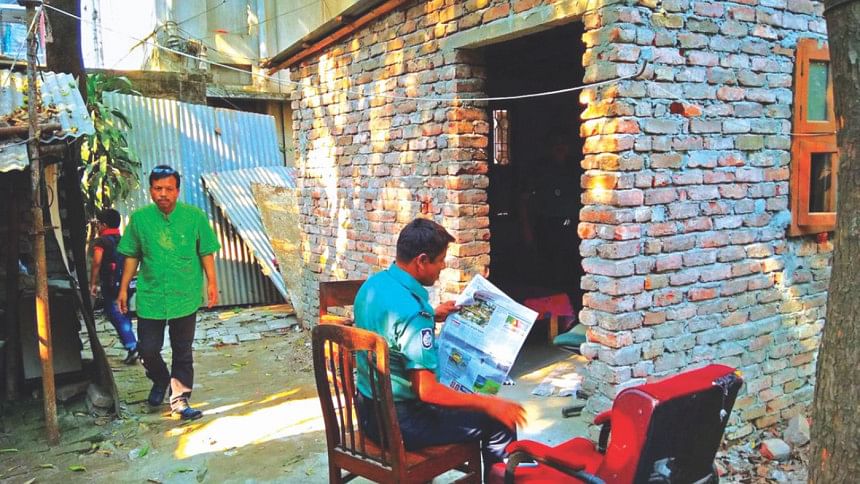 Police have found two Awami League men and their associates involved in the abduction of green activist Mihir Biswas in the capital's Shyamoli on March 3, investigators said yesterday.
It was an attempt to grab 8.5-katha land on which Mihir's house was built, they added.
Some followers of Towfik Ur Reza Mishul and Kamran Shahid Prince Mohabbat abducted Mihir, member secretary of Buriganga Bachao Andolon, along with his wife, aunt, friend, caretaker and house help at gunpoint, according to police. 
Towfik, vice-president of Mohammadpur thana AL, has been arrested while police are looking for Kamran, health affairs secretary of central Jubo League.
The gang also looted valuables from the house and took away furniture on a pick-up van, officials said.
All the victims were released after about four hours of the abduction, police said following the arrest of Towfik and Jubo league activist Rajon in Mohammadpur two days after the incident.
Interrogating the two, police came to know about Kamran.
"We have conducted a couple of drives to arrest Kamran at his Banani house but he managed to flee," Biplob Kumar Sarker, deputy commissioner of Tejgaon Division Police, told The Daily Star, on Friday.
The Jubo League, AL's youth front, also found involvement of Kamran in the alleged land grabbing attempt, said organisation sources.
In a press release issued on March 13, Jubo League's Office Secretary Kazi Anisur Rahman said Kamran's acts go against the policy of the government and harm the public interest, and that's why he was suspended from the party.
Contacted, Sadek Khan, secretary of Dhaka North AL, said police will deal the legal issues while "we will take organisational action against the offenders after our own investigation".
DC Biplob said they have primarily found that three to four people acted as masterminds behind the incident that centred on a conflict over land. "We are now conducting drives to arrest them."
Biplob did not disclose the identities of the masterminds.
But officials in Tejgaon Division Police said all those behind the kidnapping are influential people and have connections with the ruling party. They requested anonymity as the investigation is not over yet.
Visiting the house on Road No 2 in Shyamoli, this correspondent on Thursday saw three policemen deployed at the main gate of house 11-Ga and some four CCTV cameras installed around the compound. There are a number of tin-shed rooms inside the boundary wall.
In one portion, Mihir lives with his wife Sanchita Barman, son Samurdro, aunt Parul Rani Biswas and house help Kabita. In another, caretaker Sharmin Akter lives with her husband Dulal and two children.
Mihir said he and his friend Golam Nabi Manju were in the drawing room on March 3. Around 7:30am, the doorbell rang and Kabita opened the door.
"Suddenly, a group of people aged about 26 to 40 burst into the house. Three of them held my hands and legs while another grabbed my friend by the neck."
At gunpoint, they forced Mihir and Manju into an ambulance parked in front of the main gate. "The gang also got my wife, aunt, house help and caretaker inside the ambulance," he told this newspaper. 
Mihir said the men drove the ambulance through different parts of Mohammadpur. "When we asked about the reason behind picking us up, they only said they did it as instructed but they would release us soon."
As his aunt, aged about 80, fell sick and had difficulties breathing, Mihir requested the abductors to take her to hospital. "The gang members then talked to someone over the phone about it."  
The assailants first dropped caretaker Sharmin on Babar Road of Mohammadpur and after driving about one to two hours, released others on the same road around 11:30am, he said.
Back home, he found all his furniture was taken away.
Mihir alleged that Md Nuruzzaman, now living in the UK, has a feud with his elder brother Sudangshu Chandra Biswas regarding the 8.5-katha land.
Sudangshu, who lives on Iqbal Road, brought the land in 1995 and a trial is going on at a Dhaka court over the land ownership for the last eight years, he said, alleging that Nuruzzaman is behind the abduction.
Mihir filed a case with Sher-e-Bangla Nagar Police Station against Nuruzzaman and 25 others unidentified people over the abduction and looting.
Police recovered all the furniture abandoned on a school ground on Iqbal Road on March 5. According to local security guards, the furniture was there for two days.  
Liakat Mia, a security guard on Shyamoli Road No 2, said he saw an ambulance at Mihir's house around 7:30am on March 3. People in the ambulance said that they came to take a sick person to hospital, and it left after about 10 minutes, he said.
Moments later, a pick-up van came to the house with some labourers who said they have a contract to move the belongings. The van came twice by 10:00am, said Liakat.
After the van took away the furniture, police rushed to the house on information from locals, said officials.  
Sources added that investigators suspect someone had given contract to the ruling party men to evict the family from the land.
"We are analysing and taking into consideration all the aspects," said DC Biplob.