'Safe haven' for top 'Neo JMB' leaders busted
Cops arrest 3 female 'militants', recover bombs, arms in Kushtia raid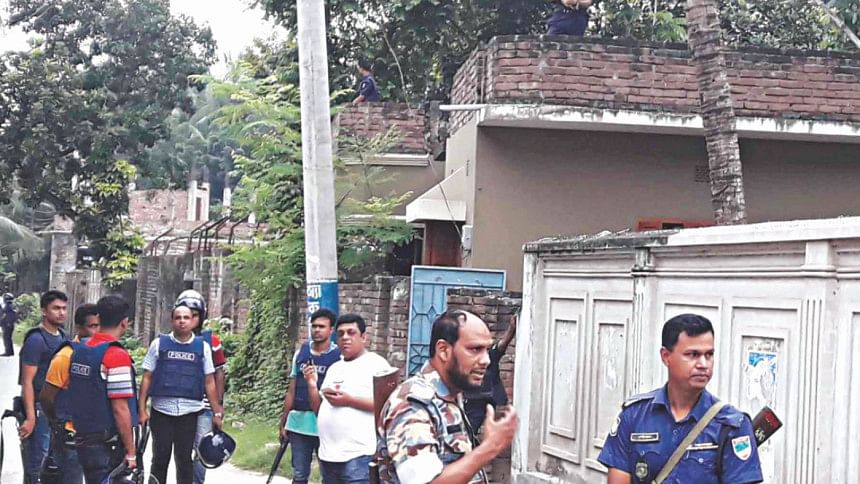 Counterterrorism officials claimed to have arrested three suspected female militants, including the wife of "Neo JMB" chief Ayub Bachchu, raiding a hideout in Kushtia's Bheramara yesterday.
The hideout busted in the drive, codenamed "Tepid Punch", was a safe haven for the top leaders, including ameer and Shura members of the banned militant outfit, claimed police.
The arrestees are Tithi Khatun, 32, wife of Ayub Bachchu alias Sajib, Sumaiya Akter, 26, wife of the outfit's second-in-command Abzar alias Rashed, and Toly Khatun, wife of Arman Ali of Thakurpur in Bheramara.
The Counter Terrorism and Transnational Crime (CTTC) unit of the Dhaka Metropolitan Police also claimed to have recovered a bomb weighing around 3kg, two suicide vests with 10 small bombs, a pistol, 12 bullets and 10 kilograms of bomb-making materials in the raid.
Two children -- five-month-old Akia Hasan and six-year-old Nova -- were rescued from the hideout at a one-storey tin-shed building in Bamanpara area, said SM Mehedi Hasan, superintendent of police (SP) in Kushtia.
Akia is Bachchu's daughter and Nova is Arman's daughter, he said.
Talking to The Daily Star, Abdul Mannan, additional deputy commissioner of the CTTC, said they suspected that the hideout was also a bomb-making factory of "Neo JMB".
"We had information that Neo JMB chief Bachchu alias Lal Bhai alias Himu was staying in the hideout. But he somehow left a day before our raid," he said.
Bachchu and his wife along with Akia had also fled from another "Neo JMB" hideout in Savar just an hour before a raid on it on May 27.
Mannan said other top "Neo JMB" leaders, including bomb expert Sohel Mahfuz, who allegedly supplied grenades for the Gulshan café attack, used to visit the hideout in Bheramara.
Around 12midnight on Friday, a CTTC team along with members from the district police cordoned off the tin-shed house.
Around 5:00am yesterday, the three women came out of the house after being asked by the police to surrender. However, the law enforcers soon discovered that one of them, Sumaiya, was wearing a suicide vest, said counterterrorism officials, adding that they managed to arrest her before she could blow herself up.
A top official of the district police, requesting anonymity, told The Daily Star that Sumaiya failed to explode the bomb as she was not properly trained.
Talking to reporters at the spot last night, Habibur Rahman, additional DIG of police (Khulna Range), said they would file a case against the three suspected female militants.
Police picked up Nasima Khatun, owner of the house, for interrogation after the incident.
During the quizzing, Nasima, an office assistant of the public health and engineering department in Bheramara, told police that Toly Khatun rented the house from her four months ago after introducing herself as a tailor.  
Toly's husband Arman worked in Dhaka. He used to visit her often, said Kamrul Islam, assistant superintendent of police (ASP) in Kushtia, quoting Nasima.
Four days ago, two more women came to visit Toly. Toly told Nasima that they were her sisters-in-law, he said, quoting the land lord.
A bomb disposal team from the CTTC went to the scene and diffused the bombs.