Run news on good jobs of government
PM tells media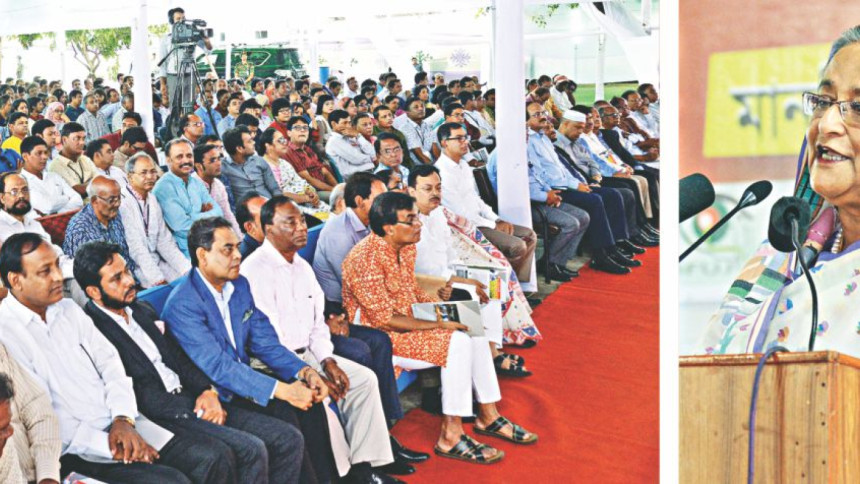 Prime Minister Sheikh Hasina yesterday urged journalists to properly run news on her government's good activities in the interest of the country.
"We don't want mercy and favour from anyone. But at least we can demand that if we do any good work for the country, it should be published properly not in the interest of me or my party, but in the interest of the country," she said.
The PM was addressing the biennial council of a faction of Bangladesh Federal Union of Journalists (BFUJ) at the Jatiya Press Club.
She said all should work together to brighten the country's image and inform people properly about their facilities. "How can we take the country forward if there is no inspiration for the people?"
"Many people think that the media can't be run without writing against the government... this is a sick mentality," Hasina said.
She called upon the journalists to properly bring into the limelight the government's development initiatives.
"This should be done as we don't want to remain dependent on others. We want to live with dignity, holding our heads high as we are a victorious nation."
About the Bangabandhu-1 satellite, the premier said Bangladesh has been able to send a modern satellite into orbit as the 57th country which has brightened its image.
Criticising BNP for making "unguarded remarks" about the satellite, she urged people to think how those parties, "who didn't have minimum common sense" about the benefits of a satellite, could develop the country.
Hasina said although BNP talks about democracy and free, fair and neutral polls, Ziaur Rahman, founder of the party, had "started rigging votes" in the country. "After capturing power illegally, he had presented curfew democracy, not public democracy."
Referring to the February 15, 1996 parliamentary election, Magura by-election and Dhaka-10 by-polls held during the BNP rule, she said those who played games with elections were now giving lectures on democracy and raising questions about elections.
The PM said Awami League does politics for the people and it established their voting rights. "Some 6,000 local government elections were held in the country during the tenure of the incumbent government. But no one could raise any question concerning a single election because we didn't interfere in those. It is the right of the people. If people vote for us, we will stay in power."
Without mentioning names, Hasina said she does not read or allow two newspapers in her residence Gono Bhaban.
Father of the Nation Bangabandhu Sheikh Mujibur Rahman had been involved in journalism for some time during his student life, she said. "So you can consider me as a member of your family."
About her government's initiatives on the development of media, she said the AL government gave approval to 44 private television channels after assuming power in 2009. Of them, around 35 were in operation now.
The AL government also formulated Bangladesh Journalist Welfare Trust Act, 2014, to help journalists. She urged the media house owners and businessmen to donate to the welfare trust fund.
Mentioning that her government already announced the 9th wage board for journalists, she said she wanted that it would become effective soon.
The premier said the government was formulating a policy and law to prevent cybercrimes. Journalists were unnecessarily worried about the law, she said, adding that the AL government never harassed journalists although criticism against her government continued.
She blasted a section of people for saying that there was no freedom of press in the country. "If there is no freedom of press, how can they say it on television talk shows and write in newspapers?"
Hasina also inaugurated the biennial council of the BFUJ.
Information Minister Hasanul Haq Inu, Prime Minister's Information Adviser Iqbal Sobhan Chowdhury and State Minister for Information Tarana Halim also spoke at the programme, chaired by BFUJ President Monjurul Ahsan Bulbul.