Myanmar troops committed mass rape of women
Rights group finds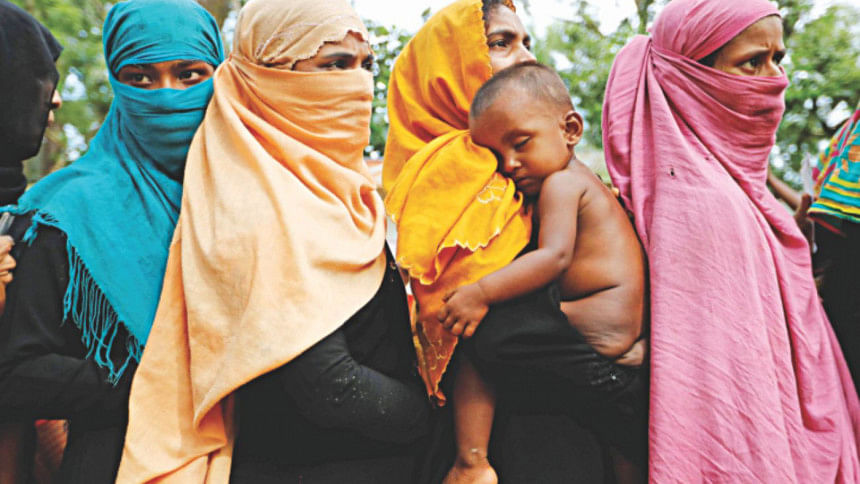 Human Rights Watch yesterday accused Myanmar security forces of committing widespread rape as part of a campaign of ethnic cleansing against Rohingyas in Rakhine State.
The HRW report released yesterday said rape and sexual violence in Rakhine appeared to be even more widespread and systematic than earlier suspected. Uniformed members of Myanmar military were responsible for it.
The report came a day after US Secretary of State Rex W Tillerson visited Myanmar and told its leaders to investigate "credible reports of widespread atrocities".
In the 37-page report, "'All of My Body Was Pain': Sexual Violence against Rohingya Women and Girls in Burma," many women described witnessing the murders of their young children, spouses, and parents.
Rape survivors reported days of agony, walking with swollen and torn genitals while fleeing to Bangladesh.
The ongoing persecution of Rohingyas has displaced hundreds of thousands. Over 620,000 people have arrived in Bangladesh's Cox's Bazar in the last three months.
The HRW report was based on interviews with 52 Rohingya women and girls who had fled to Bangladesh. The interviewees included 29 rape survivors from 19 villages in Rakhine State, three of them girls under 18, as well as 19 representatives of humanitarian organisations, UN agencies, and Bangladesh government.
It found that Myanmar security forces had "raped and sexually assaulted women and girls both during major attacks on villages but also in the weeks prior to these major attacks, sometimes after repeated harassment."
In every case, the report said, "The perpetrators were uniformed members of security forces, almost all military personnel."
Author of the report Skye Wheeler, women's rights emergencies researcher at the HRW, in a statement, said, "Rape has been a prominent and devastating feature of the Burmese military's campaign of ethnic cleansing against the Rohingya.
"The Burmese military's barbaric acts of violence have left countless women and girls brutally harmed and traumatised."
Meanwhile, the US House Foreign Affairs Committee on Wednesday condemned the ethnic cleansing of the Rohingyas in a resolution.
Pramila Patten, the UN special envoy on sexual violence in conflict, on November 12 also said sexual violence was "being commanded, orchestrated and perpetrated by the armed forces of Myanmar."
On November 19, foreign ministers of Japan, Germany and Sweden accompanied by their Bangladeshi counterpart AH Mahmood Ali will visit Rohingya camps in Cox's Bazar, said a foreign ministry press release. 
The foreign minister of China will also arrive on Nov 18, but he has no plan yet to visit the refugees.
The US Secretary of State Rex Tillerson on Wednesday announced in Nay Pyi Taw that the US will provide an additional $47 million in humanitarian assistance bringing the total US assistance to $83 million since August, said a press release of the US Embassy in Dhaka yesterday.
Bangladesh's National Human Rights Commission Chairman Kazi Reazul Hoque said Myanmar military officials responsible for the atrocities should be brought to justice.
He made the comment as the newly appointed UN Resident Coordinator Mia Seppo made a courtesy call at his office yesterday, said a press release.