Road Crashes: Tragedies on for inaction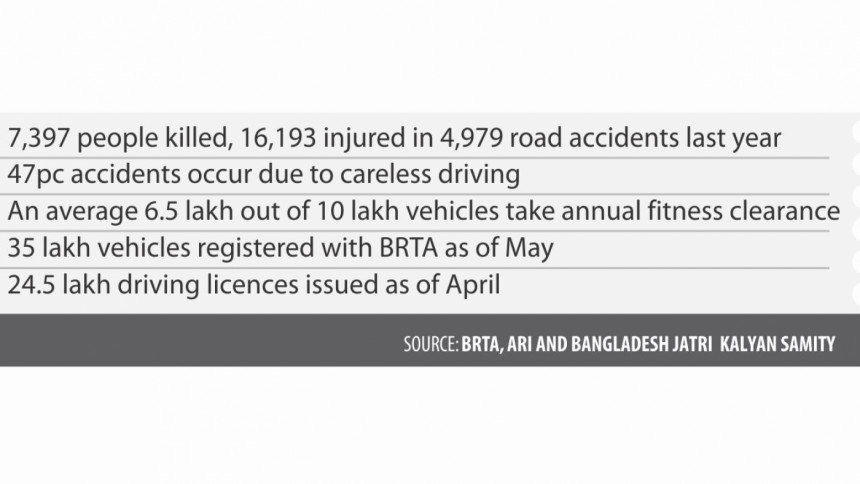 Come road tragedies, come rhetorical reactions. Probe committees are formed, recommendations made and all left to be forgotten till the next major crashes.
After the twin accidents at Palashbari of Gaibandha on March 10, a government-formed probe committee came up with an eight-point recommendation to prevent such road mishaps in future.
Stop plying of three-wheelers on highways, introduce speed metres and create awareness among drivers about the danger of reckless driving -- these were the major recommendations of the committee.
More than three months after the Palashbari tragedies that took 10 lives, those recommendations seemed to have remained only on paper with no measures whatsoever being taken by the authorities concerned.
In the meantime, another road accident took place in Palashbari on Saturday. At least 18 people were killed as an Alam Enterprise bus heading for Panchagarh from Dhaka veered off the highway and hit a tree before plunging into a ditch.
Primarily it is found that reckless driving was behind the crash, the same factor which caused the two accidents on March 10. The Daily Star also learnt that the fitness clearance of the bus expired on May 15.
And like after all other major incidents, the government yesterday too formed an 11-member committee to find out the causes and culprits behind the accident and come up with recommendations.
"After every major accident, the authorities form a probe committee. Such committees submit reports and recommendations. But the recommendations are never implemented; only accidents continue to take pace," Ashis Kumar Dey, general secretary of National Committee to Protect Shipping, Roads and Railways (NCPSRR).
According to police report, 874 people were killed and 489 injured in 848 road accidents in the first four months of this year. Last year, 2,513 people were killed while the number was 2,463 in 2016.
But road safety campaigners and experts say the number would be much higher because police count the deaths only when cases are filed.
According to Bangladesh Jatri Kalyan Samity, 2,123 people were killed and 5,558 others injured in 1,871 road accidents from January to April.
And 7,397 people got killed, 16,193 injured in 4,979 road accidents last year.
On Saturday alone, a total of 52 people were killed, including the 18 victims in Palashbari. This is the highest number of casualties in a single day in recent times, according to the Samity.
WHY SO MANY ACCIDENTS?
According to last year's research by Accident Research Institute (ARI) at Buet, 47 percent of the accidents occur due to careless driving, 37 percent for overspeeding and 16 percent for other reasons.
Kazi Md Shifun Newaz, assistant professor at ARI, said there are several factors which are jointly responsible for frequent road accidents.
He blames faulty geometric designs of highways, especially dangerous curves and level crossings, overspeeding, reckless driving, movement of unfit vehicles and lack of training programmes for drivers.
"But the main thing is there is no continuous monitoring on highways," he further said and noted, "Persons responsible for accidents are seldom brought to book."
Ashis Kumar Dey of NCPSRR found political nexus between the leaders of transport owners and workers and political leaders are the main reason behind failure to check road accidents.
"Because of political influence, some owners can keep their unfit vehicles on highways and many drivers can drive vehicles with fake licence. Law enforcers and authorities also show reluctance to take action against them," he said.
"If you can't break this illegal nexus, it's not possible to bring discipline in transport sector and stop road accident."
All stakeholders related with a road accident -- drivers, owners, officials involved in monitoring vehicles and roads -- must be brought to trial, he added.  
According to BRTA data, a total of 35,03,922 vehicles got registered with the transport authority till May this year.
Of the vehicles, around 10 lakh are supposed to obtain annual fitness clearance, but on an average 6.5 lakh take it, Sitanghsu Shekhar Biswas, director (operation) of BRTA, told The Daily Star yesterday.
"Some 3.5 lakh vehicles remain out of annual fitness clearance every year. We don't have the exact figure as many vehicles might not be running on roads now."
He mentioned that some types of vehicles including motorcycles do not require annual fitness clearance. 
Bangladesh Road Transport Authority has been maintaining registration record since the Independence. The state agency doesn't have any data on the vehicles that are no longer in use.
Last month, BRTA decided to cancel registration of more than 56,000 vehicles, including 3,740 belonging to different ministries and government agencies, as those vehicles have not had their fitness certificates renewed for more than a decade in breach of rules.
RECOMMENDATIONS THERE, ACTION MISSING
After the twin crashes in Palashbari, the four-member probe committee led by Sitanghsu Shekhar submitted its report to the Road Transport and Highway Division (RTHD).
One of the accidents occurred as a bus rammed a power tiller pulling a trailer on Rangpur-Bogra highway and the other when the driver of an iron-rod-laden truck lost control.
The probe body found owners and drivers of both the vehicles were responsible for the accidents as the fitness certificates, tax tokens and route permits were expired, and both the bus and truck were being driven recklessly.
It submitted eight recommendations to stop road accidents.
Contacted yesterday, Sitanghsu Shekhar said, "We have submitted our report to the Road Transport and Highway Division, which is supposed to take necessary action. I am not aware of what action it has taken."
The division usually asks the BRTA and other authorities concerned to take action and it might have done the same in this case, he added.
The division formed another probe committee after a road accident in Narayanganj's Sonargaon upazila on February 26. Ten people were killed and 26 others injured as a bus hit a parked lorry in that crash.
The probe committee led by Mahbub-E-Rabbani, director (road safety) of BRTA, found the bus's fitness certificate expired three years before the crash, chassis and body of the bus were modified and driver drove the vehicle recklessly.
The committee submitted 13 recommendations, which is almost similar to those given by Sitanghsu-led committee.
Upon receiving the probe report, the RTHD, under the road transport and bridges ministry, asked the BRTA to take legal action against the driver, owner and the workshop for modifying the body of the bus.
Till April 30, police could not arrest the driver. The bus and the lorry were under the custody of Kanchpur Highway Police Station.
But the division apparently remained silent about other recommendations, which include stopping movement of locally made three wheelers and unfit vehicles on highways and taking action against overtaking and illegal parking on highways.
About the allegations, RTHD Secretary Nazrul Islam told The Daily Star last night that after receiving a probe report, they usually assign different tasks to different authorities.
"It's not true that recommendations [of probe committees] are not implemented. You may say it [implementation] is not satisfactory. Because this is a collective effort. Many authorities are involved here, and if everybody does not have the same realisation, work does not progress properly."
He said the roads and highways department, highway police, transport owners and workers are also involved in the sector. "We are trying our best and if everybody comes up with the best effort, we will see a better outcome."
PROBE COMMITTEE AGAIN
The road transport and bridges ministry asked the 11-member probe body, formed to investigate Saturday's road crash, to submit a report in the next seven working days.
The probe body is headed by Shishir Kumar Roy, additional secretary (estate) of RTHD, reads a circulation of the division.
The committee comprises deputy commissioner of Gaibandha, deputy inspector general of police (Rangpur), representatives of BRTA, Roads and Highways Division, fire service, highway police, bus owners and workers, it said.