RISK all YOURS
Private ambulances operate beyond law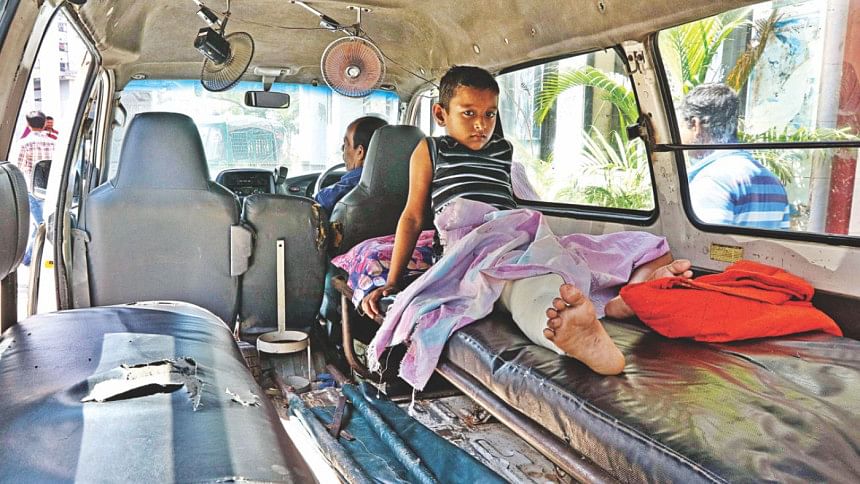 Two years ago Abul Kashem of Agargaon area in the capital bought a rickety microbus for Tk 10 lakh. It had two owners before.
He ripped out the rear seats, stuck an oxygen cylinder and a stretcher in it. He then slapped some ambulance sticker on it and a siren with flashing lights on top and voila! He had a "serviceable" ambulance. 
He got the vehicle registered with the Bangladesh Road Transport Authority spending Tk 1.3 lakh and started renting out the vehicle to patients.
Kashem is one of 34 ambulance owners who have been running private ambulance service in front of the National Institute of Traumatology and Orthopaedic Rehabilitation (Nitor) for the last couple of years without any problems.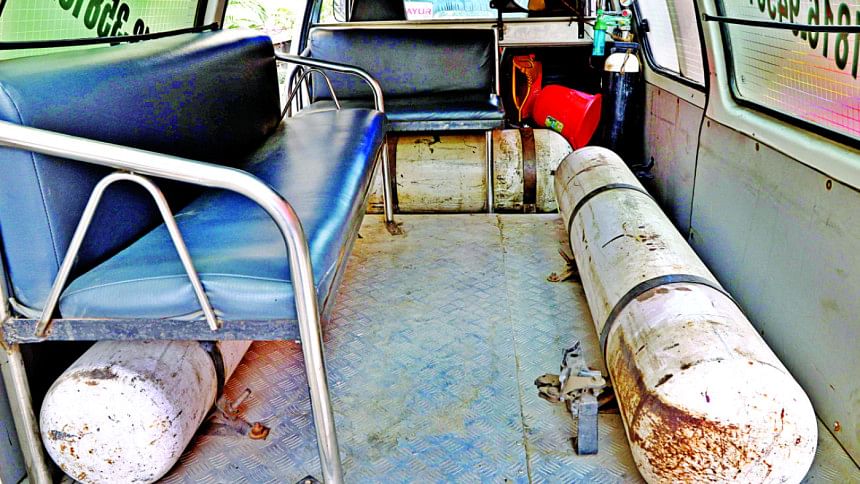 The other ambulances there have pretty much the same story. And it is not different at most other hospitals in the capital.
According to the BRTA, there are 4,527 ambulances in Bangladesh, 2,639 in Dhaka alone, as of August 31, 2016.
Unofficial sources, however, put the figures at 6,000 and 5,400.
The privately-managed ambulance service is run with no regulatory mechanism whatsoever.
Raghib Manzoor, CEO of CritiCare.com and founder secretary general of Bangladesh Society of Emergency Medicine, said in any ambulance, there should be a paramedic, monitor, oxygen cylinder with face musk, portable ventilation machine and other life-saving equipment.
"Ambulances in Bangladesh are basically medical vehicles as they only transport patients and nothing else."
In Bangladesh, the commonly perceived notion about ambulance is: It is a worn out microbus with a bed, an oxygen cylinder and a siren, that's it.
According to Dhaka City Ambulance Owner Cooperative Ltd, 70 percent of the ambulances do not even have air conditioning, let alone other basic facilities usually required for an ambulance.
And these are not all. Most drivers do not have any medic training and in cases unskilled drivers are used to drive these vehicles. Such was the case on Saturday when four people's lives ended in front of Dhaka Medical College Hospital as an ambulance drove over them.
The ambulances at Dhaka Medical College Hospital is mostly owned by the class-IV hospital employees and their relatives, said sources. The helpers of the ambulances roam around different wards to see who would need an ambulance.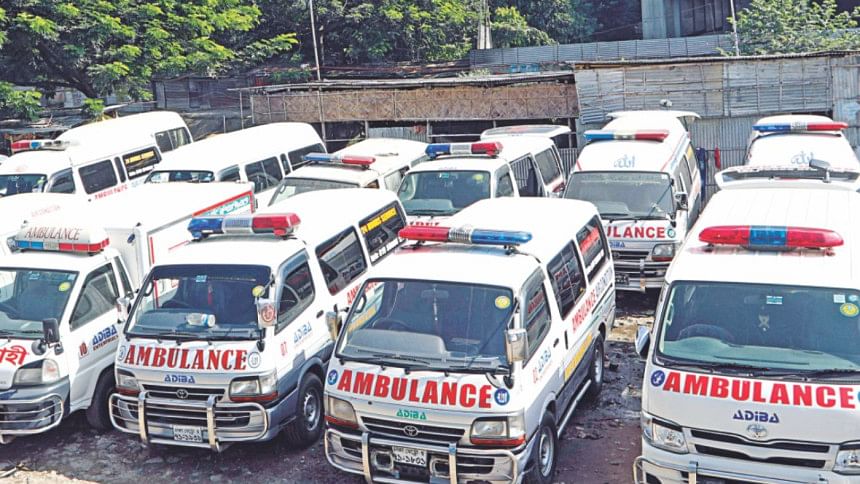 Mohammad Asad, ambulance driver of Chowdhury Enterprise, standing before his ambulance in front of Nitor said he was not a regular driver of the ambulance. Wearing a lungi and a dirty shirt, the chain smoker said that on an average he has to manage two trips every day to make profit.
"The job is hectic and tiresome."
Experts say ambulance is a very important part of pre-hospital system if a patient gets proper care during the transportation time, the chance of survival for a critical patient gets higher.
Manzoor of CritiCare.com said the first hour of any patient is considered as the "golden hour" and proper care for the patient during that time is crucial.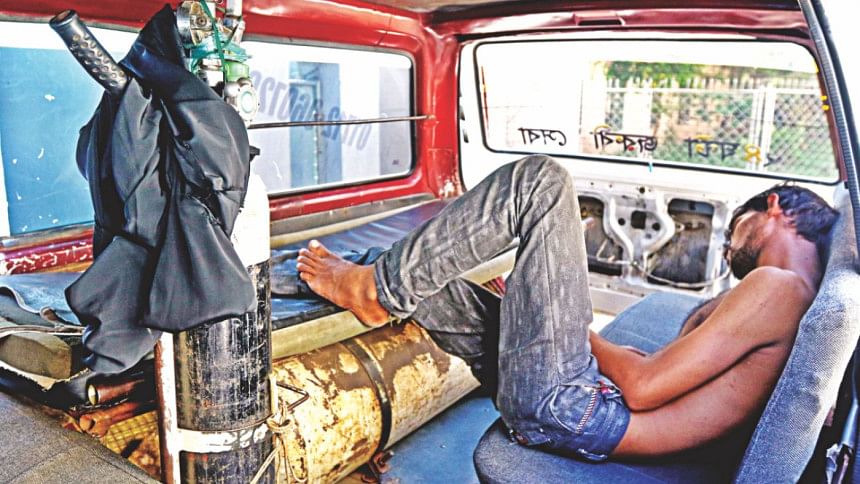 "In Bangladesh, patients were carried in so called ambulances. Patients' relatives see the sufferings and pain of the patients but cannot do anything," Manzoor said.
Experts said private ambulance service providers took advantage of the inadequate ambulance facilities in the state-run hospitals and inadequate regulations, resulting in this chaotic situation.
When a microbus gets 10-15 years old and persistently faces mechanical issues, it is turned into an ambulance with a certain amount of fee paid to the BRTA, ambulance owners and BRTA officials said.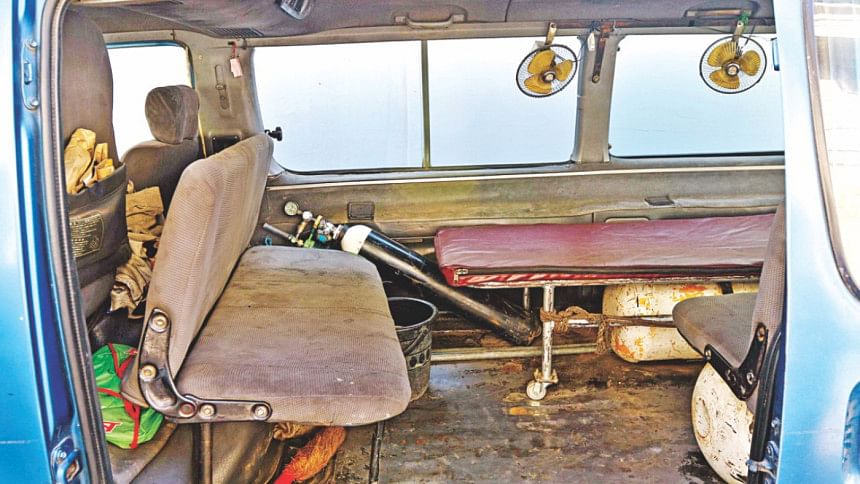 Saidur Rahman, director (Hospital) of Directorate General of Health Services, said, "There was no ambulance regulation but there was an order which is updated and now awaiting in the ministry for vetting."
Moreover, there is no comprehensive standard or studies which can show what an ambulance should ideally have or how many in Bangladesh have those facilities.
Md Sanaul Haque, assistant director of the BRTA, said, "After running a microbus for 10-15 years on the streets, owners convert microbuses into ambulances giving a fixed charge for registration."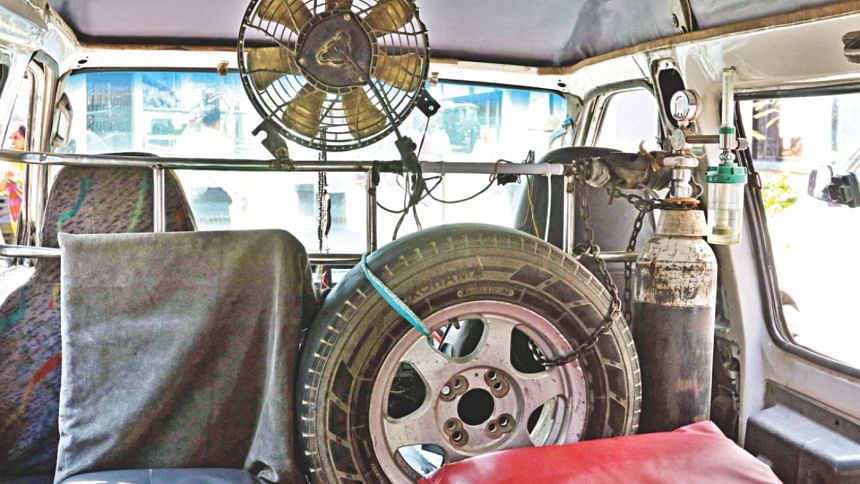 Asked how the conversion takes place, he said the microbus owners come to the BRTA office with updated and original papers. The BRTA inspectors see whether the microbus is "properly turned into an ambulance" -- if its seats and oxygen cylinders are properly installed, he added.
Responding to the query whether there was any checklist for such conversion, he said, "Not that much." The inspectors just look over the vehicles.
He said very few proper ambulances get imported.
Mohammad Momin Ali, owner of Alif Ambulance, said drivers and associates of ambulance services should be experts and kind hearted but unfortunately most of them are not.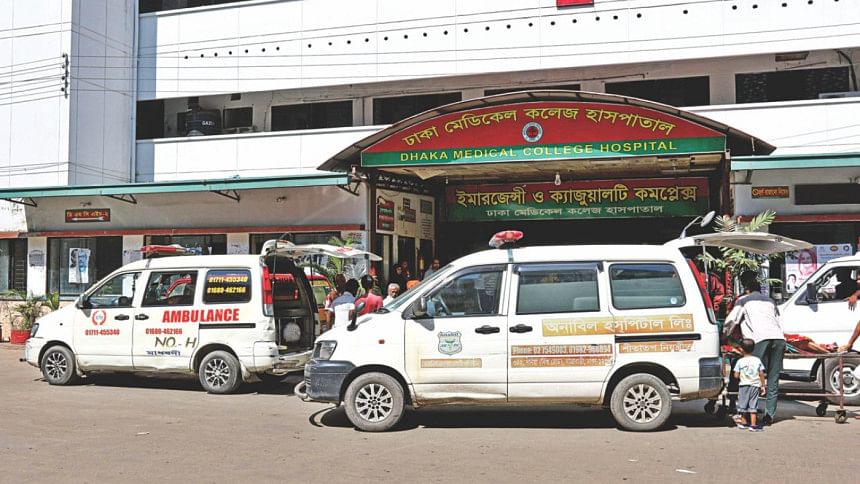 "An ambulance driver should know how to operate oxygen cylinder, provide first aid but who will train them? They just carry a patient and nothing else."
He said, "AC is not essential as it is not medicine rather it relaxes the patient. Many patients simply do not want the AC due to various health complications."
He also said the private ambulances cannot enter the state-run hospitals due to strong syndicates of hospital staffers.
"We usually avoid state-run hospitals as we get harassed whenever we carry any patient there." He admitted that there was no regulation in the ambulance sector.