Rise in violence against women
1,378 women fell victims of rape, sexual harassment and other forms of violence in first nine months of this year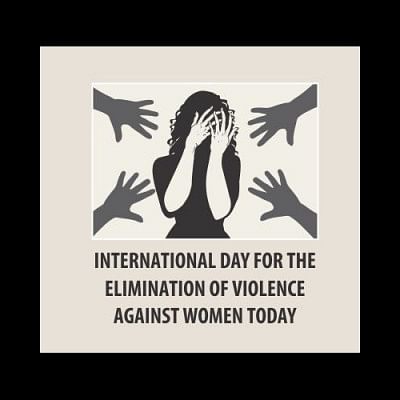 School teacher Nurun Nahar Tanjila saw her life turn upside down barely a week into her marriage with college teacher Anwar Hossain.
Immediately after the wedding in May of this year, her husband and in-laws began torturing her for dowry.
Last month, it all came to a head when they beat Tanjila, 28, mercilessly and at one stage struck her head with a sharp weapon, leaving her seriously injured. The incident in Panchagarh infuriated the locals who formed a human chain and demanded arrest and exemplary punishment of the culprits.
This, however, is one of hundreds of reported cases of violence against women that took place in the country this year.
Rights body Ain o Salish Kendra (ASK) has documented a grim reality. As many as 1,378 women in the country became victims of such crimes in the first nine months of the year alone. During the same period of 2016, the number stood at 1,204 women. The incidents chronicled here include sexual harassment, rape, murder after rape, domestic violence, dowry-related torture, torture of domestic help, acid attack and fatwas, according to data available on ASK website.
Against this backdrop, the International Day for the Elimination of Violence against Women is being observed today. Different government and non-government organisations are set to mark the day with various programmes.
In 1999, the UN General Assembly designated November 25, and invited governments, international organisations and NGOs to organise activities designed to raise public awareness on the issue, according to the UN's website.
Rights activists said more women are now coming forward about the repression they face at home and outside. Many such incidents have also captured national attention owing to social media.
Yet, many remain unreported because a lot of women are still reluctant to disclose their sufferings, fearing the social stigma attached to it and being shunned by their families.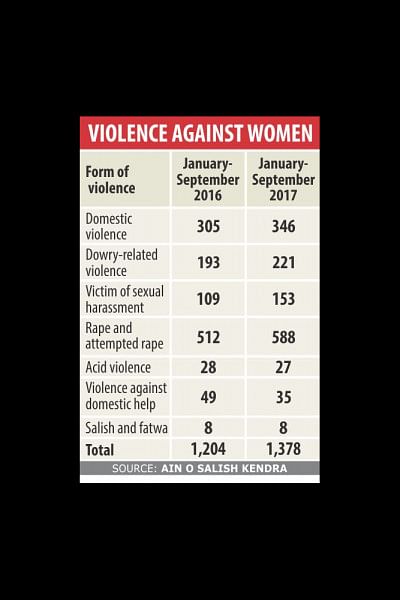 Ensuring justice, like quick disposal of cases, is something the government has to look into. Social awareness has to be built through campaigns and providing women the conditions needed for addressing gender-based incidents, the activists added.
Rasheda K Chowdhury, a noted rights activist, said domestic violence like torture in the hands of a husband or his family members is one area where most women keep silent because they fear being further isolated by the family as a consequence and feel that little will be done to remedy the situation.
"In many cases, women decide themselves not to disclose their torture which actually gives abusive husbands space for more such behaviour," she said.
Rasheda, also an adviser to the last caretaker government, added the local government can play an important role in reducing domestic violence. Woman representatives of the union parishads can engage with them communities to build social awareness.
 ASK's January-September report says 346 women were subjected to domestic violence while only 178 cases were filed with police against the perpetrators. Of 221 dowry-related incidents, only 138 resulted in cases filed.
The report further says 588 women were raped and 153 women were sexually harassed. Thirty-five domestic helps were tortured. There were acid attacks on 27 women while eight women fell victim to arbitrations and fatwas.
The data also showed that the 13-18 year old age group is the most vulnerable group in terms of sexual crimes followed by the 7-12 year old group. Alarmingly, the data also shows that there were 57 cases of rape in the 0-6 year old age bracket.
The data was compiled using various newspaper reports and the body's own investigations.
According to a database of the monitoring cell of the police headquarters, 18,668 rape cases were filed across the country between 2012 and 2016. In the Dhaka metro area, five women and children repression prevention tribunals disposed of 2,057 cases out of 4,436 filed with different police stations from 2001 to 2016. As of May this year, only 22 cases saw convictions, court and prosecution sources said.
Rowshon Ara, a member of Naripokkho that works for ensuring women rights, said although the country's women are getting empowered and gaining success in different sectors, incidents of harassment have not stopped because society's mindset is still unfriendly towards women.
She said alongside efforts and initiatives from the government, people belonging to different walks of society have to come forward and build awareness so that women can feel confident when they walk on the streets alone.
"Rule of law is a prerequisite to ending violent incidents against women," she said, adding that lengthy process in providing justice frustrates many women and prevent them from seeking justice.
Contacted, Farida Yasmin, deputy commissioner, Victim Support Centre under the Women Support and Investigation Division of Dhaka Metropolitan Police, said women with various types of allegations like torture and rape communicate with them and seek justice each day.
Alongside regular policing, the support centre, which is connected with 49 police stations of the DMP and collaborates with several NGOs, provides them psychological counselling to recover from incidents of torture, Farida told The Daily Star over the phone.
She said related police stations contact them before recording a complaint as the support centre sends female police officials for primary enquiry and immediate support.
A handful of women becoming victims of cyber crime and abuse are also seeking police help. The sensitive matter has to be dealt with tactfully, the police official said.