Relief with tap on app
Uber, Pathao live up to commuters' need; wake up operators of auto-rickshaws to harsh reality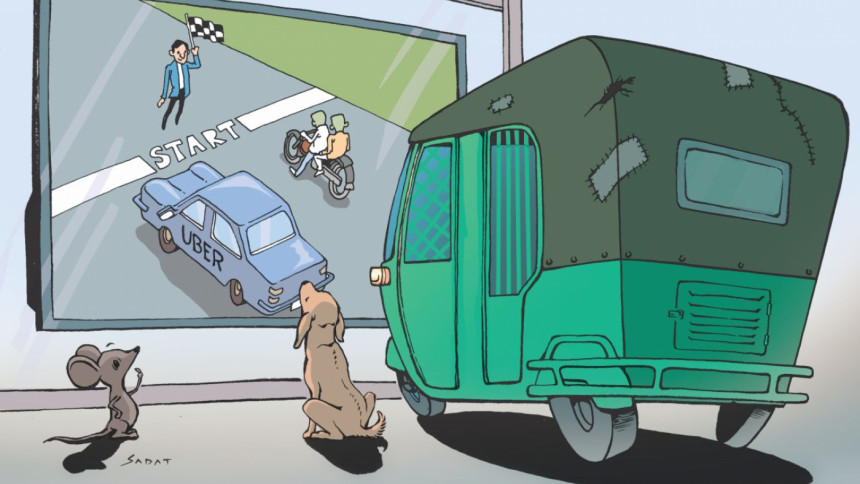 On a busy September evening last year, Limana Solaiman, a private service holder, waited at Kakoli in the capital for about one and a half hours to hail an auto-rickshaw home.
In the past, Limana's predicament would not come as much of a surprise for Dhaka's commuters.
Thankfully, the worst of Limana's commuting experiences may soon become a distant memory. With the launch of app-based riding services like Uber, Pathao, Taxiwala, Aamrbike in Dhaka, travellers have found their hassles reduced. 
Thirty-two year old Limana no longer waits for auto-rickshaws or bargains with the drivers over the "correct fare"; she can now request a ride on her smart phone using any of the apps.
Once requested, a car picks Limana up from her current location and drops her off at the chosen destination. The fare shows up on the mobile screen at the end of the journey. Apps can also generate an estimated fare based on the distance so the passenger has an idea from beforehand.
"It is really convenient," says Limana of the service.
The recent arrival of such ride-sharing services has changed the face of the transport sector in the capital. Tech-savvy people, who want an easy means of commute and comfort as well, opt for these services.
Forty-five year old Khairul Islam is one such individual. He claimed that 90 percent employees of the wing of Save the Children that he works for, including him, shifted to app-based cars or motorbikes foregoing auto-rickshaw.
The new services focusing on comfortable mobility have brought the matter to the fore, as Khairul said the service providers are smart and professional.
And above all, he continued, "when I am with my family and children going somewhere at night, security is my first concern."
Surely, riding in a vehicle with its details and its driver's details available on the mobile phone gives a sense of security.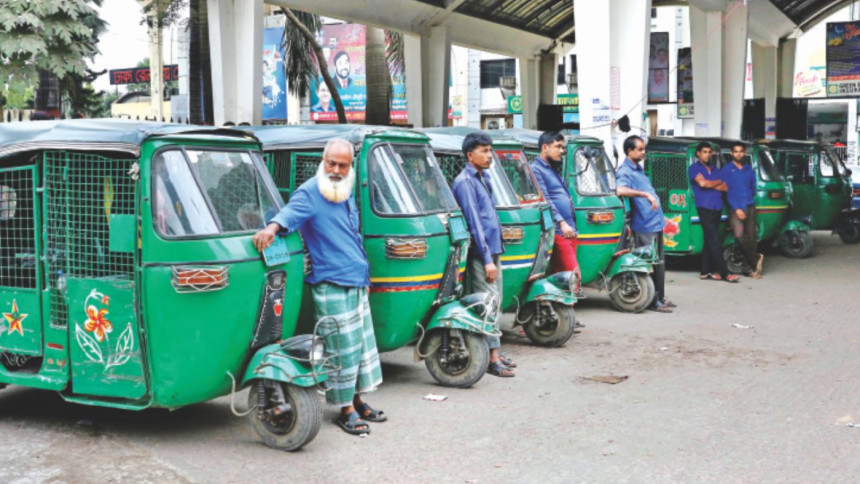 Khairul is not alone. Many office goers now use the ride-sharing apps to get to and from work. Pathao, which initially offered motorbike services, gained popularity on their promise of beating the traffic at a reasonable rate. Many others have followed. 
However, as a result of the changing landscape, auto-rickshaw drivers are taking a hit.
A year after the launch of Uber, they were not this vocal, probably because the changes were not visible. 
But in a press release issued on November 30 by Dhaka and Chittagong Districts CNG Auto-rickshaw Sramik Oikya Parishad, the drivers' association in the release demanded banning of all app-based ride-sharing services like Uber and Pathao and implementation of not more than government-fixed Tk 900 in daily rent to owners.
AUTORICKSHAW'S LATEST CHALLENGE
Mohammad Mojibor, who has been driving auto-rickshaws for the last six months, said he started feeling the impact particularly after the launch of apps that hired out motorbikes.
Even a month ago, his daily income hovered between Tk 800-1,000 excluding the Tk 1,050 vehicle and garage rent to the owner and the fuel cost. Now, he toils up to 12 hours a day to make Tk 500-600. Other drivers like him share the same grievances.
There have been several attempts by the government to fix the auto-rickshaw fares but to no avail. Commuters have continued complaining against drivers of overcharging them.
Against this backdrop, the ride-sharing companies have eased travel experiences for those reluctant to journey in crowded and often rundown public buses. Earlier, their only other option was auto-rickshaws which often entailed heated exchanges over fares.
Fifty-seven year old Mojibor says drivers don't go by the metre because the owners demand more than the government-fixed daily rent of TK 900.
"I want more Uber [cars and motorbikes] to hit the roads. Owners will then understand the consequences…. I will then return to my previous profession [ as a rickshaw driver].
Another auto-rickshaw driver, Shafiqul Islam says he pays the vehicle owner Tk 700 in rent for a  six hour shift. "Someday, hours go by simply doing the vehicle's maintenance works but still owners take the full rent."
Mojibor also leveled the same accusation against his vehicle's owner.
On the allegation of additional rent, Barkatullah Bulu, president of Dhaka Metropolitan CNG Owners Association, said the claim is partially true; some owners charge more than the fixed rate.
He, at the same time, explained why drivers' income is less than expected.
Many of them don't make trips if the destination is not of their convenience and so they limit trips to a few locations, Barkatullah said.
There are 13,000 registered and as many unregistered auto-rickshaws plying across the capital, Bulu said.
Until November, 10,000 active Uber cars were operating in Dhaka and hundreds more are getting registered every day, according to a recent press release issued by the world's largest ride-sharing company. Uber received 15 lakh ride requests last month and 2 lakh people took an Uber trip within the same timeframe.
Responding to an e-mail, local company Pathao, popular for its ride-sharing motorbikes inside Dhaka, said it provides more than a thousand rides per day. It, however, has not given the exact figure as to how many cars, motorbikes or drivers are registered with it.   
The competition is growing as more local startups with similar concepts are joining the transport business.
Amid the situation, CNG Auto-rickshaw Owners' Association ran an advertisement in a daily Bangla newspaper on December 4, in which it cautioned against charging more than Tk 900 as daily rent and running vehicles in shifts.
Any violation of the instructions will lead to the cancellation of the vehicles' registration, according to the advert. The association also asked drivers to abide by the rules and behave well with passengers.
LEGAL OBSTACLES TO TECH-BASED SERVICES
But Bangladesh Road Transport Authority (BRTA) ran a notice in different newspapers, in which it said operating any taxicab service without permission from BRTA or the government was an illegal and punishable offence.
Referring to transport guidelines, it also said any rent-a-car or run-on-fare vehicles must have a different colour (Black body and yellow top) and route permits.
Since Uber was the first service of its kind in Bangladesh, the government lacked any framework to regulate such transport operation.
In a query over legal issues, Uber through an e-mail, said, "We are working with the government and policymakers to help bring innovation to our cities through constructive dialogue and engagement."
Pathao also gave a reply to similar queries. "Pathao, and other ride-hailing companies are in constant communication with the BRTA. The final draft has already been submitted," it said.
Road Transport and Highways Division Secretary Md Nazrul Islam yesterday also said a regulation for the app-based services had recently been submitted to the cabinet. "We appreciate the services ....and so prepared the regulation to promote them."
Meanwhile, more and more drivers are turning to get registered with the app-based services.
Uber said hundreds are getting registered every day.
EMPLOYMENT WITH FREEDOM
Most car and motorbike drivers The Daily Star spoke to mentioned freedom and scope to earn an additional income as motivations for undertaking the profession.
24-year-old Mostafa Reaz has been working with Pathao for the past two months. He is happy that he can now earn around Tk 30,000 a month by making trips with passengers on his motorbike. This is more than what his job at a private company pays him.
"It feels like I am a self-employed person and am earning enough to meet my needs," Mostafa said.
Another motorbike owner, Saimul Islam, said he could easily have additional income just by sharing rides with a passenger on his way from his Paltan office to Mohakhali.
Part of his job is to communicate with pharmaceutical companies on a regular basis, to which his employer supplies raw materials. "For my job, I have to move around all the time and so I can give a ride to another person going in the same direction," said Saimul, who is registered with both Uber and Pathao.