Rawhide traders to run up losses
High prices of salt, low rates of hides to blame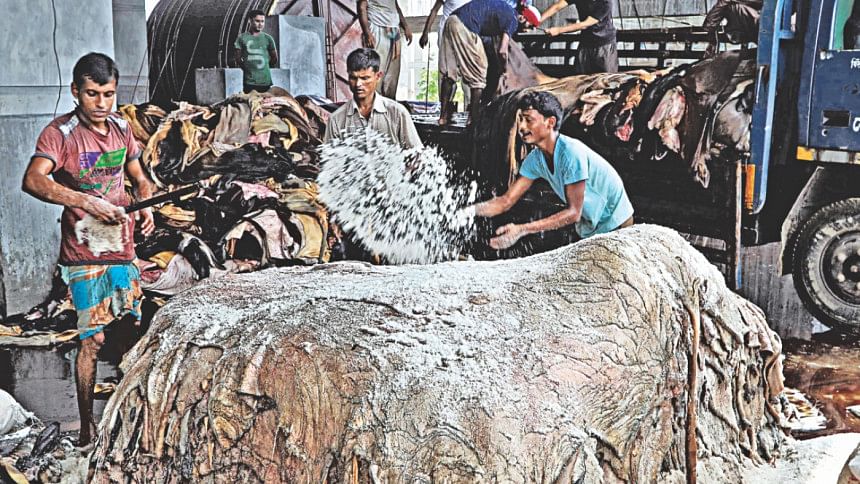 Rawhide traders who have bought the skins of sacrificial animals at higher prices during Eid might run up losses for the high cost of salt and the low rates offered by tanners. 
A 'syndicate' of wholesalers and tannery owners is to blame for the low price of rawhides, said Robiul Alam, secretary general of the Dhaka District Raw Hide Traders' Association.
The wholesalers in connivance with the tannery owners are offering Tk 30 to Tk 40 for per square foot of salted hides, which is below their cost of Tk 40 to Tk 50 per sft.
Due to the syndication, almost all the seasonal traders have to accept losses, he said.
"I talked to many seasonal traders who lost almost half of their capital for raw hide purchase," said Alam, also the secretary general of the Bangladesh Meat Merchants Association.
He also blamed the government for not inviting them to the meeting last week in which the prices of rawhide were fixed.
Bangladesh Finished Leather, Leathergoods and Footwear Exporters' Association, Bangladesh Tanners Association, and Bangladesh Hide and Skin Merchants Association -- the three leading trade bodies in the sector -- fixed the price of raw cowhide at Tk 50 per sft in Dhaka -- the lowest in six years.
For the rest of the country, the price of raw cowhide would be Tk 40. The price of goatskin was fixed at Tk 20 per sft.
Small traders across the country as well as the seasonal traders who dab in the business to make quick profit bought hides at higher prices expecting better prices ahead.
But they might face losses as the tanneries are not willing to go above the prices announced last week.
Leaders of the three associations defended this year's rates, blaming the low prices in the international markets, the high prices of salt, devaluation of currencies of importing countries and existing stockpiles of rawhides held by tanneries.
"The hide traders are in uncertainty about their business this year," said Harun Ur Rashid, president of Rangpur Hide Traders Association.
 In Dhaka, Mahbubur Rahman, a resident of Kazipara in Mirpur, sold the untreated hide of a mid-sized cow to a local trader for Tk 1,000.
Rais Uddin, a government employee in Jamalpur, said he sold the rawhide of the slaughtered cow, which brought him more than four maunds of meat, for Tk 1,600.
Mohammad Sattar, a seasoned leather trader in Sarishabari of Jamalpur, said he bought 1,500 pieces of salt-treated rawhide for Tk 1,100 to 1,200 per piece.
The price of rawhide was not that much but it is the outlay on salt and labour that has escalated the total cost, he added.
About 6-7 kilograms of salt are used for preserving one cowhide, said Akter Aziz, general secretary of Dinajpur Hide Traders Association.
And in recent times, salt prices rose sharply because of low production.
In the weeks leading up to Eid-ul-Azha, prices of salt stood at Tk 1,300 to Tk 1,400 per sack of 74 kilograms, which was Tk 700-750 last year, said Delwar Hossain, president of Bangladesh Hide and Skin Merchants Association.
But on the day of Eid, the price rose to Tk 2,000, he added.
Last year, the prices of salt-treated cowhides were Tk 50-55 per sft in the capital and Tk 40-45 for rest of the country, and rawhide merchants demanded that these prices continue this year as well.
Meanwhile, many of the tanners still have a huge quantity of unsold stock that they bought last year, said Tipu Sultan, former chairman of Bangladesh Finished Leather, Leathergoods & Footwear Exporters' Association.
"Still, I have 30 percent stock. So, this year my requirement will also be 30 percent less," said Sultan, also managing director of Bengal Leather Complex.
He denied any syndicate of tanners and wholesalers.
Rawhides can be smuggled out of the country if the prices are set 30 percent less than last year's, said rawhide merchants.
One rawhide merchant even told a local news channel that traders from India have already arrived in Bangladesh and were offering Tk 100 per sft.
In India, the price of per sft rawhide was between Tk 60 and Tk 90, according to Alam of the Dhaka District Raw Hide Traders Association.
The Border Guard Bangladesh has been alerted to prevent smuggling of rawhides, said Zahid Hasan, a battalion commander of BGB in northern Bangladesh.
A red alert has been issued in bordering areas, including Doulatpur and Benapole, said Arifur Rahman, commanding officer of BGB-21 battalion.
"The BGB members have already started their patrol along the border," he added.
Shaheen Ahmed, chairman of Bangladesh Tanners Association, said they are yet to start purchasing rawhides. "We will start buying from next week and then it will continue for the next two months."
He said tanners are targeting to collect one crore pieces of rawhides. Of them, 55-60 lakh will be from cows and 30-35 lakh from goats and buffaloes.
Eid-ul-Azha collections account for half of the annual skin supply in Bangladesh.
This time, about 1.05 crore cows, goats and buffaloes might have been slaughtered across the country, said a senior official of the livestock department seeking anonymity.
The official said the number of animals slaughtered in the country this Eid was more than ever before, largely because of the increasing purchasing power of people, availability of animals and low prices of the animals on the last day before Eid.
Leather is the second biggest export earning sector after garments.
In 2015-16, Bangladesh exported leather and leather goods worth $1.16 billion, which was $1.13 billion a year earlier, according to Export Promotion Bureau.
(Our Benapole correspondent also contributed to the report.)