Ransom could not save child
Body of 11-yr-old found in plastic barrel 4 days after abduction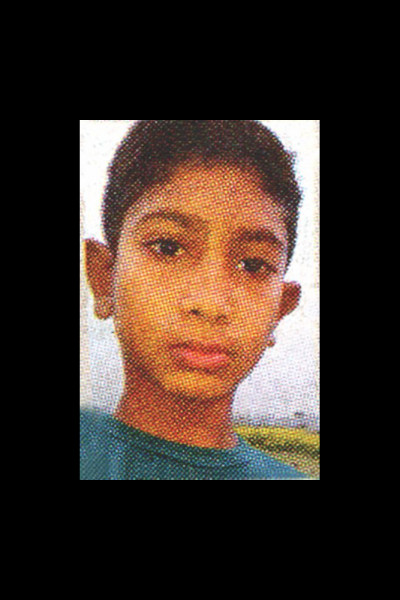 Police yesterday recovered the body of an 11-year-old boy from a house in Keraniganj of Dhaka, four days after he was kidnapped by relatives.
The body of Abdullah, son of Badal Hossain, an expatriate living in Kuwait, and Rina Begum was found inside a plastic barrel on the first floor of a two-storey building around 1:00pm, said police.
The building, owned by Rina's maternal uncle Motahar, is located within 50 feet of the boy's house at Mugarchar area under Keraniganj Model Police Station.
Police claimed that Motahar was the mastermind behind the abduction and murder of the boy. Motahar and his wife went into hiding after police had found the body.
The incident happened barely four days after bodies of three children were recovered from Tangail and Rangpur. Their families claimed that the children had been abducted.
Abdullah's paternal uncle Kabil Hossain said the child's family paid Tk 2 lakh as ransom against a Tk 5.5 lakh demanded by the captors.
His hands and legs were tied with ropes and he was found in a sitting position, he added.
Law enforcers on Saturday evening arrested three people, including Motahar's son Mehedi, 18, in connection with the incident.
During primary interrogation, Mehedi confessed that he along with his father was involved in the abduction and murder of the boy, police said, adding that the child's body was recovered from the house as per Mehedi's information.
Ferdous Hasan, officer-in-charge of Keraniganj Model Police Station, said Mehedi told them that he and his father killed Abdullah between 4:00pm and 4:30pm Friday.
The victim's body was sent to the capital's Sir Salimullah Medical College morgue where an autopsy would be performed today.
Abdullah's maternal grandfather Marfat Ali said Motahar had appeared to help the family in their attempts find Abdullah after the boy went missing on Friday noon.
He was with the family even when they had sent Tk 2 lakh ransom on Saturday and Sunday through a mobile banking service, he added.
Abdullah, a fifth-grader at a local school, left his house on Friday after Juma prayers but did not return home, Marfat said.
He said before leaving home, Abdullah told his mother that he was going to Mehedi's house as Mehedi wanted to give him a cricket bat and a ball.
Around 5:30pm on Friday, someone texted the victim's family, saying Abdullah had been kidnapped. They also demanded the money as ransom for his release, he added.
Police said they found the mobile phone number switched off.
Marfat filed a general diary with the police station on Friday night.
Marfat told The Daily Star last night that Motahar returned from Saudi Arabia five years ago and had been unemployed since then. However, Motahar was able to build a house spending around Tk 1 crore.
Outraged by the incident, locals vandalised Motahar's house and set his three shops on fire around 2:30pm yesterday, fire service sources said.
Two fire engines doused the fire.
Hearing about the abduction, Abdullah's father had flown in from Kuwait on Sunday and managed the money for paying the ransom. He was lamenting that he could not save his son even after paying the ransom.
Meanwhile, police and Rapid Action Battalion claimed to have rescued three people, including two children, in two separate incidents in Narayanganj's Rupganj yesterday.
Three suspected abductors were also held, reports our Narayanganj correspondent.
ABM Mehedi Masud, inspector (investigation) of Rupganj Police Station, said they rescued Shafiqul Islam, 7, and Shohan, 4, from in front of a house in Ispahani area under Bandar Police Station yesterday afternoon.
He said the children were abducted from Ganganagar area under Rupganj on January 29.
Shahidul Islam, deputy assistant director of Rab-11, said they rescued Kamrul Hasan Babu, several hours after he was kidnapped from Rupganj's Tarabo in the early hours of yesterday.
He said they arrested Mazid Khan of Mymensingh, Billal Hossain, and Omar Ali of Narayanganj in connection with the kidnappings.