A mother's love: Flies to Libya, brings back abducted son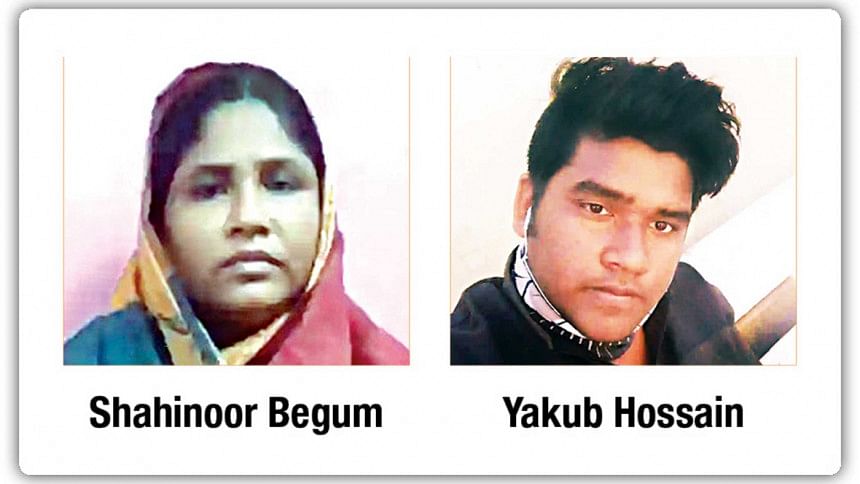 Shahinoor Begum left no stone unturned in the search for her kidnapped son even though everyone told her that there was no hope.
The 45-year-old mother sold her properties and spent around Tk 20 lakh in ransom to have her son released from a Libyan human trafficking gang and then embarked on a journey from her nondescript village in Cumilla to the war-torn Libyan city of Benghazi to find her son Yakub Hossain, aged around 20.
Yakub went missing while he was trying to go to Italy from Libya by taking the perilous boat journey through the Mediterranean. The family didn't know his whereabouts for six months.
"People around me said my son was dead. Some said he got killed. But I refused to believe them. I sold everything we had to bring my son back. I paid about Tk 20 lakh to his captors in four instalments for his release. I still couldn't find him. Then I went to Libya," Shahinoor told this correspondent.
On March 21, the iron-willed woman returned to her village in Debidwar with her son.
Shahinoor said her husband, who also lives in Libya, had two heart attacks after their son went missing.
"It destroyed our financial stability. I spent days crying, not sure what to do. Then I decided to go to Libya," she said.
She first travelled to Dhaka to get a passport and travel documents. "I paid Tk 3 lakh to a travel agent for airfare and other expenses. I boarded a Biman plane on January 8. This was my first trip outside Bangladesh. I was alone. I met a few people who were also travelling to Libya. I stayed in Dubai for a day. From Dubai I went to Egypt where we had a 24-hour transit. Finally, I reached my husband's home in Benghazi.
"After reaching Benghazi, I started contacting people who could speak in Bangla. I told them about my missing son. Seeing me cry, some of them contacted the International Organization for Migration which helped me rescue my son."
Shahinoor said the people of IOM rescued her son after a few days and also arranged a phone call between her and Yakub.
"When I heard my son's voice on the other end, I could not hold my tears. My son was also crying."
But she could not meet Yakub because he was in Tripoli at the time.
"With the help of IOM, my son and I could return home."
On reaching Bangladesh, both of them stayed at Ashkona Hajj Camp until March 21 before they were allowed to go home for a long-cherished happy reunion.
Yakub said he went to Libya on a tourist visa in May 2019 to become a migrant worker. He started working at an oil company in Benghazi for a monthly salary of around Bangladeshi Tk 35,000.
Looking for a better life, Yakub decided to go to Italy illegally at the beginning of last year on the advice of a man named Jahangir. He paid Tk 4 lakh to a broker named Rafiq to go to Italy.
But he was caught by the Libyan Coast Guard and landed in jail along with 300 others, he said.
"Around six months later, I tried to go to Italy again. This time, the human traffickers got hold of us," he said.
"They took our mobile phones, our money, our clothes and everything. We were kept in a small room that resembled a grave for 7 days. There was no light or air. Meals were given 2-3 days a week. They beat us up once a day. They used to beat us with whatever they could find."
The victims were kept in a slaughterhouse where some of the hostages died of starvation, he added.
Shahinoor said, "I will not let my son go anywhere again. I'm forever grateful to IOM for rescuing my son. We also need government support to get back the money that we have paid."
According to the Consular and Welfare Division of the Ministry of Foreign Affairs, 902 irregular citizens of Bangladesh have been repatriated from Libya from last September to March this year.
According to IOM sources, 23,601 people from different countries have gone missing in the Mediterranean since 2014.