Rangpur Mayhem: Hatred stirred up for days
The Friday's attack on the Hindu community in the district's Gangachara upazila was carried out as per a plan after days of campaign over a Facebook post, but the local authorities failed to prevent it as they didn't take the matter seriously, alleged victims and villagers.
Police, however, refuted the allegation of neglecting duties in preventing the attack that left dozens of houses destroyed in Horkoli Thakurpara village.
According to law enforcers, digital evidence showed that the Facebook post was uploaded on October 28 from the account of one Md Titu.
Talking to The Daily Star, a police official last night said someone from Rangpur's Gangachara upazila uploaded the post. He, however, didn't give any detail.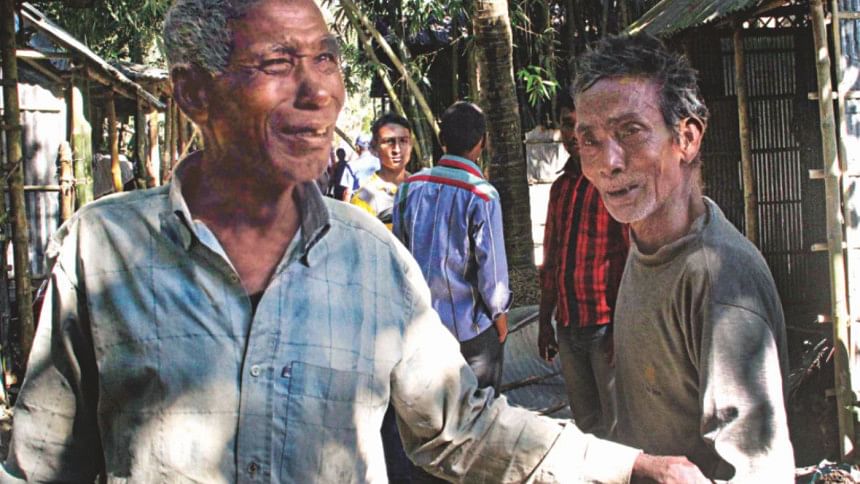 Locals said a campaign was launched in the area and also on digital platforms late last month, demanding punishment of Titu Chandra Roy, aged about 40, of Horkoli Thakurpara village for allegedly making an "anti-Islam" post on Facebook.
Alamgir Hossain, son of Abdus Sattar from Soleya Shah Bazaar, filed a case with Gangachara Police Station on November 5, accusing Titu Chandra of the hurting religious sentiments of the local people.
Alamgir, however, fled the area after the Friday's incident.
Meanwhile, police yesterday filed a case accusing 2,000 people, including 28 named, in connection with the Friday's attack, said Rezaul Karim, sub-inspector of Gangachara Police Station.
Police picked up 57 people, including two Shibir men, in connection with the case, said Zinnat Ali, officer-in-charge of the police station.
Jiten Bala, mother of Titu Chandra, said her son, a garment worker, has been staying in Narayanganj for the last four years. He last came home seven months ago.
She said as her son had no formal education, it was absolutely impossible for him to use computers.
Police said the Facebook account under the name Md Titu was opened using a photograph and the mobile phone number of Titu Chandra.
"Announcements were made through loudspeakers hired from shops and those in local mosques since November 5 about holding protest rallies and forming human chains, but the local administration didn't take any steps to prevent the attack," alleged Md Rohidul Islam of Harkali Thakurbari village.
Copies of what looked like the screenshot of a Facebook post were also distributed among villagers.
The issue of the Facebook post was also discussed at a Waz Mehfil (religious gathering) at Hazipur Kabarsthan Nurania Hafizia Yatimkhana in Rangpur's Taraganj upazila on Thursday night. Speakers at the mehfil provoked the religious devotees to stage protests, said a devotee who was present there.
Faruk Hossain, chairman of Kholeya Union Parishad in Rangpur Sadar upazila, was present at the mehfil, said another devotee.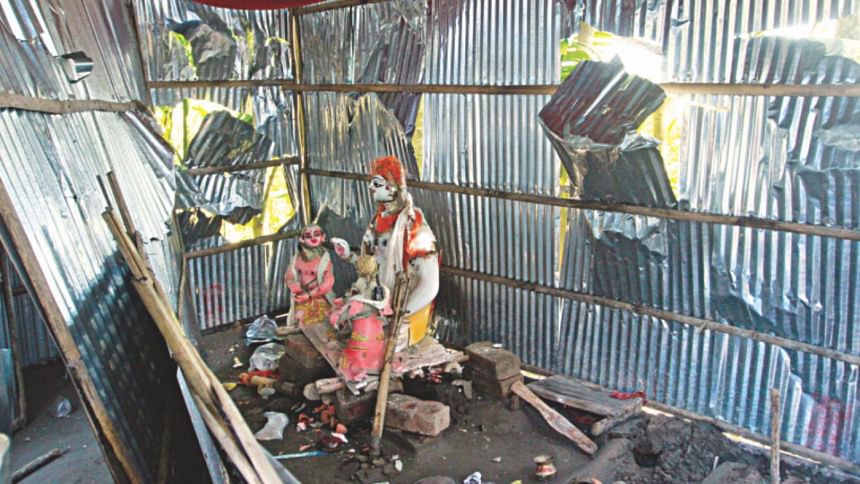 Md Alam, aged about 62, of Lalchandpur village in the same upazila said he learnt about the Facebook post from announcements of local mosques. He gathered at Soleya Shah Bazaar on Friday afternoon after offering Juma prayers.
People formed a human chain there protesting the Facebook post for about 10 minutes. They later returned home.
"The situation became tense after 3:30pm," said Alam.
Around 10,000 to 12,000 people, carrying sticks and brickbats, gathered in the area. They came from Badarganj, Gangachara and Taraganj upazilas of Rangpur and Jaldhaka of Nilphamari. They later marched towards Horkoli Thakurpara village, around one kilometre off Soleya Shah Bazaar.
At one stage, the attackers entered the village and went on a rampage. They torched and damaged Hindu houses and looted valuables. Around 25 cattle were looted, said Polash Chandra Roy of the village.
Villages said they could not identify the attackers.
Locals and police said five youths masterminded the attack. They are Md Alamgir Hossain, Julfikar Ali, Raihan Ali, Md Kahar and Abdus Sattar.
Khandakar Golam Faruk, DIG of Rangpur police, hinted that the five were involved in Jamaat-Shibir politics.  Many victims alleged that the attack was aimed at evicting Hindus from their land.
Kazi Hasan Ahmed, divisional commissioner of Rangpur, and Waheduzzaman, deputy commissioner of Rangpur, visited the village yesterday and assured Hindus of security.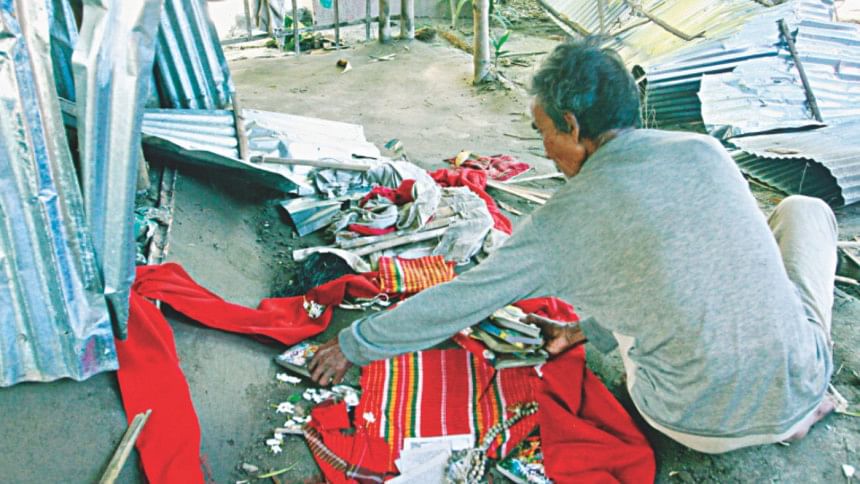 Khalid Mahmud Chowdhury, lawmaker from Dinajpur-2, and also the organising secretary of the central Awami League, along with lawmaker Monoranjan Shil Gopal from Dinajpur-1 visited the area. Local MP Moshiur Rahman Ranga, also the state minister for LGRD and cooperatives, had been there.
Khalid said a vested group was trying to disrupt law order in the area, creating panic among the Hindus.
DC Waheduzzaman said, "All I knew from the UNOs of Taragonj and Gangachara that a human chain would be formed on Friday protesting a Facebok post. I had no idea about the propaganda campaign or announcements."
Meanwhile, Hindus of Horkoli Thakurpara and nearby villages formed human chains on both sides of Rangpur-Dinajpur highway near the Thakurpara village around 11:00am yesterday, demanding exemplary punishment for the the perpetrators.
Ekatturer Ghatok Dalal Nirmul Committee and Sammilito Samajik Andolon in separate statements yesterday strongly protested the attack and demanded immediate arrest of the attackers.