Rain gives commuters a hard time
With many streets and roads under ankle-to-knee-deep water, commuters in the capital suffered immensely as torrential rain hit Dhaka Monday night and continued till yesterday afternoon.
Heavy rain, due to monsoon, is likely for the next two to three days, said Bazlur Rashid, a meteorologist at Bangladesh Meteorological Department.
The downpour caused waterlogging in different areas including Green Road, Tejturi Bazar, Kazi Nazrul Islam Avenue, Love Road in Tejgaon, and near Gulistan Park, among other places throughout the city.
The Met office recorded 54mm rainfall in Dhaka from 6:00am to 3:00pm yesterday.
While it rained heavily throughout the country, Sitakundu had the highest rainfall, recorded at 205mm, in the same time span.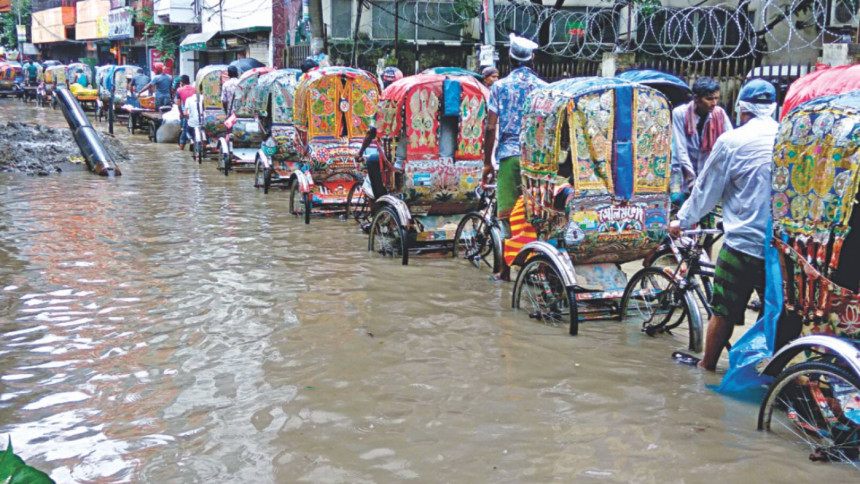 In many areas, city dwellers struggled due to dearth of vehicles. And then when they managed to get some kind of transport, they were stuck for hours in severe traffic congestion.
Some vehicles turned turtle on waterlogged roads, while drivers, especially of CNG-run three-wheelers, were seen pulling their vehicles as the water seeped into their engines.
"I am completely soaked but I have to attend a seminar now. I then have to go to my office and work in these wet clothes," said Mohammad Abdullah, an employee of a non-government organisation and resident of Moghbazar.
"After waiting for the rain to stop since morning, I finally took a rickshaw at 10:00am as my seminar in Khamarbari would start in an hour," he said.
"After a while, I noticed that most of the roads are gridlocked. So, I let the rickshaw go and began walking instead, even though it was pouring," he added.
Arif Hossain, another city dweller working in a private firm, was forced to go back home after his motorcycle fell on its side due to a pothole which was not visible on a waterlogged road in Agargaon.
"I left from Agargaon to go to my office at Farmgate but was forced to go back home after I fell and was soaked in dirty water," he said.
People from lower-income groups and street vendors were faced with tougher conditions since, due to the torrential rain, many could not operate their shops.