Protesters resolute
Defying rain, closure of educational institutions they return to streets in thousands demanding road safety; control traffic at intersections to bring discipline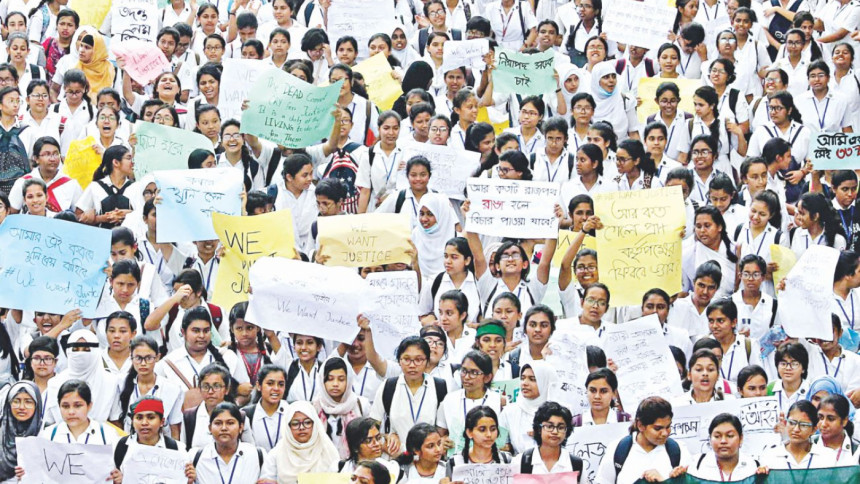 In efforts to keep the students off the streets, the government kept all educational institutions across the country shut yesterday.
But the students responded by pouring onto the roads in greater numbers in a show of defiance and determination, turning yesterday's demonstration the largest one yet. Many guardians and cultural activists also took part in the agitation in solidarity.
Since the protest began on Sunday, three ministers -- Home Minister Asaduzzaman Khan Kamal, Law Minister Anisul Huq and Road Transport and Bridges Minister Obaidul Quader -- tried to calm the protesters, assuring them of addressing the decades-long anarchy on the roads and highways in phases. They also asked them to return to their classes. 
The students stoutly rejected their assurances, issuing instead a clarion call to meet their demands for a safe and orderly road and justice for their two fellows killed in Sunday's road crash near the airport.
"Assurances for how long more? You have destroyed our trust."
This slogan, written on a city road, summed up why they refuse to leave the streets and why they continue to block the key streets in Dhaka and elsewhere, halting traffic causing public suffering.
"Whenever students take to the streets with any demand, the government accepts the demand but does nothing in reality. So we will continue our protest until our nine demands are met," said Zawad Munshi, a second-year student of Dhaka College.
Like in the past few days, the demonstrators yesterday assumed the role of traffic police, checking driving licences and fitness certificates, and seizing the keys of the vehicles that had no valid papers.   
In the process, they found several police vehicles, including one belonging to a deputy inspector general of police, do not have any valid papers. They also intercepted the vehicle of Water Resources Minister Anwar Hossain Manju in Dhanmondi, and found his driver does not have driving licence. The minister was seen leaving his white Pajero at the spot.   
Throughout the day, the students were seen controlling the traffic, forcing vehicles to drive in files across the city. In some areas, including in Malibagh and Mohammadpur, they were seen controlling traffic well into the night.
In some places, they resorted to violence, smashing over a dozen vehicles at Science Laboratory intersection and in Mirpur. A number of them engaged in heated arguments with journalists and broke a video camera of a private television channel.
Meanwhile, police and alleged ruling Awami League men attacked some students in Mirpur yesterday evening, injuring several protesters.
Students also came under attack by alleged Chhatra League and Jubo League men at Jahangirnagar University and in Chittagong.
Outside Dhaka, they staged protests in Savar, Narayanganj, Tangail, Natore, Bogra and Rajshahi, among other districts. 
The protest began on Sunday after two college students -- Khanam Mim and Abdul Karim Rajib -- were killed in a road crash. The accident happened when a Jabal-e-Noor bus ploughed through a crowd while competing with another bus of the same company. It was later revealed that a third bus was also involved in the race.
All the three drivers and the owner of Jabal-e-Noor bus have been arrested.
Deaths on roads are common in the country. According to police record, some 3,000 people die every year in road crash. But the actual number of casualties is much higher as many accidents remain unreported.
Reckless driving, over-speeding, operating unfit vehicles and dangerous overtaking are some of the key reasons behind the crashes. Little has changed over the years, causing anger and frustration among the public.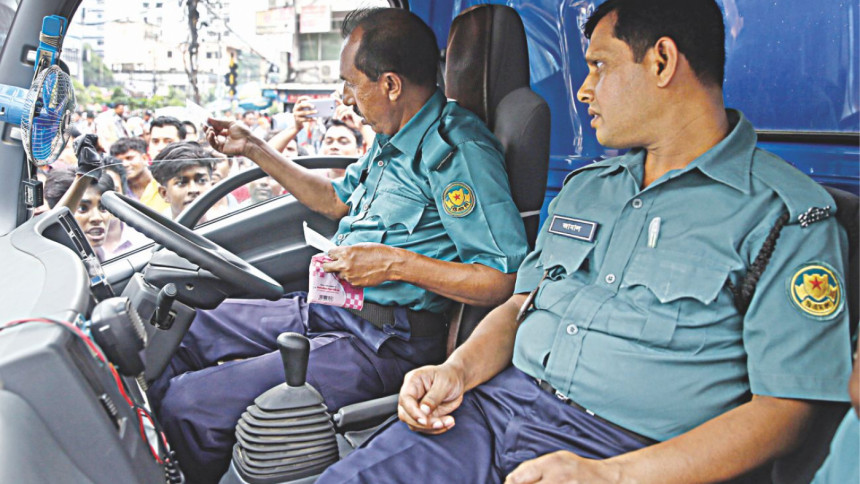 So the student protest is nothing but the outburst of the pent-up grievances, experts and campaigners have told this newspaper.
STUDENTS RULE THE STREETS
Science Lab intersection saw its largest gathering yesterday with the participation of college and private university students. Soaked in rain, around 5,000 students ruled the street since 10:30am.
The protesters vandalised five buses as the drivers failed to show any documents. They also wrote slogans on the damaged buses.
They said they would not leave the street until their demands are met.
"We have no faith in empty assurances. We want our demands met," said one of the protesters from Dhaka City College.
Coming down hard on the shipping minister, they made cartoons on placards. Some wrote fiery slogans on the streets.
Some guardians and volunteers were seen delivering food, drinking water and juice for the young protestors.
A traffic sergeant was beaten up by a group of students, after he allegedly shoved a protester for demanding his driving licence. He was taken to a hospital with severe injuries, witnesses said.
Later, all police officials left the area.
Around 4:00pm, some Chhatra League men from Dhaka University went to talk to the protesters, but they were sent off.
At Shahbagh, the students gathered around 11:00am and continued their demo for about five hours.
More than a thousand students formed a large circle in the middle of the intersection, put up barricades on all the roads leading to Shahbagh, and chanted slogans in support of their nine-point demand, including resignation of Shipping Minister Shahjahan Khan for his insensitive comments about road crash victims.
"We have no political affiliation and we are not protesting for any political purpose. We just want justice," said Hashib Hasan, a second-year student of Bir Shrestho Munshi Abdur Rouf Public College.
The protesters will gather at Shahbagh at 11:00am today.
Protests were staged also by students of Willes Little Flower School and College, Viqarunnisa Noon School and College, Notre Dame College, Siddheswari Girls' College, Sher-e-Bangla Agricultural University, Daffodil International University, Mohammadpur Preparatory School and College, and Mohammadpur Residential Model School and College.
"I could be one of the two victims, but luckily I'm not. But if such reckless driving continues, sooner or later we will be victims of such reckless driving," said Marjan Mahbub, who came with her mother to join the protest.