Hasina my inspiration
Says Priyanka Gandhi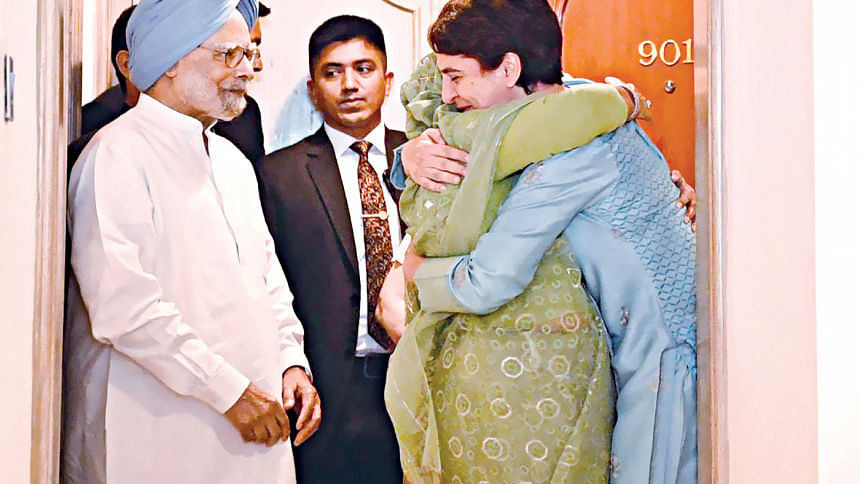 Indian National Congress General Secretary Priyanka Gandhi yesterday said Bangladesh Prime Minister Sheikh Hasina was a great inspiration for her for the way Hasina overcame personal loss and fought for what she believed in. 
The two shared a hug before the PM's meeting with Congress President Sonia Gandhi and former Indian Prime Minister Manmohan Singh at Hotel Taj Mahal in New Delhi.
"An overdue hug from Sheikh Hasina Ji whom I have been waiting to meet again for a long time," tweeted Priyanka Gandhi Vadra after the meeting.
The Congress leader also posted a photo of her and Hasina embracing, with former prime minister Manmohan Singh standing beside them.
"Her [Sheikh Hasina] strength in overcoming deep personal loss and hardship, and fighting for what she believed in with bravery and perseverance is, and always will be a great inspiration for me," tweeted Priyanka, granddaughter of Indira Gandhi, the former prime minister of India who helped Bangladesh in the Liberation War against Pakistan in 1971.
Bangabandhu Sheikh Mujibur Rahman and most of his family members were killed by a group of disgruntled army men on August 15, 1975.
During that time, Hasina was in Germany with her husband. Later in 1975, she moved to Delhi where she was given asylum by India.
The Indian Congress and Awami League have both maintained strong relations over the years.
Hasina, who returned to Bangladesh in 1981, is the longest-serving prime minister of the country. She is considered one of the most powerful women in the world, ranking 26th on Forbes' list of The World's 100 Most Powerful Women in 2018.
During the meeting yesterday, Hasina congratulated Priyanka on her joining politics, reports BSS.
She exchanged pleasantries with Sonia Gandhi and Manmohan Singh. She recalled India's contribution during the Liberation War.
Foreign Minister AK Abdul Momen, State Minister for Foreign Affairs Shahriar Alam, Sheikh Helal Uddin, MP, and PM's Principal Secretary Nojibur Rahman were present.
Meanwhile, Sonia Gandhi accepted Hasina's invitation to visit Bangladesh for commemoration of the 50th anniversary of the Liberation War, a Congress statement said.
Sonia congratulated Hasina on winning the third consecutive term as prime minister.
Hasina also extended her invitation to Congress leader Rahul Gandhi and Priyanka Gandhi, reports news1.com. 
Hasina, who was on a four-day official visit to India and held a series of bilateral talks with her Indian counterpart Narendra Modi on Saturday, returned home last night.
The talks revolved around trade, connectivity and people-to-people ties. The two countries signed six MoUs and renewed one after the meeting at the Hyderabad House in New Delhi.
Hasina also attended the India-Bangladesh Business Forum at the Indian Economic Summit of the World Economic Forum, where she pitched Bangladesh as a fast-growing economy and an attractive business destination.