Priest killed, devotee shot
Another hurt in blast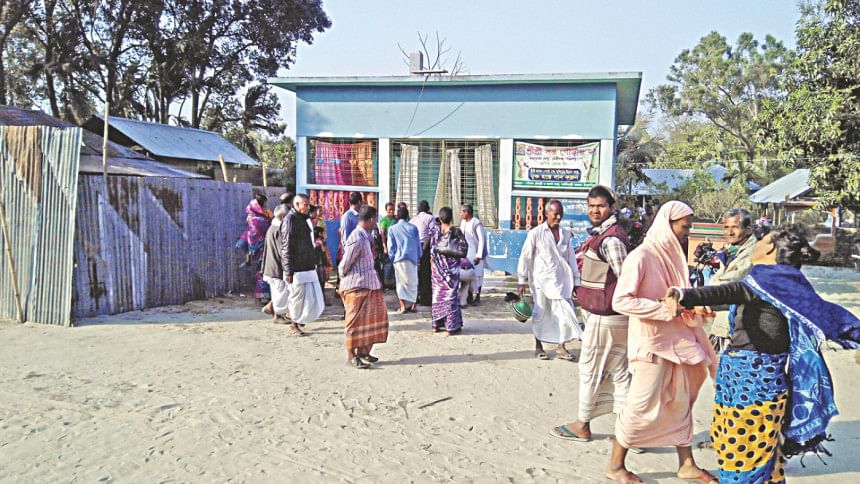 Criminals slit the throat of a Hindu priest at a temple in Debiganj of Panchagarh just after dawn yesterday and fled the scene firing shots and exploding homemade bombs, which injured two devotees.
Deceased Jogeswar Dasadhikari, 50, is the latest victim of a recent string of attacks on clerics and prayer houses of minorities in Bangladesh over the last few months.
SITE, an intelligence group, on its website news.siteintelgroup.com said Islamic State (IS) has claimed responsibility for killing Jogeswar but this paper could not independently verify the claim.
A top official of Panchagarh police denied that there was any presence of the terror outfit in the district. "Yet, we will verify the claim."
Police arrested Khalilur Rahman of the upazila yesterday evening in connection with the killing, said Babul Akhter, officer-in-charge of Debiganj Police Station.
Yesterday, Jogeswar was arranging his offerings for his morning puja at his Sri Sri Shonto Gaurio temple of Shonapota around 6:30am, police said.
They quoting locals said Jogeswar heard noises of stones being pelted on the temple roof and went out in the foggy morning to see what was going on, reports our Thakurgaon correspondent.
Two to three assailants were waiting for him and they stabbed him indiscriminately, said OC Babul.
Wounded Jogeswar ran towards a house in the backyard of the temple but the criminals chased him and slit his throat there. He died on the spot, said the OC.
Devotee Gopal Chandra Roy, 35, who lives in the temple, said he was in the kitchen and was singing kirtan, a form of devotional song, when he heard Jogeswar's screams. He rushed outside and saw a man pointing a gun at him.
The man started firing at him and he was hit in the arm. When the criminal was trying to reload, Gopal scaled a wall and made his escape, reports our Rangpur correspondent. 
Hearing gunshots, Nitai Das, 40, ran towards the temple compound and saw Gopal making his escape. He also saw criminals stabbing Jogeswar.
When the criminals were fleeing, they hurled a homemade bomb at Nitai injuring him.
Nitai was in Debiganj Upazila Health Complex for treatment.
Gopal was in Rangpur Medical College Hospital and a doctor there said a bullet pierced through his left elbow and that his life was not in immediate danger.
Locals said they saw three people flee the village on a motorbike.
Police went to the spot and sent the body of Jogeswar to Panchagarh Sadar Hospital for autopsy.
They said they collected a bloodstained machete, a bullet and a bullet shell from the scene as evidence. They were unclear about the motive behind the killing.
Members of different law enforcement agencies including police, Rapid Action Battalion, Criminal Investigation Department (CID) and Police Bureau of Investigation (PBI) had collected evidence from the spot.
Giasuddin Ahmed, superintendent of police in Panchagarh, told BBC Bangla Service that they formed a committee to probe the killing while CID, the Special Branch, and Rab were assisting them.
Replying to a query on whether it was a planned attack on the religious minority, the SP told BBC Bangla Service that they were investigating the incident keeping two to three aspects in mind.
"Jama'atul Mujahidin Bangladesh (JMB) is also in our list of suspects," the SP told AFP.
Jogeswar's elder brother Rabindranath Roy filed a murder case with Debiganj Police Station accusing three unknown people, said Inspector (investigation) Aiyub Ali of the police station. Police also filed an illegal arms and explosive case.
Rabindranath said the temple did not have anything worth stealing and that their family had no enmity with anyone.
A life-long bachelor, Jogeswar built the temple in 1998 just half a kilometre away from the upazila headquarters selling off his land and other properties, said Rabindranath.
He had been living there and several hundred devotees from nearby villages visit the temple and offer prayers each day, he added.
With the killing of Jogeswar, at least three clerics were attacked in last five months across the country.
Pastor Luke Sarker of Pabna and Italian Pastor Piero Parolari, who lives in Dinajpur, were attacked in their homes on October 5 and November 18.
Law enforcers have claimed that banned militant outfit Jama'atul Mujahideen Bangladesh (JMB) had carried out the attacks.
On November 3, police, quoting the confessional statement of JMB suspect Rakibul Islam, said the outfit led the attack on Pastor Luke Sarkar in Pabna on October 5 as "he was preaching Christianity among people".
In his deposition, Rakibul said four other JMB men and he planned to kill the pastor, according to police.
Luke was attacked by three motorbike riders in his house in Schoolpara area of Ishwardi.
Traumatised by the attack, Luke left his home three weeks later.
Shariful Islam, who was caught red handed during an attack on an ISKCON temple in Dinajpur on December 10, confessed before a court on December 17 that he was involved in the shooting of Piero Parolari too, police said.
JMB suspect Shariful admitted that he was among the three people who carried out the attack near the BRTC Bus Terminal in Dinajpur town on November 18, said police.
Meanwhile, Bangladesh Puja Udjapan Parishad and Bangladesh Hindu Buddha Christian Parishad in statements yesterday strongly condemned the killing and demanded trial of the killers and their instigators.