Make Myanmar take back the Rohingyas
PM urges the world at an event in New York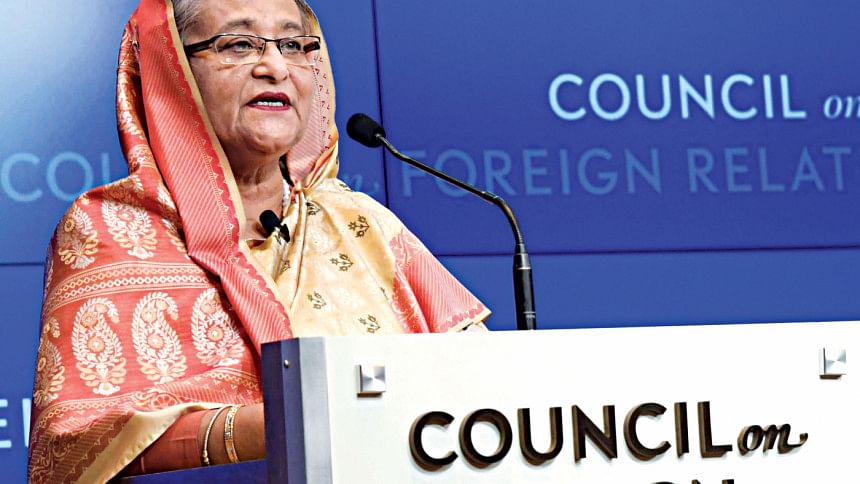 Prime Minister Sheikh Hasina has said the world must take all measures to force Myanmar to create conditions enabling safe, dignified and voluntary return of Rohingyas to their ancestral home.
She was addressing an interactive dialogue titled "A conversation with Honorable Prime Minister Sheikh Hasina" at Council on Foreign Relations (CFR) in New York on Wednesday.
"Through planned atrocities, the government of Myanmar cleansed its Northern Rakhine State of the Rohingya minority. They fled violence and atrocities and we opened our border to shelter them on humanitarian ground," the PM said.
Hasina said Bangladesh is providing humanitarian support to the Rohingyas to the best of its ability. "We want a peaceful and immediate resolution of the crisis. Myanmar has created the crisis and the solution lies in Myanmar."
The PM said the international community, particularly the EU, China and the USA, have been extremely helpful to Bangladesh in dealing with the crisis.
She urged all to visit the Rohingya camps in Cox's Bazar, Bangladesh.
"We believe, while in those camps you will be shaken by their horrifying stories of atrocities at the hands of the Myanmar security forces and local vigilantes. After seeing their plight, I believe, you will want to see an end to their painful predicament the soonest."
The PM mentioned that Bangladesh faces climate change as one of the challenges in its development journey.
She said the frequency and intensity of cyclones, floods and droughts have increased over the years. The government, therefore, adopted the Bangladesh Climate Change Strategy and Action Plan in 2009.
Under this plan, Bangladesh Climate Change Trust Fund was set up with the country's own resources. Since then, nearly $450 million have been spent on several hundred projects, mostly on adaptation and a few on mitigation, Hasina added.
The other significant challenge to Bangladesh's economic progress is terrorism and violent extremism. The government has taken "zero tolerance" policy against these social menaces, she mentioned.
She recommended four measures to fight against terrorism and violent extremism. They are: Must stop the source of supply of arms to the terrorists, must stop the flow of financing to terrorists and their outfits, must remove the divisions within societies and must pursue the principle of peaceful settlement of international disputes through dialogue for a win-win situation.
Hasina said the government has equipped the law enforcement agencies and taken steps to socially isolate the extremists and terrorists.
"We have also taken digital measures to stem the spread of lies and hate narratives. In countering terrorism, we have excellent cooperation with both regional and global partners. As a result, since the Holey Artisan attack on July 1, 2016, there has been no major incident. Our people remain increasingly vigilant as we are committed to ensuring the safety of our people and supporting security situation beyond our borders," she said.
Later, the PM replied to questions on various issues, including Rohingya, the unity of Muslim Ummah, the situation in the RMG sector, food security, social safety net programmes and women empowerment.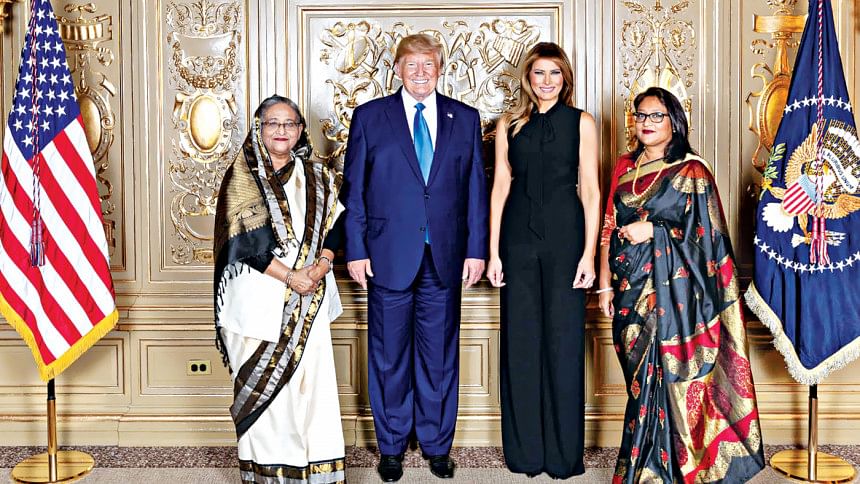 Responding to a question on Rohingya repatriation, she said Bangladesh had talks with Myanmar and the discussions were underway and the international community also supported it. "The problem is that these people [Rohingyas] don't want to go back as they feel insecure."
Hasina said Myanmar changed its constitution in 1982 without mentioning the Rohingyas as their citizens and called them outsiders. "At one stage of our dialogue, Myanmar agreed to take back their nationals from Bangladesh. But in the Rohingya camps, some people instigated them not to go back home."
She said Myanmar should create an atmosphere so that the Rohingyas can go back and live on their own land.
The PM, however, said the international pressure is very important for the repatriation of the Rohingyas.
"But somehow it seems to me that the organisations working in Cox's Bazar Rohingya camps don't want these people to go back and they [organisations] are trying to prevent them."
About the Muslim Ummah, Hasina said when she joined the OIC Summit in Makkah, she raised the issue that if there is any problem between the Muslim countries, it should be resolved through a dialogue or discussion. "But somehow it is not happening and you know wherein the problem lies."
The PM said there are many resourceful countries which cannot use their resources on their own and those who are helping them have some games to play and they have been pursuing the "divide and rule" policy in this regard. "This is very unfortunate and Muslims should realise it."
"Every time in OIC, I raised the issue that the OIC should take some steps. But it is not happening anyway," she added.
PM's ICT Adviser Sajeeb Wazed Joy, Foreign Minister AK Abdul Momen, Commerce Minister Tipu Munshi, Health Minister Zahid Maleque, Environment, Forest and Climate Change Minister Md Shahab Uddin, State Minister for Foreign Affairs Md Shahriar Alam, Bangladesh Ambassador to USA M Ziauddin, CFR President Richard N Haas and distinguished members of CFR were present at the event.