Paediatric pioneer passes away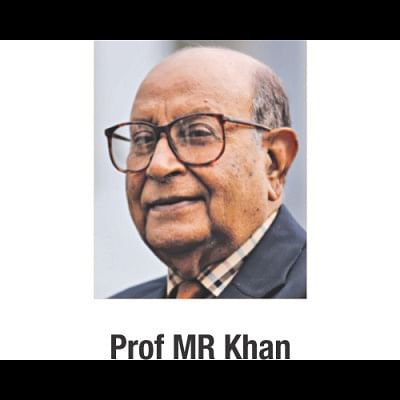 Country's internationally famed paediatrician National Professor MR Khan passed away at the age of 88 at a city hospital yesterday.
The preeminent child specialist breathed his last at 4:25pm at Central Hospital, the hospital authorities confirmed. 
Prof Khan, well known for his pioneering role in introducing vaccines against diseases having high fatalities on children, and for founding many health service institutions, had been suffering from several old-age complications lately and undergoing treatment at the intensive care unit of the hospital.
He would be laid to rest today by the grave of his wife in Satkhira, where he was born on August 1, 1928, as Mohammad Rafi Khan. His wife, Anwara Khan, died in 2012.   
Prof Khan, recipient of Ekushey Padak and Independence Award in addition to numerous other awards, is survived by his only daughter Dr Mandy Karim.
His body will be taken to Bangabandhu Sheikh Mujib Medical University (BSMMU) and Shishu Sasthya Foundation (Institute of Child Health) in Mirpur this morning for namaj-e-janazas before being taken to Satkhira.
Dhaka Shishu Hospital's Head of Microbiology Prof Samir Kumar Saha, who had the privilege to work under Khan's tutelage, fondly recalled the virtues of the late paediatric surgeon.
"Prof MR Khan was not just an individual; he was rather an institution. For all the brave decisions relating to the nation's health policies we would look towards him. There was no word called 'impossible' in his dictionary," said Prof Samir.
He was punctual, dedicated for the cause of children and would never come late for any appointment or meeting, Prof Samir recalled.
After his MBBS from Calcutta Medical College in 1952, Prof Khan went on to complete various post-graduate degrees such as DT&MH (Edinburgh, 1957), DCH (London, 1957), MRCP (Edinburgh, 1962), FCPS (Bangladesh, 1974) and FRCP (Edinburgh, 1978).
He joined public service in 1963 in Dhaka Medical College as an associate professor and retired as professor of pediatrics at IPGM&R in 1988. Before his retirement, he served in Rajshahi Medical College, Dhaka Shishu Hospital and other institutions in different capacities.
He put a special contribution for establishing the paediatric unit in Rajshahi Medical College in 1964-1965 and strengthening Dhaka Shishu Hospital in 1978-1979. He introduced FCPS, DCH and MCPS in paediatrics in 1972.
Dr Khan was Founder President of Bangladesh Paediatric Association and was often dubbed as the "Father of Paediatrics" in Bangladesh.
He served as a Senior Visiting Professor of ICDDR,B since 1989; Professor and Founder Director and Chairman of the Institute of Child Health and Shishu Hospital in Mirpur, which he founded in 1983. 
The Institute of Child Health (ICH) and Shishu Hospital set up by Prof Khan under the aegis of Shishu Sasthya Foundation Bangladesh (SSFB) is an example of his concern for children.
The SSFB contributes significantly at national level to eliminate malnutrition, and offers treatment to suffering children and women of reproductive age through preventive and curative programmes.
The SSFB that started its mission in January 1983 as a nursery of infant care with 26 staff members now has 250 staff members, including 75 doctors, a good number of trained nurses and administrative staff caring for about 200 indoor patients and 600 out-patients daily at the Mirpur complex.
The Institute of Child Health (Shishu Hospital) and SSFB, now housed in two complexes -- one six-storey and another seven-storey -- have provisions for diagnostic treatment of children's diseases, apart from teaching, training and research.
The Institute of Child Health -- set up by the Foundation in Tangail, Jessore, Satkhira and Alamdanga (Jessore) -- is a unique national level training and treatment centre for health and nutrition of children and mothers. 
Prof Khan was a pathfinder who helped introduce vaccines against polio, diphtheria, pertussis (whooping cough) and tetanus in this part of the world during the Pakistan days back in 1965.
For his outstanding contribution in the field of health and social development, he has been recognised with numerous awards including Gold Medal for Social Work by the Ministry of Social Welfare in 1999, Ibn Sina Gold Medal in  1999, Khan Bahadur Ahsanullah Gold Medal for contribution in Child Health and Social Work in 1998, Bangladesh Paediatric Association Award for contribution in the field of child health in 1994, Moulana Bhashani Gold Medal for outstanding work for child health in 1994, Poet Kazi Nazrul Islam National Award and Gold Medal in 1993, World Astrological Society Award in 1992 and Association of Pediatrics from South East Asia Region, Manila Award, 1991.