Pakistan denies committing war crimes in 1971
State minister for foreign affairs, war trial campaigners react sharply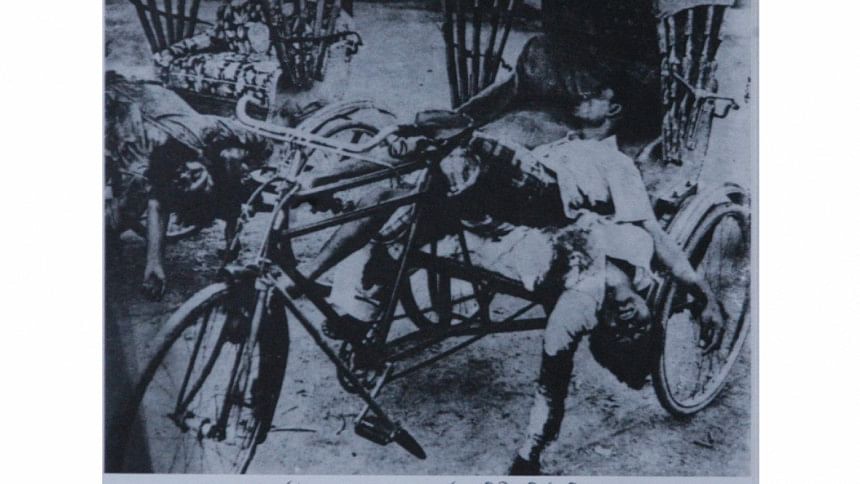 In an apparent response to Bangladesh's move, Pakistan yesterday summoned acting high commissioner of Bangladesh Maushumi Rahman to its foreign ministry and denied committing any war crimes or atrocities during the 1971 Liberation War.
Pakistan also rejected Bangladesh's statement that trashed Islamabad's concern over the recent executions of war criminals Ali Ahsan Mohammad Mojaheed and Salauddin Quader Chowdhury.
Bangladesh handed over the protest note to the Pakistan high commissioner in Dhaka after summoning him to the foreign ministry on November 23, a day after Pakistan issued a statement over the executions.
Pakistan's latest move triggered outrage in Bangladesh as war crimes trial campaigners accused the country of "resorting to falsehood" over its role in 1971. According to former top Bangladeshi diplomats, the step was "highly inappropriate and unfortunate and clear interference in Bangladesh's domestic affairs".
State Minister for Foreign Affairs Shahriar Alam said, "If Pakistan continues to interfere in our internal matters, it would be challenging for us to take the relationship with Pakistan forward."
"We will discuss the issue at the ministry tomorrow [today]," he told The Daily Star last night.
Pakistan's foreign ministry on November 22 made a statement, voicing "deep concern and anguish" over the capital punishments of Jamaat leader Mojaheed and BNP leader Salauddin.
It prompted Bangladesh to summon the Pakistan envoy in Dhaka for lodging a formal protest. Terming Islamabad's statement a brazen interference in Bangladesh's internal affairs, Dhaka said it expected the Pakistani authorities to act responsibly and refrain from making such "uncalled for statements".
Yesterday, the Pakistan foreign ministry in a release said the acting high commissioner of Bangladesh was summoned to the ministry by the director general (South Asia & Saarc) and was informed that the Pakistan government rejected "the baseless and unfounded assertions of the Bangladesh government conveyed vide its note of 23 November 2015".
"Pakistan also rejected insinuation of complicity in committing crimes or war atrocities. Nothing could be further from the truth," added the statement.
Shahriar Alam questioned, "If it was not Pakistan, then who had committed the crimes during the nine-month war?
"Pakistan is now trying to ignore an established truth after 44 years. In the agreement of 1974, Pakistan felt sorry to a certain extent for committing the crimes. Why are they making a contradictory statement now?"
Tureen Afroz, a prosecutor of the International Crimes Tribunal, said even the Hamoodur Rahman Commission, which was formed by Pakistan, found involvement of its army in war crimes.
The staff study of the International Commission of Jurist in June 1972 had also found Pakistan army's involvement in war crimes, said Tureen. "If Pakistan had not committed war crimes, then why did it negotiate the repatriation of 195 prisoners of war?" she asked.
The lawyer termed Pakistan's latest claim a blatant lie.
Pakistan in the statement yesterday said, "It is regrettable that attempts have been made by the Government of Bangladesh to malign Pakistan, despite our ardent desire to develop brotherly relations with Bangladesh. Pakistan believes that the peoples of both countries not only want to maintain but also further strengthen the bonds of friendship and brotherhood. However, sadly, the Government of Bangladesh does not seem to respect these sentiments."
State Minister Shahriar Alam said Bangladesh, India and Pakistan had a plan to march forward. "To make this happen, Saarc was formed. But if Pakistan goes on with interfering in our internal matters, it would be difficult for us to take the relationship with Pakistan forward."
He hoped that Pakistan would not interfere in Bangladesh's internal affairs, especially in war crimes trial, in future.
Pakistan's press release also read, "As regards the Bangladesh Government's contention that Pakistan presents a misleading interpretation of the Agreement of 1974, it needs to be emphasized that, as part of the Agreement, the Government of Bangladesh had decided not to proceed with the trials as an act of clemency."
In this regard, Shahriar Alam said Pakistan was interpreting the 1974 deal "wrongly and intentionally".
Under the deal signed on April 9, 1974, Bangladesh had agreed not to proceed with the trial of 195 prisoners of war repatriated to Pakistan "...having regard to the appeal of the Prime Minister of Pakistan to the people of Bangladesh to forgive and forget the mistakes of the past."
Tureen Afroz said the 1974 agreement talked about the trial procedure of 195 prisoners of war. Besides, Bangladesh is now trying its own people who had sided with the Pakistani army and committed crimes along with them.
"Bangladesh has absolute territorial and universal jurisdiction to try them," she insisted.
Veteran war crimes researcher Shahriar Kabir on November 22 told The Daily Star that the tripartite agreement was "invalid".
As per the Vienna Convention, to which Bangladesh is a signatory, there are some crimes that cannot be forgiven by any government, and genocide is one of them, he added.
Shaheed Jaya Shyamoli Nasrin Chowdhury said "falsehood is ingrained in Pakistanis."
"The Pakistan army and their local collaborators had committed genocide. We witnessed those crimes. This has been proved to be true. But Pakistan is now resorting to falsehood," added the widow of Shaheed Alim Chowdhury.
In its 2013 judgment in the case against Abdul Quader Mollah, the International Crimes Tribunal-2 said: "Amnesty shown to 195 listed war criminals are opposed to peremptory norms of international law. It is to be noted that any agreement and treaty amongst states in derogation of this principle stands void as per the provisions of international treaty law convention [Article 53 of the Vienna Convention on the Law of the Treaties, 1969]."
"Despite the immunity given to 195 listed war criminals belonging to the Pakistan armed forces on the strength of 'tripartite agreement', the Act of 1973 [International Crimes (Tribunals) Act-1973] still provides jurisdiction to bring them  to the process of justice," said the tribunal.
About three million Bangalees were killed and a quarter million women raped by Pakistan army and their local collaborations. Besides, about 10 million people had to take refuge in India during the 1971 war.
EX-DIPLOMATS IRKED
Former ambassador Ashfaqur Rahman said if Pakistan really wanted to develop relations with Bangladesh, it should immediately initiate the trial of 195 Pakistani prisoners.
"They [Pakistan] should understand that Bangladesh is trying its own citizens. Pakistan has no right to say anything about the war crimes trial and the punishments awarded by the apex court of Bangladesh," he noted.
Another former Bangladeshi diplomat, who served as Bangladesh high commissioner in Islamabad, told this newspaper that the government should take the summons of Bangladesh's envoy very seriously as Islamabad was "not maintaining diplomatic norms" and nakedly interfering in Bangladesh's domestic affairs repeatedly.
Former ambassador M Humayun Kabir said, "Pakistan should look at the mirror and understand their own behaviour during the Liberation War. It is high time that they apologise for their heinous crimes committed against the unarmed Bangladeshi civilians."
The Pakistan National Assembly in December 2013 had adopted a resolution expressing concern over the execution of Jamaat leader Abdul Quader Mollah.
Three top leaders of Jamaat-e-Islami and a BNP leader have been executed so far since the formation of the International Crimes Tribunal in March 2010.
Abdur Quader Mollah, Muhammad Kamaruzzaman and Ali Ahsan Mohammad Mojaheed were leaders of Islami Chhatra Sangha, the then student wing of Jamaat, while Salauddin Quader Chowdhury was son of Fazlul Quader Chowdhury, chief of Convention Muslim League.
Both Jamaat and Muslim League stood against the Liberation War, through which Bangladesh parted from Pakistan.