77 jailed, 76 held
Locals say identified drug traders fled Geneva Camp before Rab raid; another 54 detained in Korail, TT Para slum drives by police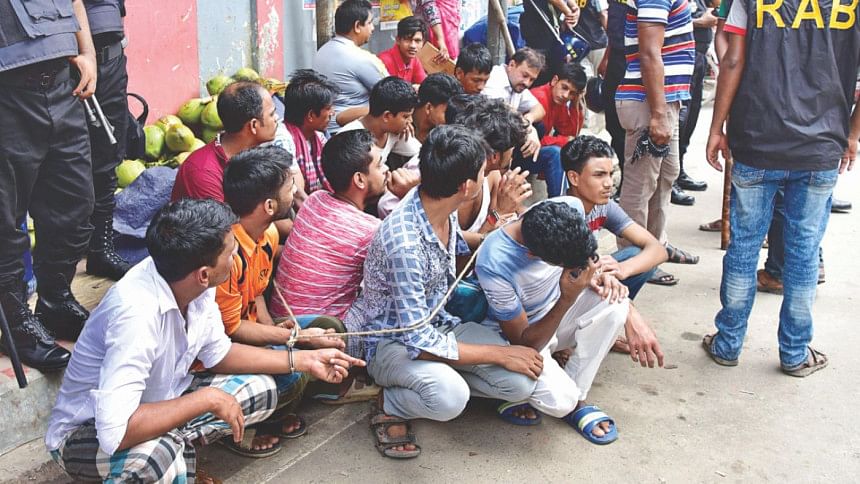 Around 1,000 Rab personnel from different battalions with dog squads and a bomb disposal unit cordoned off the Geneva Camp in Mohammadpur yesterday morning.
At about 10:30am, they put barricade at all entrances to the camp, considered a major drug hub of the capital. Some officials went up to the nearby four-storey Mohammadpur High School and kept watch over the area with a drone.
Their aim was to arrest the drug traders in the camp and recover narcotics.
Rab members went inside many of the small rooms and shops with their dogs trained to sniff out drugs.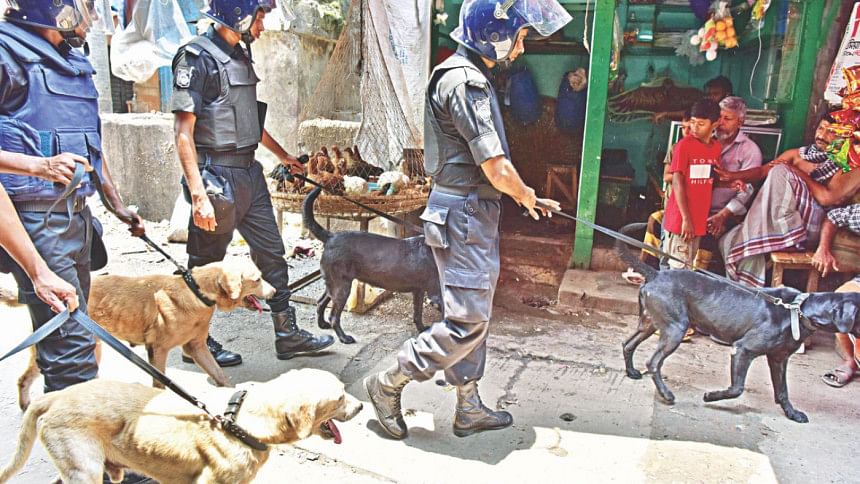 The raid went on for over two hours. They picked up a lot of people, arrested many, and seized drugs, but the drug lords "slipped away".  
A police raid at TT para slum produced similar results last night while another raid into the Korail slum could produce almost the same -- big-time dealers escaping arrest and a handful of small-timers being detained.
Around 500 people, including women and children, were picked up first in connection with their involvement in drug peddling in Geneva Camp yesterday, said Anwar Uz Zaman, commanding officer of Rab-2.
"After scrutiny, we detained 350 people. After further scrutiny we let 197 of them go. Of the 153 remaining, 76 were arrested in eight cases while the rest 77 were sentenced to six months to two years by the accompanying mobile court," the Rab official added.
The camp dwellers, meanwhile, alleged that most of the detainees were "innocent" while the real drug dealers fled after being tipped off about the raid.
"We will interrogate the detainees. After verification of information, we will take legal action against those involved in drug trading in the camp," Mufti Mahmud Khan, director of the force's legal and media wing, told reporters.
During the drive, Rab recovered around 13,000 yaba pills and 30kgs of cannabis.
Mufti said the drug dealing in the densely populated camp had been going on for decades. There are many families involved in drug dealing. It was tough to search every nook and cranny of the congested camp, he added.
"Law enforcers had bitter experience in conducting raids here in the past and that was why we had taken proper preparation and engaged several teams, including the Rab Headquarters," the Rab official said.
On May 4, Rab launched its own anti-narcotics operations while the Police Headquarters on May 16 instructed all police units across the country to conduct a special 10-day drive from May 18.
Rab-2 Commander Anwar Uz Zaman said they had been monitoring the camp for the last few days. "As it [Geneva Camp] is a sensitive place, we decided to raid in the morning," he added.
Geneva Camp, also known as Bihari camp, is home to more than 40,000 Urdu-speaking people. Each family with eight to 10 members on average live in one-room homes. Around 90 people share a toilet, sources said.
Drug dealers of different ages, holding small packets of the pink tablets, peddle openly in the camp.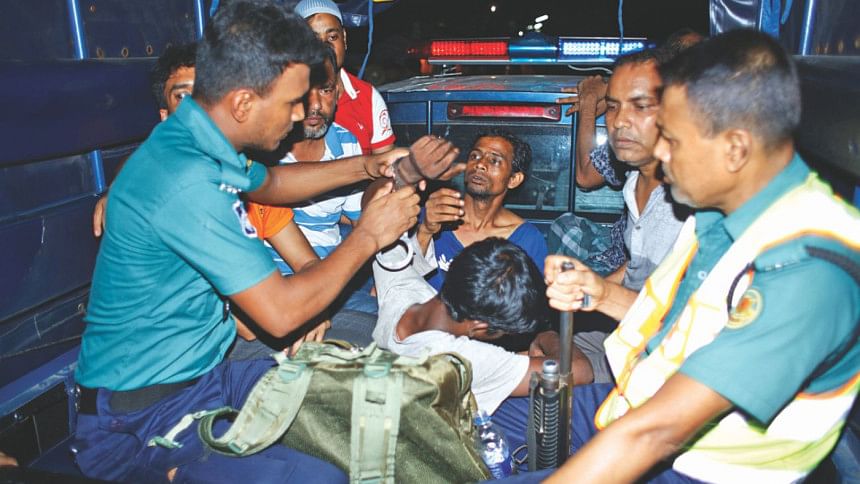 'INNOCENTS HELD'
After the drive ended in Geneva Camp, many family members of the detainees protested the detention of the "innocent".
Thirteen-year-old Soni, student of class-V at a local school, was picked up during the drive.
"She woke up in the morning and was doing boutique work on a dress. Rab personnel came and picked her up from our home," Ruma, her sister, claimed as tears started rolling down by her cheeks.
Soni was released in the evening.
The camp dwellers alleged that many of the detainees were innocent people and only a handful of small-time peddlers were detained.
"Police know everything. Why don't they arrest the real drug traders?" said 50-year-old Enamullah, an embroider by profession. He said his younger brother Habibullah, a tailor, was held yesterday.
"There is no one in my family who even smokes a cigarette. How can he [Habibullah] be in the drug trade?" he said.
Like them, the family members of restaurant waiter Raju, CNG workshop serviceman Rejwan Ashrafi, caretaker of a cinema theater Bacchu Mia, also claimed that their loved ones were innocent and picked up unlawfully.
"Raju worked all night at Gafur's Hotel in the camp and came home around 7:00am. He was sleeping when Rab stormed in and picked him up," said his mother.
Abdul Jabbar Khan, president of Stranded Pakistanis General Repatriation Committee (SPGRC), alleged that the main culprits being tipped off left a day before.
He claimed that there were only 10 to 12 small-time drug peddlers among the detainees.
"Yaba is not made in Bangladesh. It comes from Myanmar. Why don't you seal off the supply points?" he said.
Several leaders of the platform said a gang of 30 run the illegal trade in the camp and maintain close ties with law enforcement agencies and political parties.
The Daily Star could not independently verify their claims.
"People living in the camp are held hostage by the drug dealers. They are powerful. If anyone from the camp helps law enforcers catch a drug dealer, the person is targeted and harassed ... People here are scared to say anything against them [drug dealers]," said a leader of the platform seeking anonymity.
Shoukat Ali, general secretary of the platform, expressing his frustration said, "You didn't arrest the criminals … you arrested the innocents."
According to police and narcotics control officials, the camp's name appeared on several intelligence reports of law enforcement agencies and narcotics control department.
Ishtiaq alias Kamrul Islam is one of the drug lords of the camp. Other top drug dealers of the camp include Papia, Arshad, Nadim alias Pachish, Pachu, Tanvir Adnan, Selim alias Chora Selim, Rakib, Muktar, Sathi, Razia, and Chunna Koshai, according to police and narcotics control officials.
Of the people mentioned above, only Rakib had been arrested yesterday but not during the Rab raid. He was arrested around 4:00am by police at the camp.
Rab-2 Deputy Commanding Officer Mohammad Ali said the top listed drug dealers were not among those arrested during the drive.
Rakib, a close aide to Ishtiaq, and another drug peddler Mamun were arrested, said Jamaluddin Meer, officer-in-charge of Mohammadpur Police Station.
"Rakib has been involved in yaba trade for the last four to five years. He used to work for Ishtiaq in the camp. Many peddlers used to work under him," the OC said, adding that Rakib was apparently untouchable.
KORAIL RAID
Around 1,000 policemen with a dog squad gathered on T&T ground just beside Korail slum in Mohakhali around 7:30pm.
They setup a tent, four bright lights, and two horn speakers which they used to warn slum dwellers that they would be conducting a raid there.
The raid began around 9:00pm with policemen in different groups going into the slum. Some of them returned the ground around 11:00pm.
Briefing newsmen around 11:15pm, Counter Terrorism and Transnational Crime unit (CTTC) chief Monirul Islam said they detained around 30 people at the slum and the raid was still on.
"We have recovered some yaba, cannabis and some local weapons," Monirul said, adding that the seizure list was yet to be made.
He said another raid was going on at TT para slum in Kamalapur in which another 1,000 policemen were taking part.
Asked, if it was possible to arrest the listed drug dealers with such an elaborate and public arrangements, Monirul claimed that plainclothes policemen were inside to prevent criminals from fleeing.
He said the drug lords did not live in that slum. "I suspect most of the detainees here are those who had been arrested before."
Meanwhile some family members of the detainees claimed that police picked up people who had nothing to do with drugs.
Mobarak, 19, a night guard was picked up when he was going to work in uniform.
TT PARA RAID
At least 24 people had been detained in the raid at TT para slum in Kamalapur, said ADC Shibli Noman of DMP Motijheel division.
He said no listed drug dealers had been arrested and that they were able to seize some yaba pill, locally made alcohol, and cannabis.