Two 'drug traders' killed in 'gunfights'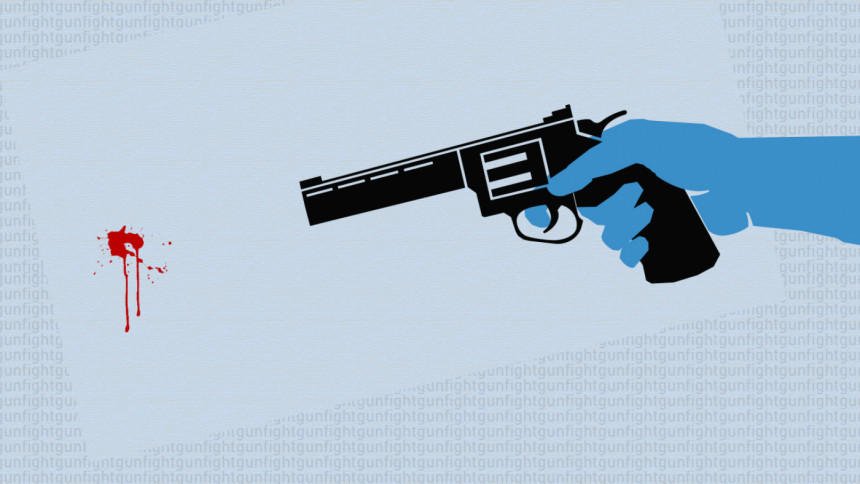 Two suspected drug traders were killed in reported gunfights last night and early today in Meherpur and Cumilla districts.
In Meherpur, police recovered the bullet-hit body of a suspected drug peddler from Buripota bordering area in Sadar upazila early today.
Rabiul Islam, officer-in-charge of Sadar Police Station, said hearing sounds of gunshots, a police team went to a litchi orchard and recovered the body of an unidentified man early in the morning and sent it to a local hospital morgue for autopsy.
Police suspected that a gun battle took place between the two groups of drug peddlers in the area.
They also recovered one shutter gun and 30 bottles of phensidyl from the spot.
In Cumilla, Saiful Islam, 22, a "drug trader" and son of Jahangir Alam of Jorameher village, was killed in a reported gunfight with members of Detective Branch of police at Managram in Adarsha Sadar upazila last night.
Tipped off, a team of detectives conducted a drive in the area around 11:15pm, said Nasir Uddin Mridha, officer-in-charge of DB police.
Sensing presence of the law enforcers, Saiful's associates opened fire on police, prompting them to fire back.
At one stage, Saiful sustained bullet injuries while the others managed to flee.
Later, he was taken to Cumilla Medical College Hospital where the doctors declared him dead around 12am.
One revolver, 300 yaba tablets were recovered from the spot.
Abu Salam Mia, officer-in-charge of Kotwali Model Police Station, said Saiful was wanted in several cases.