Five more killed in 'gunfights'
One of them suspected drug peddler; number of 'drug peddlers' killed so far rises to 203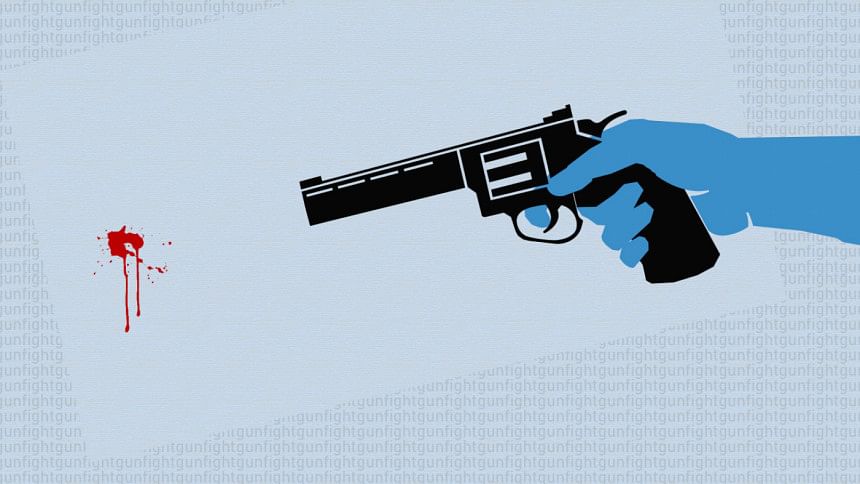 Four suspected criminals, including an outlawed party leader, were killed in "gunfights" with law enforcers in Comilla, Sirajganj and Rajbari early yesterday, while an alleged drug peddler died during a "gun battle" between two groups of drug peddlers in Tangail.
With the death of the "drug peddler", the number of deaths since the anti-narcotics drive began on May 4 has risen to 203.
In Tangail, police recovered the bullet-hit body of former Aronkhola union parishad member Masud Rana Farid, 42, from Naira Baid area in Madhupur upazila yesterday morning.
The victim stood accused in five drug-related cases filed with Madhupur Police Station, said Shofiqul Islam, officer-in-charge of the police station.
Police suspected that Farid was killed when two groups of drug peddlers were "trading bullets" in Naira Baid area, centreing disputes over illegal drug trading.
On information, police took the body to the police station around 8:00am, said the OC.
Farid's brother-in-law Rubel Miah said he along with Farid's wife and children went to a relative's marriage ceremony at Roktipara on Thursday and Farid was scheduled to join them yesterday morning.
Family members talked to him over mobile phone at 8:00pm on Thursday, but Farid had been unreachable by phone since yesterday morning, he added.
In another incident, two alleged robbers were killed in a "shootout" with detectives near Narayanpur graveyard in Comilla's Titas upazila.
They are Al Amin Kawser, 30, of Titas upazila, and Ershad Mia, 32, of Burichang upazila.
Around 2:45am, a team of Detective Branch (DB) of police raided Narayanpur graveyard area on information that some robbers were planning to commit a robbery, said Shakhawat Hossain, additional superintendent of Comilla police.
Sensing presence of law enforcers, the "robbers" opened fire. The law enforcers retaliated, triggering the "gunfight", the police official said.
After the "gun battle", detectives detained seven of the robber gang, including injured Al Amin and Ershad. Doctors declared the two dead after being taken to Titas Upazila Health Complex, the police official said.
DB Sub-inspector Shah Kamal, who led the drive, said the seven were accused in criminal cases.
Police claimed to have recovered two firearms, four cartridges and three sharp weapons from the spot.
In Sirajganj, another suspected robber, Hazrat Ali, 35, of Pankharua village in Ullapara upazila, died in a similar incident in the upazila.
Sakibul Islam Khan, commanding officer of Rab-12 and also additional superintendent of police, said the "shootout" happened in Paikpara when a team of Rab-12 was raiding the area around 2:30am yesterday.
Two firearms, three bullets, 14 cartridges and several sharp weapons were recovered from the scene, the Rab official said.
Hazrat was the ring leader of a robber gang and accused in 12 cases, including murder and robbery, the Rab official added.
In Rajbari, a suspected outlawed party leader was killed in what police claimed to be a shootout in Sluice Gate area of Pangsha upazila around 4:00am yesterday.
The deceased is Lalon Hawladar, 42, of Pabna's Sujanagar upazila.
Lalon, who was wanted in four cases filed in connection with robbery, was the second-in-command of "Julhash Bahini", a faction of outlawed Purba Banglar Communist Party (ML Lal Pataka), said Fazlul Karim, senior assistant superintendent of Rajbari police (Pangsha circle).
Police claimed to have recovered two firearms and six cartridges from the spot.
Our correspondents in Tangail, Comilla, Pabna and Faridpur contributed to this story.