Anti-Drug Drive: 3 more killed in 'gunfights'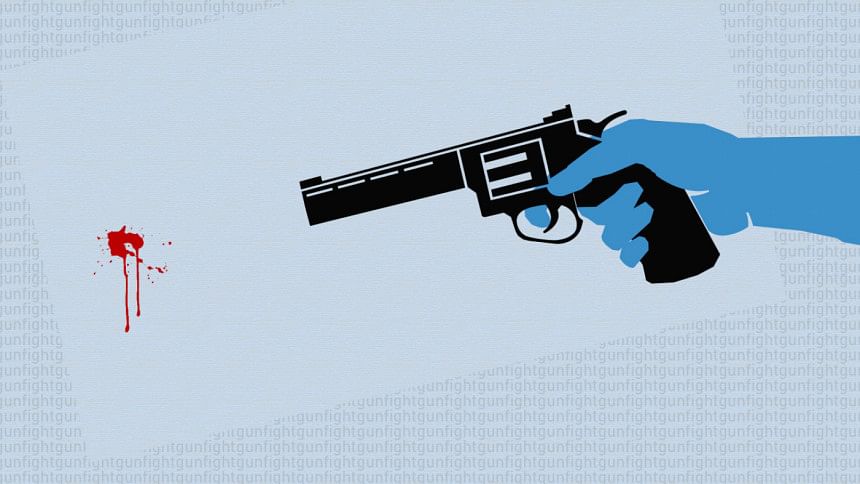 Three more suspected drug peddlers were killed in "gunfights" with law enforcers in Chittagong and Comilla yesterday.
At least 191 individuals, who according to Rab and police were involved in drug trade, have been shot dead since an anti-narcotics crackdown began on May 4. Most of the individuals were killed in what police and Rab said were "shootouts" with the officers.
In Chittagong, Rab said, two suspects were killed in a "gunfight" with its officers in Khulshi area early yesterday.
One of them was Babul, 30, of Bhola's Lalmohan upazila while the other, aged about 25, could not be identified, Rab said.  
The bodies were sent to Chittagong Medical College Hospital morgue for autopsy.
Contacted, Mimtanur Rahman, assistant director of Rab-7, said the incident took place when a Rab team attempted to a search a microbus around 1:30am.
The men in the vehicle opened fire on the officers, triggering a brief "gunfight". The elite force later recovered two bullet-ridden bodies from the vehicle, Mimtanur claimed.
Several others, who were on board the vehicle, managed to flee, he said, adding that two Rab men were slightly injured in the incident.
Rab officers recovered 85kg of marijuana, a firearm and five shells of bullets from the scene, the official said, adding that the microbus was handed over to Khulshi Police Station and a case was lodged.
In a strikingly similar description of event, police in Comilla said a "drug trader" was killed in a "gunfight" with officers on Dhaka-Chittagong highway in Daudkandi upazila around 1:30am.
Khorshed Alam alias Kana Khorshed, 48, of Ganganagar area in Debidwar upazila was wanted in 13 cases filed with police stations in Dhaka, Comilla and Narayanganj, police said.
Alamgir Hossain, officer-in-charge of Daudkandi Police Station, said acting on a tip-off, police stopped a car on the highway near Hasanpur Government College. The men on board the car opened fire on the officers, leading to the "gunfight".
Khorshed's body was found at the scene later while the others fled.
Police claimed to have recovered 80kg of marijuana and a firearm from the car.