ODOMMO Inclusivity for people with disabilities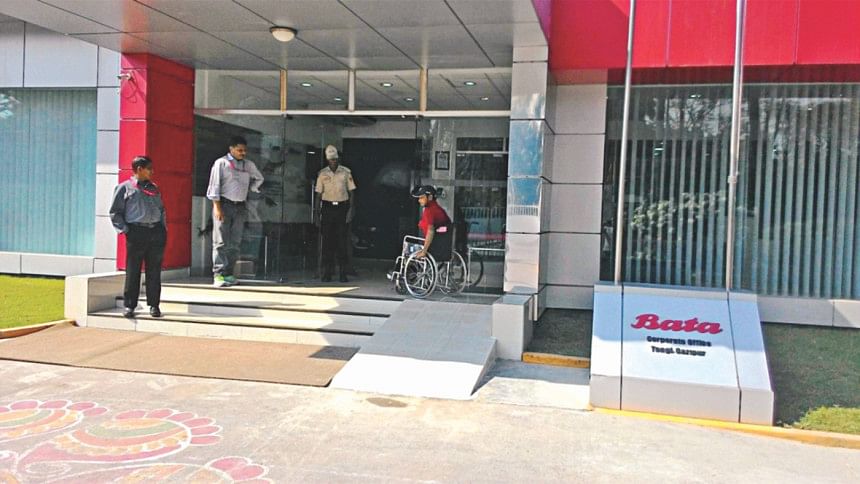 Can you tell the name of some places in our city where the persons with disabilities can go easily? Perhaps you will end up counting a few.
Be it restaurants, shopping malls, bus stops, or public buildings, you will find only a handful of places designed for the needs of the people with disabilities -- a failure which can be traced back to not only social ostracism but also lack of infrastructural support.
Although Bangladesh has made considerable progress in social indicators in recent decades, the country still lags behind when it comes to providing access to persons with disabilities in social setting.
Against the backdrop, Dhaka Hub of Global Shapers Community, a youth organisation committed to the development of Dhaka, launched a project to address this issue. Titled "Odommo", the goal of the project is to make Dhaka a more inclusive city.
Despite having been initiated only last year, Odommo has made considerable progress. It has three renowned establishments -- Bata, Bengal Foundation and North End Coffee Roasters -- on board, altering their infrastructure to ensure inclusivity of persons with disabilities.
After Odommo reached out to Bata, they were quite appreciative of the project and helped out by building a ramp at the entrance of their Tongi store.
Similarly, Bengal Foundation marked out a parking space for people with disabilities. They are also refurbishing a lavatory on their ground floor, and have floor announcements and Braille on their lifts for assisting the visually impaired.
Most of the North End cafes in Dhaka are accessible to disabled individuals. With the initiative of Odommo, a ramp has recently been built on the premises of Cityscape Tower-1 (in Gulshan, Dhaka)             outlet.
Mohammad Mohasin, captain of the Wheelchair Cricket Welfare Association of Bangladesh, co-founder of the Bangladesh Physically Challenged Cricket Team, and an active member of Odommo, said this is a historical movement for the private sector of Bangladesh.
As the International Day of Persons with Disabilities is being observed today with the objectives for 2016, including laying the foundation for a future of greater inclusion for persons with disabilities, Dhaka Hub hopes to spread the message far and wide so that more establishments join hands to provide access to people with disabilities.
A detailed version of this feature will be published soon in SHOUT.