No more unplanned development of city
Experts at WB-sponsored int'l conference suggest making Dhaka livable thru' proper planning, management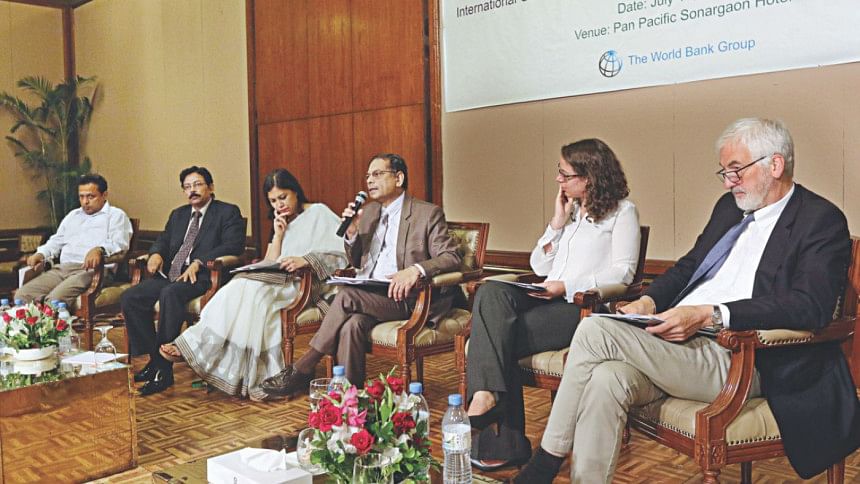 A World Bank-sponsored international conference yesterday underscored the need for planned development of the upcoming new city on the eastern fringe of Dhaka.
The unplanned growth of Dhaka city has made it one of the world's most messy and dense cities with unprecedented congestion, said Qimiao Fan, the World Bank country director.
A well-planned east Dhaka could boost productivity and liveability, helping to relieve congestion in the rest of the capital. But with business as usual, doubling Dhaka would only double the current mess, he said.  
"Dhaka's growth has taken place without adequate planning, which resulted in a city with poor liveability and vulnerability to disasters."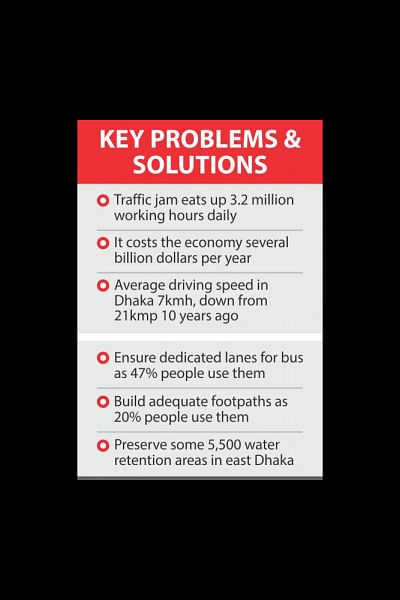 If the current trend continued, eastern Dhaka ran the risk of facing the same low productivity as the rest of the capital, Fan added. If properly managed, the development potential of eastern Dhaka, like Pudong of east Shanghai, would be massive as it is mainly a rural area and walking distance from the city's most prosperous neighbourhoods.
Only a clear vision of the people, the government agencies, private investors, and development organisations, and timely actions could ensure a planned new city, he said.
"The World Bank is fully committed to this endeavour. We support the investments that are needed to transform Dhaka."
The World Bank organised the conference -- Towards Great Dhaka: Development Options for Dhaka towards 2035 -- at the Dhaka Sonargaon Hotel with development practitioners, urbanisation experts, and high-ranking public office bearers from home and abroad.
Average driving speed on Dhaka city streets had dropped to less than 7kmph from 21kmph a decade ago, Fan said, adding that if the current trend continued, it would become 4kmph, which was slower than walking speed.
Traffic congestion eats up 3.2 million working hours every day and cost the economy several billions of dollars every year.
The World Bank country director in his presentation said Dhaka's population was expected to double to 35 million by 2035 and without proper planning and investment the city would never deliver its full potential.
Martin Rama, the World Bank chief economist for South Asia, citing Pudong and some other cities, in a presentation showed that proper planning could encourage economic vibrancy and improve liveability.
Developing east Dhaka in a sustainable manner was more meaningful than attempting to retrofit the over-built and over-congested Dhaka, said Rama.
Out of 16 union parishad areas added to Dhaka city, 12 were on the eastern fringe and could accommodate a new city, he said.      
Dhaka North City Corporation Mayor Annisul Huq said Dhaka city for years has been bogged down by perennial problems like traffic congestion and waterlogging.
"We're changing the city. Every three months you'll see a change in the city ... In next two years we'll bring Dhaka up to a very good liveable standard …
"Possibly, we'll not be able to solve all the problems. We're trying to change the transport system by formulating the policy of corporate ownership. If we can do that, a big problem in the transport sector would be solved," he said.
"Now the World Bank is talking about a planned Dhaka towards 2035 but I have not seen them advocating for a planned Dhaka city in the last 15 years," the mayor added.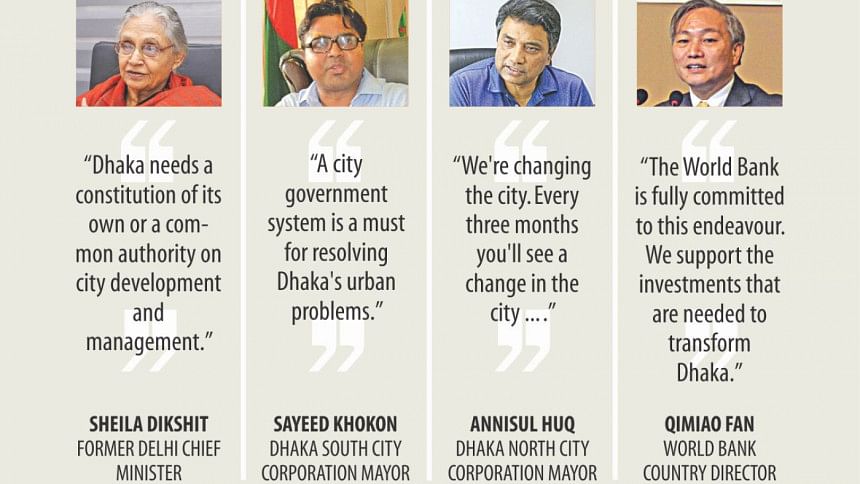 LGRD Minister Khandker Mosharraf Hossain said Dhaka constitutes one percent of the country's landmass but contributes 36 percent to the GDP with 10 percent of the total population. 
 The government is working with a vision to make Dhaka the capital of a middle-income country by 2021 and capital of a developed country by 2041, he said.  
Dhaka South City Corporation Mayor Mohammad Sayeed Khokon said 56 organisations were working for Dhaka's development and service delivery. There was no public service delivery plan for Dhaka city and not enough funds to provide services.
"A city government system is a must for resolving Dhaka's urban problems," Khokon said. 
Former Delhi chief minister Sheila Dikshit supported the idea and said "Dhaka needs a constitution of its own or a common authority on city development and management", instead of multiplicity of organisations that lead to clash, confusion, and overlapping.    
Zhao Qizheng, former vice-mayor of Shanghai, in a recorded video speech said, "To develop Pudong, we needed a plan first. A physical plan that includes the location of the power plant, water plant, roads, number of new offices and modern factories."
Pudong's reform was announced in 1990. Many western media had then said Pudong's development plan would not work.
"Pudong's experience may be applicable in some parts of China, but it may not be suitable for Bangladesh," said Qizheng, adding that lessons could be learnt.
A country has to adopt experience of other countries in tune with its own local context and culture, he added.
In another recorded speech, Shao Yudong, former member Pudong district standing committee, said an ambitious plan needs to have the long-term vision taken into account.
"If we rush and try to do many things at the same time, it may spoil the plan. We divide and implement the plan part by part based on available resources and these parts come together to form the overall picture," he said.
Economic Relations Divisions Secretary Kazi Shofiqul Azam said apart from a comprehensive plan, some major infrastructural projects should be implemented to transform Dhaka. Partnership with others, apart from the World Bank, was also needed, he said.
Abul Kashem Khan, president of Dhaka Chamber of Commerce and Industry, said Dhaka has to be transformed. The city must be decentralised and expanded accordingly. Rail, road, and water links must be established with adjacent districts, he added.
Maj Gen Abu Sayeed Md Masud of Special Works Organisation of the Army said Dhaka could be transformed. Hatirjheel project was a role model for the transformation, he said.
Coordination among stakeholders, chalking out a master plan, and restoring the four rivers surrounding the capital, among others, could transform Dhaka.
Principal Secretary to the Prime Minister's Office Kamal Abdul Naser Chowdhury said coordination among various agencies could always be ensured through the Prime Minister's Office.
Hossain Zillur Rahman, chairman of Power and Participation Research Centre, said the discourse would identify opportunities for the upcoming new Dhaka city. 
Zhu Ruolin, former dean of Pudong Planning and Design Institute, China and Abdur Rahman, chairman of Rajuk, also spoke on the occasion.