Khamarbari Roundabout: Traffic chaos for poor management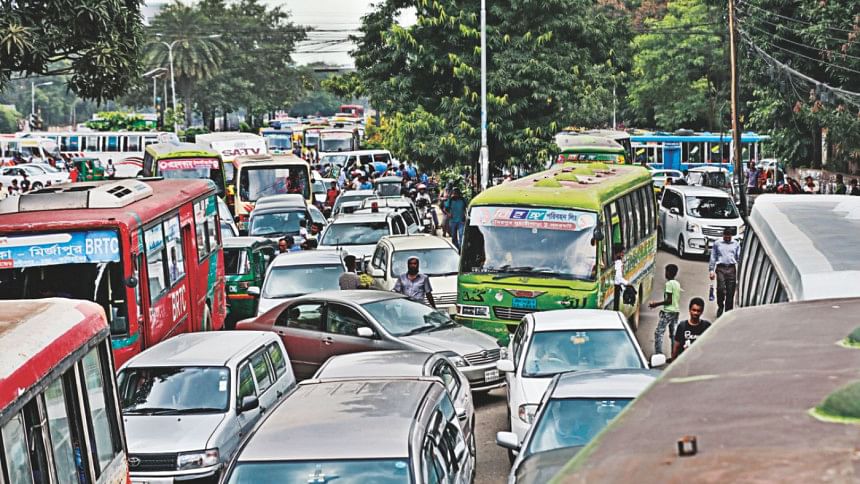 The Khamarbari roundabout in the capital on the southeast end of the Jatiya Sangsad Bhaban has become a traffic nightmare largely due to inefficiency of traffic management.
Severe tailbacks during the day cause untold sufferings to city dwellers at the key roundabout.
Vehicles from Asad Gate and Mirpur get trapped in the chaos as buses from Sangsad Bhaban Avenue take a left at the roundabout to get on Khamarbari Road and stop at the gap in the central reservation just in front of the gate of Khamarbari.
They stop to pick up and drop off passengers as they change from left-only part of the road to go towards Farmgate. Sometimes long queues on Khamarbari Road make the situation even worse.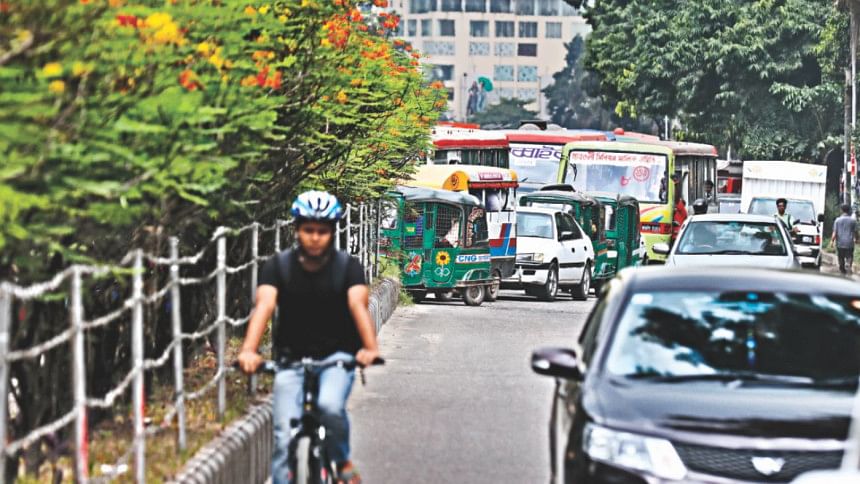 This causes vehicles from Manik Mia Avenue to get stuck on the Khamarbari roundabout blocking the roundabout. As tailbacks form, vehicles, especially buses, on Manik Mia Avenue block the left turn lane towards Sangsad Bhaban Avenue.
During a visit to the spot on Monday morning, this correspondent saw vehicles, mostly buses, blocked the central reservation gap in front of Khamarbari gate. There was a queue of vehicles on Khamarbari Road.
"At first, I got stuck in a jam at the set of light at the north-eastern part of the Khamarbari roundabout for 10 minutes. After crossing it, I faced another hurdle as some minibuses coming from Mirpur-10 intending to go to Farmgate blocked the gap," said Mohsin Hossain stuck in the jam with his car.
"The traffic police deployed at the point seemed to be callous and took no effort to ease the bottleneck," he said, adding that police do not take action against bus drivers who violate the rules.
"I am already late. This congestion at the gap would not have happened if the traffic police had taken proper action," said Mohsin.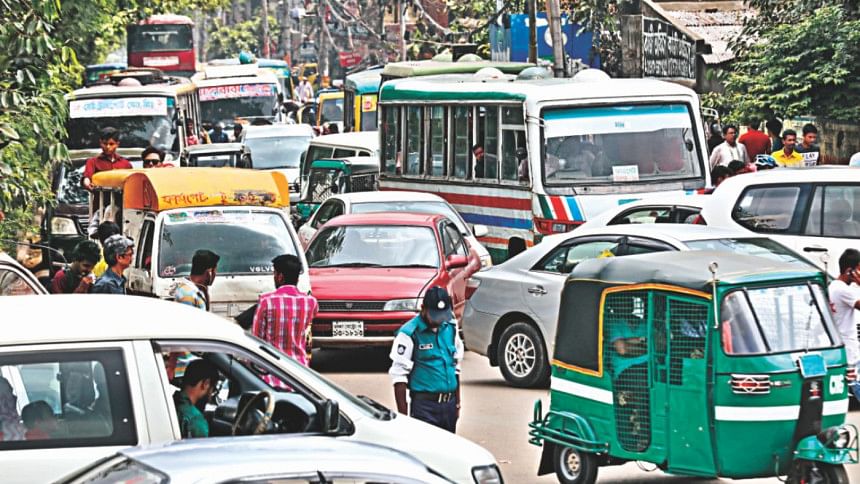 An ambulance of Shishu Hospital, which was coming from Agargaon, was seen stuck on Sangsad Bhaban Avenue. It wanted to make the free left turn, which was blocked. It had to wait about 10 minutes to make that turn.
Blocking left turns is a regular phenomenon at the roundabout, especially during rush hours, said locals.
Mohammad Kader, driver of an auto-rickshaw, said if traffic police took proper actions, the roundabout would not get blocked.
A traffic police on duty there said they fine 10 vehicles on an average day for violating traffic rules. He said most minibus drivers were not even aware of the traffic rules.
"It is really difficult for us to take immediate action against the rules violators as we control traffic flow with hand signals," the officer said requesting not to be named.
The officer said only five traffic policemen manage the roundabout.
If the Kazi Nazrul Islam Avenue was less congested, the situation at the roundabout would be a little better during rush hours, the officer said.
"Rickshaw is another problem. Even though we drive them out again and again, they always return."
The roundabout is quite dangerous at the southern end, said a motorist. Vehicles on Indira Road often have to dodge vehicles trying to go to Raja Bazar cutting into their way. The problem is further complicated as many people carriers and smaller vehicles go against traffic on Indira Road.
This often leads to jams and fender benders.
Vehicles going against traffic were seen on Khamarbari Road, adding to the traffic chaos. 
The roundabout has a few blind spots as well, a motorist said. Vehicles from Manik Mia Avenue going towards Farmgate cannot properly see vehicles exiting the roundabout to go towards Sangsad Bhaban Avenue, especially at night. They cannot properly see vehicles coming from Sangsad Bhaban Avenue either.
Liton Kumar Saha, deputy commissioner of Dhaka traffic west zone, said they have enough officials deployed at the roundabout and that sometimes traffic jams could happen due to heavy traffic flow.
He said movement of VIPs in the area sometimes cause tailbacks.
VIPs frequent the area as the parliament, homes of some parliamentarians, and a number of government offices are there.