Yet-to-be-identified Disease: 9 Sitakunda kids die in 4 days
At least 46 others from the same neighbourhood hospitalised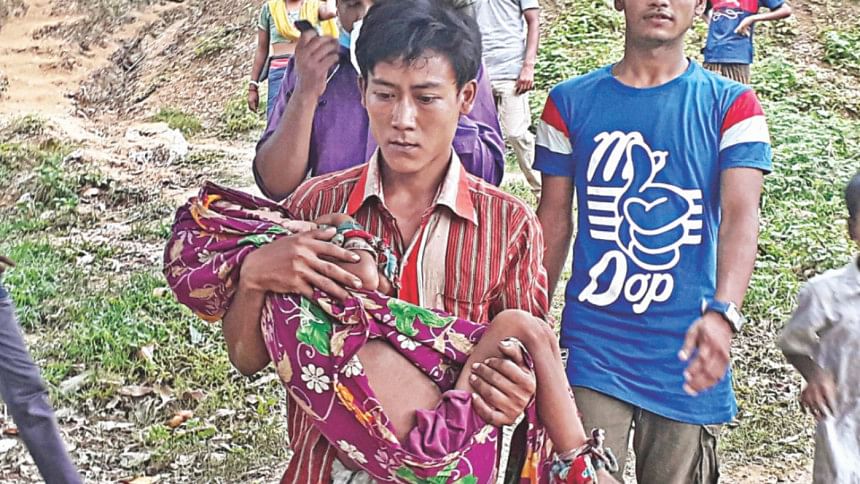 Nine children have died, showing similar symptoms, in Tripura Para of Sitakunda in the last four days.
At least 46 other children in the remote hilly area were suffering from the same disease which could not be identified yet, Chittagong Civil Surgeon Azizur Rahman Siddique told The Daily Star yesterday.
Of them, 13 were being treated at Chittagong Medical College Hospital while the rest at Bangladesh Institute of Tropical and Infectious Disease in Fouzderhat, he said.
Children aged between one and 12 started having fever a week ago. The other symptoms include body rash, breathing problems, vomiting and blood in stool, say locals and doctors.
Four of the victims died yesterday, one on Tuesday, three on Monday and one on Sunday.
None of them, however, was taken to hospital. They were given homeopathy treatment in the area inhabited by some 64 indigenous families.
Rupali Tripura, youngest daughter of Suman Kumar Tripura, died yesterday morning at her home. Three-year-old Rupali was having fever and rash all over her body for three days, said her uncle Pradip Kumar Tripura.
"We took her to a man who practices homeopathy. He lives some two kilometres away. He had given Rupali some medicines."
Asked why they did not take the child to a hospital, Pradip said the upazila health complex was 15 kilometres away from their home. Besides, they did not have money to buy medicines which would have been prescribed by doctors.
Shimal Tripura was among the children who died yesterday. His father Biman Tripura said the two-year-old boy had been suffering from fever for six days. Shimal was also taken to a local man who practices homeopathy.
Contacted, Nasir Uddin, a member of ward-4 of Sonaichhari Union Parishad, said he came to know about the disease after the death of the four children yesterday.
"I have visited the area and informed the upazila nirbahi officer about the incident," he said, adding that many parents of the children suffering from the disease were "reluctant" to go to the hospital.  
Civil Surgeon Azizur said a medical team visited the hilly area and conducted medical checkups of the children there.
Initially, six children were taken to the health complex in Sitakunda and then to the hospital in Fouzderhat.  The others were taken to hospitals later.
"The disease could not be identified immediately," he said, adding, "The sick children are aged between one and 12. Their symptoms include fever, body rash, breathing problem, vomiting, blood in stool and fainting."
Asked whether the disease could be transmitted by mosquitoes, he said, "It does not seem so. If it was, then why only children were being affected?"
Another medical team from the Institute of Epidemiology, Disease Control and Research in Dhaka was dispatched for Sitakunda, he said, adding that the local primary school was shut down to prevent the spread of the disease.