World Water Day 2019: Stop dumping waste into rivers: PM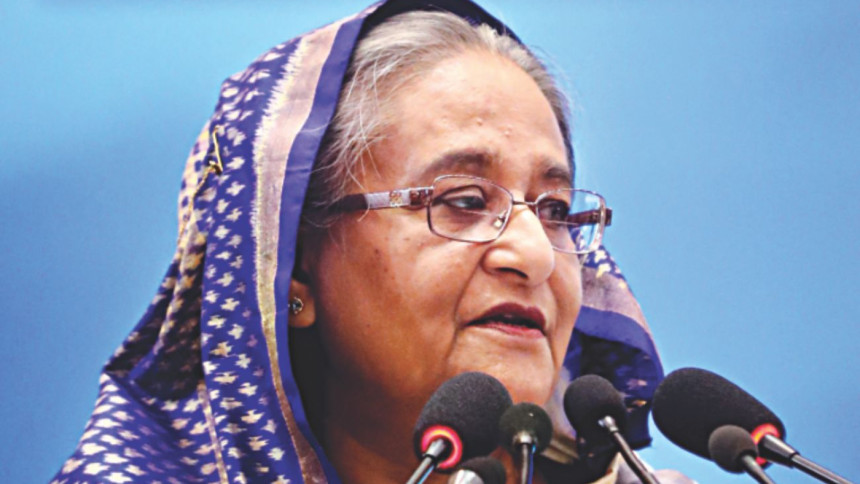 Prime Minister Sheikh Hasina yesterday urged all, particularly mills and factories, to stop discharging wastes into rivers as water pollution appeared to be a severe problem for the country.
"I would like to request you all to stop discharging wastes into rivers... Every industrial unit will have to have waste management system so that it does not pollute rivers," she said adding that sea and river pollution has turned to be a global problem.
The prime minister made this call while addressing a function organised by Water Resources Ministry at Bangabandhu International Conference Centre in the capital, marking the World Water Day 2019.
Hasina stressed the need for keeping regular dredging works to keep up the river-water flow for addressing the protracted river-erosion problem.
"This is essential to dredge our rivers regularly for maintaining their water flow and enhancing their water-holding capacities and thus turn this problem into blessings," she said.
Now the Water Resources Ministry has 22 dredgers, while Shipping Ministry and Bangladesh Navy have 44 others. "The procurement of 80 more dredgers is underway," she said.
"I think that this is essential to have a dredger for each large river and river port to carry out dredging works for keeping river routes operational, it's essential to take plans for the best use of water," she added.
She directed the Water Resources Ministry to take measures for tree plantation on river banks alongside carrying out dredging works to check river erosion.
Hasina said she differs with the notion of shrinking rivers and canals for bridge construction and rejected a proposal for the construction of 4-kilometre Padma Bridge curtailing its estimated length of 6.5 kilometre and narrowing the Padma river through river training.
Had the length of Bangabandhu Bridge constructed over Jamuna Bridge been 6 or 6.5 kilometres, various problems like river erosion would not have appeared, she said.
The Prime Minister put emphasis on reservation of rainwater to reduce dependence on underground water. "We are paying special attention to maximising the use of surface water reducing dependency on underground water," she said.
Bangladesh also has the scope to export safe water to different countries reserving and processing the rainwater properly, she added.
Sheik Hasina said a coordinated water management is badly needed to use water resources for the socioeconomic development of the country.
Noting that now 80 percent of the country's people are under safe water coverage, she urged all to exercise austerity in using water as huge money is spent on water treatment.
The prime minister said Bangladesh is the third largest country in producing fish from inland water bodies and the country has attained self-sufficiency in inland fish production.
Chaired by State Minister for Water Resources Zaheed Farooque, the function was addressed, among others, by Chairman of Parliamentary Standing Committee on Water Resources Ministry Ramesh Chandra Sen and Deputy Minister for Water Resources AKM Enamul Hoque Shameem.
The theme of this year World Water Day is "Leaving No One Behind", which is also the main theme of Sustainable Development Goals.