'We're beaten mercilessly'
Garment workers, madrasa teachers staging sit-ins in front of Press Club allege police brutality at dawn; officers deny excesses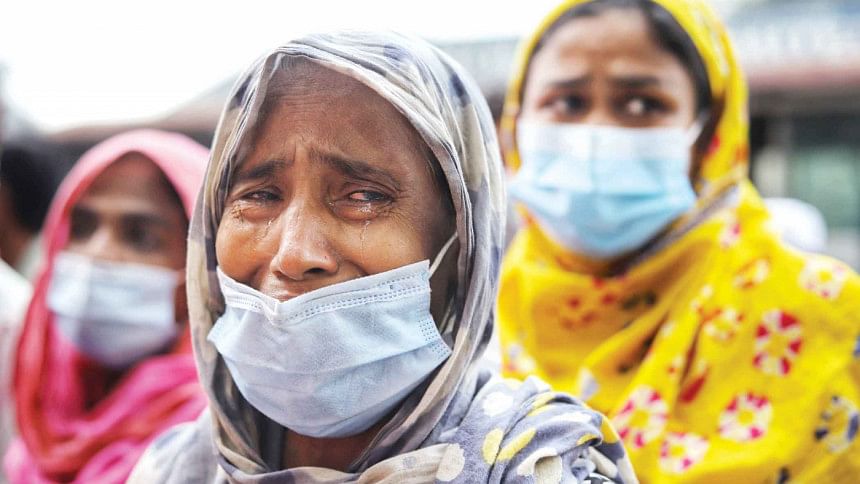 Until Sunday night, the sidewalks in front of the Jatiya Press Club were teeming with protesters pressing their demands for various causes, but since yesterday morning the area has been deserted.
Around 42 former Tazreen Fashions workers, more than 300 workers of A One BD Ltd, a few hundred independent Ebtedayee madrasa teachers, and aspiring primary school assistant teachers had been staging sit-ins there.
Yesterday at dawn however, according to the workers and teachers, police swooped on the demonstrators and attacked them with batons, tear gas shells and water cannons while they were asleep. Around 54 of the workers and teachers were injured in the attack, they said.
"They beat us like animals," said Nasima Akter, one of the Tazreen Fashions workers, who had been in front of the press club for the last 80 days demanding proper compensation, rehabilitation and treatment for their injuries sustained during the fire at the garment factory on November 24, 2012.
"On Saturday night, we were asked by police to leave the place by 4:00pm the following day. But as we weren't willing to leave empty-handed, they took preparations on Sunday night [arranging water cannons to disperse them]," Nasima told this newspaper.
"Around 4:30am, we dozed off, thinking they won't do anything... Then they started beating us severely, shot tear gas shells and used water cannons," she added.
Jorina Begum, another injured worker of Tazreen Fashions, said, "Our female workers were brutally beaten by male police members. They also groped them, ripped off their clothes, snatched their scarves, and called them 'whores'. Even elderly workers and children weren't spared."
"Eighteen of the injured Tazreen workers had to take treatment from the Mitford Hospital," she added.
"We couldn't even take our medical certificates and documents, phones and the few belongings we had left," she further added.
Among the more than 300 workers of A One BD Ltd at Ashulia EPZ, who were sacked 11 months ago, 25 were also injured in the attack yesterday, the former garment workers said in a joint press conference later yesterday. A One BD LTD workers had joined the Tazreen Fashion workers on December 1, demanding arrears, other allowances and Eid bonuses.
"In the last 11 months, BEPZA [Bangladesh Export Processing Zones Authority] has promised to pay our dues at least 22 times, but they didn't do that. Rather, we were beaten twice at BEPZA. Finally, we came here, but now we're beaten mercilessly by the police," said Ashraf Ali, a former worker of A One BD Ltd, said during the press conference.
Garment Sramik Mukti Andolon President Shabnam Hafiz said she was assaulted both physically and verbally, and forcibly picked up in a prison van. She was released after 6:00am.
Apart from the garment workers, around 10 teachers of independent Ebtedayee madrasas were also injured by the brutality, said Kazi Abu Musa Bhuiyan, central committee joint secretary general of Bangladesh Independent Ebtedayee Madrasa Teachers Samity.
According to him, they were all sleeping as they were not asked to leave. "We never expected that police could beat teachers like us. We were protesting peacefully for the past 22 days, demanding nationalisation of our madrasas," he told The Daily Star.
Oliul Islam, a head teacher of one such madrasa of Parbatipur, Dinajpur, said he was beaten when he went back to collect his bag. "My feet have swollen due to the baton charging and I am not able to walk.  One of my fingers might be broken. I took primary treatment from a nearby dispensary," he said.
According to Musa, although currently more than 8,000 independent Ebtedayee madrasas have around 40,000 teachers, 1,519 of the madrasas pay Tk 2,300 to its assistant teachers and Tk 2,500 to the headmasters.
Contacted, a duty officer of Shahbagh Police Station, wishing not to be named, said that the garment workers were dispersed last night. He, however, did not want to speak about the matter further.
Sazzadur Rahman, deputy commissioner (Ramna Division) of Dhaka Metropolitan Police, said the DMP commissioner recently said that no meeting and rallies could be held here without prior permission.
"Since they have been here for some days without permission, we repeatedly told them yesterday to leave the place. They left the place this morning. We just did the monitoring," he told The Daily Star.