Time to be WARY OF WASTE
Disposal plans many, action little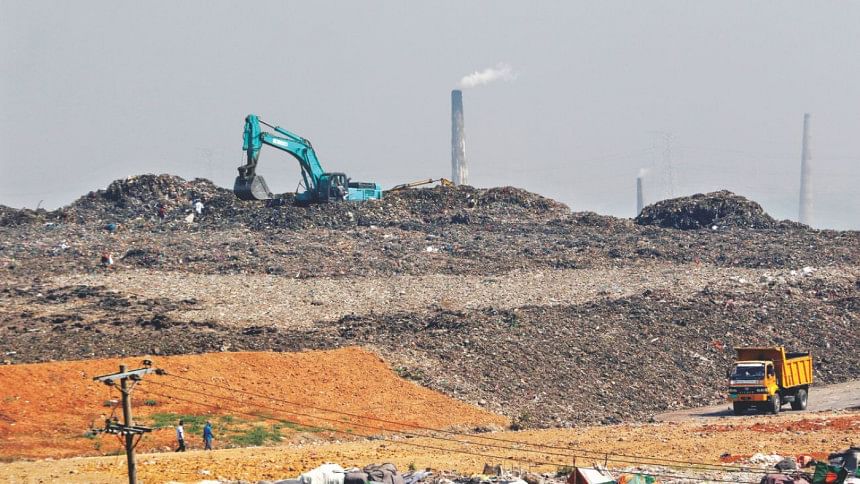 The two landfills in the capital have almost reached their limit with no immediate remedy in sight.
Mountains of garbage are being formed in the landfills at Matuail and Aminbazar and there are fears that the waste will spill over into adjacent areas.
"We will not be able to go up further. If we go further up, there is a possibility of waste slide...," said SM Shafiqur Rahman, Dhaka North City Corporation (DNCC) additional chief waste management officer.
The 100-acre Matuail Landfill -- used by the Dhaka South City Corporation (DSCC) -- already has piles of garbage about 20 metres high, while the 52.88-acre landfill at Aminbazar -- used by the DNCC -- is already nine metres high.
For context, a one-storey building is around four metres high, meaning the mounds of garbage are almost as tall as a two-storey building or even taller.
"If we go like [dumping] this, we'll get seven more years at best. After that, city dwellers will face disaster," said AHM Abdulla Harun, executive engineer, Waste Management Department of Dhaka South City Corporation (DSCC), in an interview early this year.
"About 3,500 tonnes of waste are produced every day. If we fail to dump these at least for a week, parts of the city will be filled with waste."
Documents show a 21.93 percent rise of waste in 2017-18 compared to the previous fiscal in the DNCC area.
In 2016-17, total waste generated was 8,52,390 tonnes.   
The DSCC alone dumped about 10 lakh tonnes of waste last year, filling up seven acres of its landfill, whereas the DNCC's Aminbazar landfill is absorbing 6,000 tonnes per day.
In last year's report on waste management, the DNCC identified three reasons behind the increase of waste -- change in lifestyle due to economic development, growth of population in Dhaka and increase in the number of shopping malls, shops, kitchen markets, restaurants and hawkers.
Besides, in 2016, the government extended the city corporations' areas by including 16 unions in the DSCC and DNCC, leading to a rise in the volume of waste to be dealt with.
THE CHALLENGES AHEAD
Dhaka North City Corporation's Chief Waste Management Officer (CWMO) Commodore MA Razzak said, "In the upcoming days, better waste management will be the biggest challenge."
"Right now, 70 percent of our waste is organic. The situation will reverse in the future due to ongoing development projects," said Razzak, underscoring the need for a planned waste management system.
"If we continue to dump this way, we will need more land. But in the city corporation area, how do you manage such huge [tracts of] land? Who will give you land?" he said.
Worryingly, the near-full capacity landfills may already be an environmental worry.
Dr Shahriar Hossain, secretary general, Environment and Social Development Organisation, said air and water pollution would be created if the authorities failed to adopt a modern waste management system.
"The disadvantage of the existing landfill system is that not only are they adjacent to water bodies, but the ground water is also getting polluted."
He said once the landfills reach their capacity, the pollution would spread to different parts of the city due to random dumping.
PLANS APLENTY, IMPLEMENTATION NONE
The situation at hand may largely be a result of the two city corporations still using age-old methods of waste management.
Both dump the waste without any proper segregation at source and are yet to initiate any system at the landfills for efficient waste management such as sorting out economically viable waste, finding source of biogas or even having basic recycling facilities.
To cope with the increasing waste, DNCC last year sent a proposal for acquiring an additional 81 acres of land adjacent to Aminbazar Landfill, a year after expiry of its lease.
The proposal is still lying with the land ministry.
On the other hand, more than five years ago its counterpart DSCC took initiatives to expand Matuail Landfill and acquired another 81 acre land.
Some officials, however, say land acquisition would hardly solve the problem.
They fear that the additional land too would be filled up within five years unless an appropriate waste management system was adopted.
Meanwhile, both the city corporations have planned to keep 31 acres separate from additional land for waste management, but only so in paper.
"We've got many proposals from different local and international organisations. We're examining them," said DSCC's CWMO Md Zahid Hossain.
CWMO Razzak said several plants including waste sorting, biogas, compost, waste incineration power, electronic waste recycling, construction waste, plastic, paper and glass recycling could be set up on the additional land.
"Separate plots will be kept at the 31-acre land for different plants. Organisations will be facilitated to set up plants there," he said.
Iqbal Habib, member-secretary, Urbanisation and Governance Programme, Bangladesh Poribesh Andolon (Bapa), said waste could also be turned into wealth through proper segregation at source and structural management.
"It's sad that what could have turned into wealth becomes a social, economic and environmental burden."
Abu Hasnat Md Maqsood Sinha, co-founder and executive director of Waste Concern, said a policy could be formulated for proper waste management at source.
The government could give subsidy to the entrepreneurs who recycle and reuse waste.
Asked about the delay in adopting specific waste management methods, DSCC Mayor Mohammad Sayeed Khokon, said, "We're scrutinising all possibilities. I hope within a year the city dwellers will see a change in waste management."
REDUCE, RECYCLE, REUSE
Meanwhile, Mayor Khokon has been emphasising the 3Rs (Reduce, Recycle and Reuse) method.
DNCC's Commodore Razzaq said the concept of the 3Rs method relied on only using what was essential: the lesser consumed, the lesser the amount of waste produced. 
 "But to implement it, awareness building is essential," he said.
Recycling is a complex issue, said DSCC's CWMO Zahid, adding there could have been bio-gas, compost fertiliser and incinerator plants at the landfills.
"After recycling, there will remain some residue and dust which will be dumped in the landfill," Zahid said.
According to the waste management department, the DSCC will first construct boundary walls around the landfill area and take other steps for setting up the recycling plants.
It will take at least two years even if the works begin immediately, sources said.
"Segregating waste at source is certainly a good method... but we face difficulties. In Dhanmondi, it's easy to segregate but in old town or periphery areas we face difficulties," Khokon had said in an interview early this year, stressing the need for creating awareness among city dwellers.
Khokon's five-year term as mayor will end on April 2020.