Vaccine Cold Chain In Bangladesh: Efficient delivery main challenge
Existing facilities not enough to store, deliver large volume of vaccines within a short time, say experts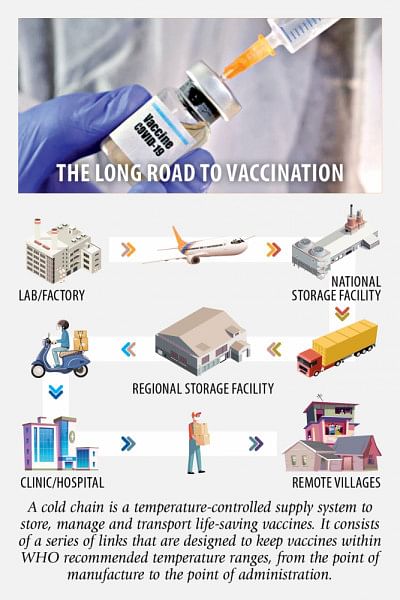 The government is considering banking on the existing cold chain for storing, transporting and distributing coronavirus vaccines while some experts say the main challenge will be to manage such a large volume with the existing capacity.
As vaccines, once procured, will need to be transported to remote parts of the country and administered rapidly at the right temperature, the experts stressed the need for developing a robust network for this. 
"The main challenge will be to efficiently deliver the vaccines to the health centres across the country," said Prof Ijaz Hossain, a teacher of chemical engineering at Bangladesh University of Engineering and Technology (Buet).
He said a massive cold chain is required to preserve vaccines scientifically and transport these to remote parts of the country efficiently.
"With the existing facilities, it is not possible to store and deliver such a large volume of vaccines within a short time. The government should have started thinking of preservation and delivery systems in advance," Prof Ijaz, also the dean of engineering faculty of Buet, told The Daily Star.
A cold chain is a temperature-controlled supply system to store, manage and transport life-saving vaccines. It consists of a series of links that are designed to keep vaccines within WHO recommended temperature ranges, from the point of manufacture to the point of administration.
Bangladesh has the Expanded Programme on Immunisation (EPI) framework, capable of keeping life-saving drugs at temperatures as low as minus 20 degrees Celsius.
The framework -- supported by GAVI, the Vaccine Alliance and the World Health Organisation (WHO) -- has a capacity of storing, transporting and distributing around 1.5 crore doses at a time, according to government officials.
"Currently we are not thinking of vaccines being developed by Moderna or Pfizer as we don't have the capacity under the EPI to preserve and transport them. It is also very expensive to upgrade the existing system," said Shamsul Haque, a line director who looks after the EPI at Directorate General of Health Services.
"Rather, we are focusing more on vaccines that we can preserve with our existing capacity," he told The Daily Star.
"If it turns out that the approved vaccines need to be stored at much colder temperature, we will have to go for that no matter what it takes."
Since no vaccine candidate is approved by the WHO, its administrative protocol and logistics are still not known.
On November 5, the government signed a trilateral memorandum of understanding (MoU) with Serum Institute of India and Bangladesh's Beximco Pharmaceuticals Ltd to get three crore doses of Covid-19 vaccines from Serum, keeping in mind the existing cold chain.
Beximco will collect and transport the Covishield vaccines to storage facilities under the health directorate's EPI.
The Covishield, originally named as ChAdOx1 nCoV-19 by the inventor organisations -- Oxford University and AstraZeneca -- is at the final stage trial in multiple countries. It could be ready as early as December, as reported in the Indian media.
The three crore doses will be delivered in phases with 50 lakh doses every month, according to the agreement.
Different vaccines require different temperatures and cold chain facilities and handling procedures. For example, Covishield doses must be stored at 2-8 degrees Celsius.
But the vaccine candidate being developed by New York-based pharmaceutical company Pfizer requires a storage temperature of minus 80 degrees Celsius. Once thawed, the vials can be refrigerated for just two days.
American biotech company Moderna, which initially stored its vaccine at minus 70 degrees Celsius, now plans to ship the shots at minus 20, the company said. Once thawed, the vaccine can remain refrigerated for a week.
"We have a very good network of EPI," said Prof Md Sayedur Rahman, a member of the Bangladesh National Research Ethics Committee that reviews research involving humans, especially the clinical trials.
However, all the vaccines are not the same and therefore they are not preserved in the same manner, he added. "The existing cold chain is basically for vaccination of children and may support vaccines required for one to 1.5 crore people."
Shamsul Haque of DGHS added, "We administer mainly six types of vaccines right now. Among those, only one needs to be preserved at minus temperature. We have the capacity in almost every upazila to preserve vaccines at temperature up to minus 20 degrees Celsius."
According to WHO, a vaccine against Covid-19 will be ready for registration by the end of this year or early next year at the earliest.
The first vaccine safety trial for humans began in March and six vaccine candidates have so far been approved for limited use in respective countries.
At least 11 more have reached the final stages of testing as of November 3, according to the New York Times Coronavirus Vaccine Tracker.
Officials and experts said the countries who have already paid will get the vaccine in first phase.
"By analysing the present global situation in vaccine research, I apprehend that even after 24 months from now, 80 percent of people in Bangladesh might not get the vaccine, if there is no miracle," said Prof Sayedur.
In Bangladesh, officials also say, all people will not be vaccinated at the same time.
"One thing we have to keep in mind that we will not vaccinate all people at a time. Vaccines will arrive in the country in phases and we will vaccinate in phases. So, it'd not be a big deal," said Prof Mohammad Shahidullah, head of the National Technical Advisory Committee (NTAC) on Covid-19.
Contacted, Health Secretary Abdul Mannan said, "We will purchase vaccines spending public money. Before the arrival of vaccines, we will ensure a smooth cold chain network so that a single vaccine is not spoiled."