Unmanned Level Crossings: Where death lies in wait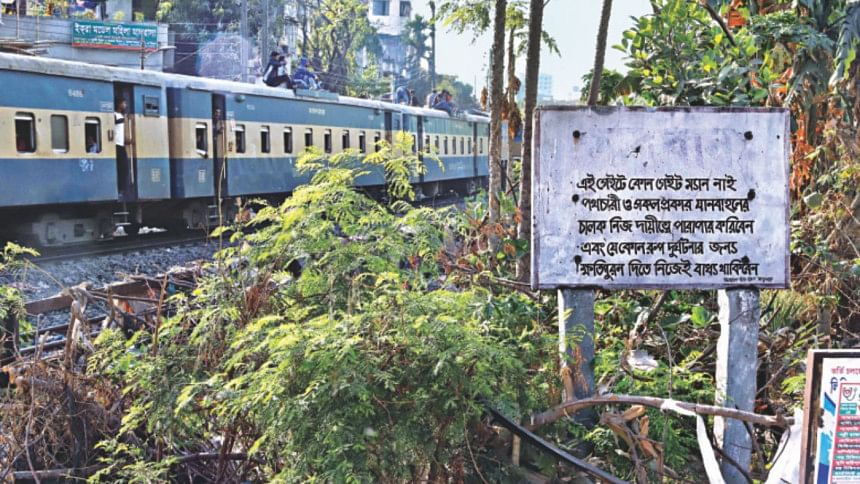 Two-thirds of Bangladesh Railway's 1,412 level crossings have no designated gatemen, resulting in increased rail-related fatalities.
Compounding the problem are around a thousand unmanned illegal level crossings across country, mostly constructed by different government bodies.
The absence of vigilance at level crossings has increased the number of rail fatalities, most of which occur at level crossing, experts said.
A total 244 people died and 228 were injured in 235 rail related fatalities in 2018, says Buet's Accident Research Institute (ARI).
The ARI, which prepared a three-year data on the basis of newspaper reports, showed a growing trend of fatalities.
A total of 69 people died and 46 others were injured in 56 incidents in 10 months (March to December) of 2016 while 229 died and 156 injured in 211 incidents in 2017, the report revealed.
Kazi Saifun Newaz, assistant professor at ARI, said most of the fatalities occurred as trains ran over people at unprotected level crossing and tracks.
Terming unprotected level crossing "very risky for the entire rail sector", he said the government could install special siren systems at level crossing without gatemen and suggested the need for evicting structures beside level crossings so approaching trains can be spotted from a distance.
UNMANNED, UNAUTHORISED
Authorities blamed illegal construction of rail gates and inadequate manpower for the rise in rail-related     accidents.
According to BR's database prepared in August last year, only 466 gates among 1,412 level crossings have gatekeepers while 946 gates have no designated man. Among 434 gates in Railway's East Zone, 245 have gatemen while only 221 out of 978 gates in West Zone have gatemen.
Of the 1,085 unauthorised level crossings, 811 are in East Zone while 274 in West Zone, the database   shows.
There are 85 level crossings in between Joydebpur and Narayanganj -- a 50km-long stretch on one of the busiest sections in the country -- of which 43 are unauthorised, railway sources said.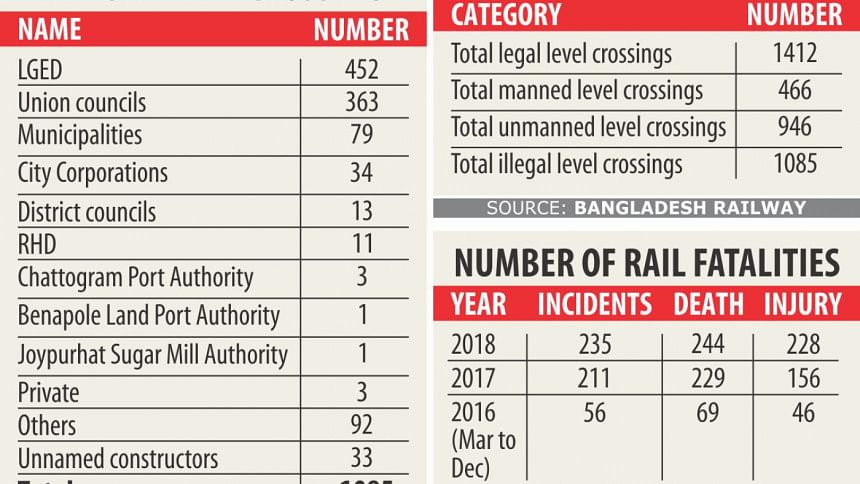 At least nine government bodies were involved in constructing illegal level crossings, with Local Government Engineering Department (LGED) having constructed the highest of 452 gates.
The acts are blatant violations of the law, which so far remains only on paper.
Section 128 of The Railways Act-1890 says, "If a person, by any unlawful act or by any willful omission or neglect, endangers or causes to be endangered the safety of any person travelling or being upon any railway, or obstructs or causes to be obstructed or attempts to obstruct any rolling-stock upon any railway, he shall be punished with imprisonment for a term which may extend to two years."
In February 2013, BR sent letters to different organisations for meeting about the illegal level crossings, railway sources said.
But, as they did not get expected response, railway authorities decided to file case against the responsible persons, they said.
Meanwhile, the shortage of staffers continues to plague the sector. Talking to this newspaper on February 4, Qazi Md Rafiqul Alam, director general of BR, admitted to having a shortage of gatemen.
"We have already taken the initiative to recruit gatemen and once recruited, they will be posted at level crossing where traffic movement is relatively high," he said.
"We will post gatemen in those level crossings gradually," he said.
He admitted that maximum deaths in took place at level crossing, "So we have taken the initiative."
West zone has already started the process of recruiting process 190 "temporary" gatekeepers while East zone for 221 gatekeepers and the process is expected to be completed within three months, officials    said.
GOVT BODIES DEFY LAW
Asked about the unauthorised level crossings, Rail DG Rafiqul said, "They do it forcefully."
"We have held several meetings with LGED and RHD officials in this regard.  But they did not pay heed to our words," he said adding, "We even filed General Dairy (GD) against responsible executive engineers."
"We can do nothing but lodge GD," he said.
He could say nothing further about the GDs. Another top official of the railways, requesting anonymity, said that the cases never progressed and it was difficult to know their status.
Railway authorities even sent letters to the offices involved in the illegal constructions, stressing on section 128 of The Railways Act-1890.
"If they [those organisations] had approached us for constructing level crossing, we could have done it," Rafiqul said.
In that case, the railway authority would evaluate the necessity of the level crossings. Once approved, the bodies which needed the crossings would have to pay the money for developing the level crossing and salaries of gatemen for 10 years in advance, he said.
"For these reasons, I think, they do not take permission," he added.
Contacted, Khalilur Rahman, additional chief engineer (implementation) of LGED, admitted that several meetings were held with BR authorities over the issues but remained unresolved for one issue -- who will recruit and pay the gatemen for those level crossings.
"Executive Engineers are supposed to take approval (from BR) before constructing level crossing [in his or her designated areas].
"However, there may be some unauthorised level crossings but the number may not be as high as mentioned [in the Railway data]," he told The Daily Star on February 14.
He, however, said "Construction of level crossing without approval is not desirable."