Rising Rail Fatalities: Unmanned level crossings to blame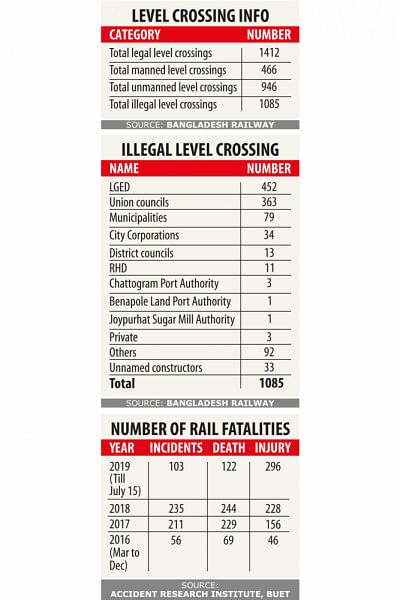 Rail-related fatalities are on the rise as over 80 percent level crossings, authorised and unauthorised, in the country are unprotected.
Experts say the railway authorities have a tendency to develop infrastructure, ignoring the safety-related issues. And it puts rail operations at risk. If the authorities continue to put emphasis only on structural development without proper safety measures, such fatalities will increase, they fear.
The authorities say they are appointing gatemen at the unprotected crossings, but they can do little about the unauthorised crossings, mostly built by different government bodies without approvals.
The risk posed by unprotected level crossings came to the fore once again after 11 people, including a newlywed couple, lost their lives as a Dhaka-bound train rammed their microbus at an "authorised" but "unmanned" level crossing in Sirajganj's Ullapara on Monday.
A week ago, two people were killed and two others injured when Maitree Express crashed into a sand-laden truck on an unattended level crossing in Gazipur.
On April 13, three people died when the same train hit a small truck at an "unauthorised" level crossing in Sirajganj's Kamarkhand.
UNPROTECTED LEVEL CROSSINGS
According to Buet's Accident Research Institute (ARI), 122 people were killed and 296 others wounded in 103 rail-related incidents as of July 15 this year.
Some 244 people lost their lives and 228 others were injured in 235 rail-related fatalities in 2018, while 229 died and 156 were hurt in 211 such incidents the previous year, says ARI.
Most of the incidents happened when trains ran over people or rammed vehicles at unprotected level crossings and nearby rail lines, said Imran Uddin, lecturer at Buet's ARI.
According to Bangladesh Railway's latest data prepared in August last year, only 466 gates among 1,412 level crossings have gatekeepers. 
Of the 434 gates in Railway's east zone, 245 have gatemen and only 221 out of 978 gates in west zone are manned.
Of the 1,085 unauthorised level crossings, 811 are in east zone while 274 are in west zone, the data shows.
At least nine government bodies were involved in constructing illegal level crossings, with the Local Government Engineering Department having built the highest 452.
The acts are blatant violations of the law, which so far remains only on paper, BR officials said.
BR Director General Md Shamsuddin told this correspondent yesterday that different government bodies set up level crossings without their approval. 
He said those organisations did not take the permission because they have to pay a large fee to get approval.
After getting applications, the authorities will evaluate the necessity of level crossings. Once approved, the organisations which need the crossings would have to pay for constructing the crossings and salaries of gatemen for 10 years in advance.
"So, they do it without taking our permission," he said, adding, "We can file cases [against them], but we don't do that as we both are government organisations."
In February 2013, BR sent letters to different organisations for holding a meeting about the authorised level crossings, railway sources said.
But as the BR did not get expected response, the authorities decided to lodge cases against the responsible persons, they said.
"We will talk to them again," Shamsuddin said.
He said they usually put signboards near unmanned rail gates asking people to be careful while crossing those. "People should be more careful."
The BR chief added that they were planning to introduce automated gates at all level crossings and implementing two projects related to level crossings to improve the situation.
Transport expert Prof Shamsul Hoque said different government bodies were constructing unauthorised level crossings, ignoring the railway authorities.
"The government has to stop setting up of such level crossings … The railway authorities have to take steps in this regard," he said.
Prof Shamsul, also former director of ARI, said accident would increase when more double lines and speedy trains start operating.
"But security issues are ignored [in railways plan]. The authorities are more interested in big infrastructure projects … But safety-related projects should get more priority," he added.
He said the government should construct overpass or underpass on major rail crossings, remove unauthorised rail crossings or bring those under regulation and assign necessary manpower to all crossings.
TWO PROJECTS
The BR undertook two projects in June 2015 for rehabilitation, construction and upgradation of important level crossings in its both zones. Under the project, the authorities wanted to recruit 1,038 people for manning 328 (182 authorised and 146 unauthorised) level crossings in east zone, railway sources said. 
But it could recruit 817 on a temporary basis. The tenure of the project ended in June this year.
The project authorities have already written to the higher authorities for extending the project tenure by two more years and regularising jobs of the temporary workers. There has been no response to this end yet, sources added.
The fate of the project for west zone is also similar.
Some 629 people against the demand of 851 gatemen are now working on a temporary basis at 326 (273 authorised and 53 unauthorised) level crossings, sources said. 
Tenure of the project expired last month, but the authorities are yet to respond to project officials' appeal for extending the tenure by two more years, they said.