Students, officegoers most vulnerable
Educational institutions, offices taking measures to check Aedes mosquito breeding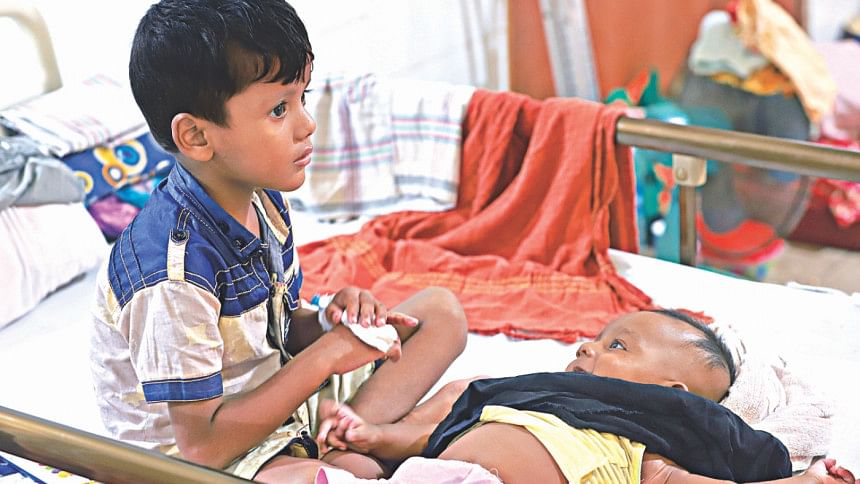 Students and officegoers are most vulnerable to dengue infection, according to a government survey.
In the latest survey on 420 patients, the IEDCR found 41 percent of them are students, 39 percent service holders, 13 percent housewives while the rest form different occupations.
Findings also show that most patients are aged between 5 and 35, with the number of male patients much higher compared to female patients, said Prof Meerjady Sabrina Flora, director of the Institute of Epidemiology, Disease Control and Research (IEDCR).
And with educational institutions and offices opening after Eid, experts recommended regular anti-mosquito drives at these places to prevent a further spread of the disease.
This year's outbreak is already the worst in the country, with at least 51,476 cases detected and at least 97 dead so far. The number of reported infections is five times that of last year. The actual figures are likely to be higher as many cases go unreported.
Just yesterday, four more people, including two students, died of dengue in Dhaka, Faridpur and Sirajganj, hospital and family sources said. 
Students and job holders are at the highest risk as they remain outside home in the morning and evening hours, when Aedes mosquitos, carrier of dengue fever, are known to bite, said Kankar Ghosh, an epidemiologist at Dhaka Shishu Hospital.
These mosquitos usually bite people two hours after sunrise and two hours before sunset, and people of these two groups remain outside home at these hours, he said.
Children are particularly vulnerable because their immune system is weaker than that of adults.
Kankar said that analysing information about 856 dengue patients admitted to Dhaka Shishu Hospital between May to August 16, they found 49 percent were aged 6 to 11 plus.
In efforts to tackle the situation, the DGHS yesterday lunched a mobile App called Stop Dengue, which will help people detect potential mosquito breeding places. This App, available on Google Play Store, will also help create a map of mosquito breeding grounds around the country.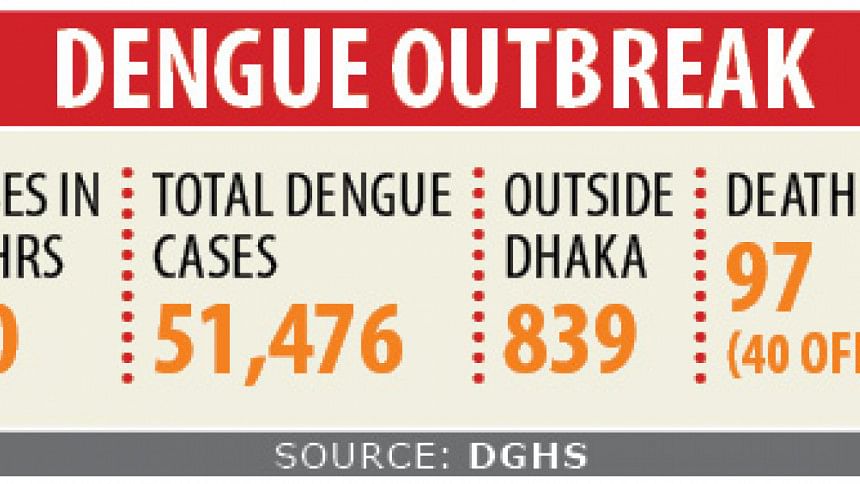 FURTHER SPREAD FEARED
Health experts have warned of a further spread of the viral disease as Aedes mosquitos may have used the empty homes, schools and offices to breed in large numbers during the Eid vacation.
Worried that things could get worse during Eid holidays when many homes in the capital remain unattended for days, the Directorate General of Health Services (DGHS) on August 7 had instructed citizens to cover traditional and western commodes before they left the town.
It also asked them to remove water from the trays at the bottom of refrigerators, from air conditioning drain pipes, buckets, plant pots, and barrels.
On the other hand, the education ministry had asked school authorities to form special committees comprising teachers, staffers, scouts and students to monitor the institutions during the holidays so that Aedes mosquitos cannot breed easily.
These correspondents visited seven schools in the capital yesterday and found the school authorities took various preventive measures.
Five people were seen cleaning the premises of Holy Cross Girls' High School yesterday noon. They also kept unused flower tubs upside down and cleaned those that have plants in them.
Mirpur Girls' Ideal Laboratory Institute acting principal Afrina Parvin was monitoring the cleaning activities herself. She said their two teams regularly cleaned or destroyed possible breeding grounds during the vacation.
Matiur Rahman, headmaster of Gendaria High School, said their team applied mosquito repellent every day during the vacation.
He said they were also spraying Aerosol supplied by the Dhaka South City Corporation.
"It is very important to destroy mosquitos at workplaces. But there is a huge negligence as in many offices people do not want to take responsibility," said Prof Mahbubur Rahman, principal of Norail Govt Mohila College, who did his doctoral research on Aedes mosquito.
On August 7, the Cabinet Division issued a circular asking all ministries and divisions, departments as well as other agencies to take necessary steps so that Aedes mosquitos cannot breed in offices and their surrounding areas during the holidays.
Contacted yesterday, Cabinet Division Deputy Secretary Sazzad Ul Hasan said they did not have any monitoring teams.
"But we believe that all offices acted accordingly," said Sazzad, who had signed the circular.
Many private offices are also taking steps to prevent mosquito breeding.
Nadim Haider Rauf, managing director of Market Fit, Dhaka, said they had dedicated staff for cleaning so that no Aedes mosquito can breed in their office.
Of the four deaths reported yesterday, two were in Faridpur and one each in Dhaka and Sirajganj.
Monowara Begum, 55, died of dengue at Dhaka Medical College Hospital, said her husband Saiful Haque, from Kishoreganj.
Sumon Bashar, 20, a student of Sortajitpur College in Magura, died of the viral disease at Faridpur Medical College Hospital around 9:30am, said Kamonda Proshad Saha, superintendent of the hospital.
Yunus Sheikh, 55, from Sultanpur village in Sadar upazila of Rajbari, died of dengue at the same hospital in the evening, the official added.
In Sirajganj, college student Mehedi Hasan, 17, died around 8:00pm at Sirajganj General Hospital. He was admitted with dengue fever at the hospital on August 14, said Faridul Islam, resident medical officer of the hospital.