RMG protest rages on
BGMEA claims wage of 87pc workers disbursed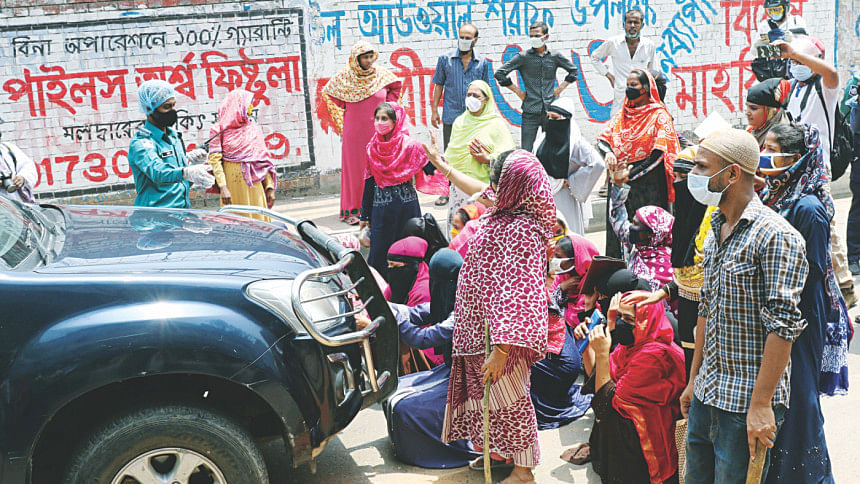 Salaries of about 87 percent of the garment workers have been disbursed, the Bangladesh Garment Manufacturers and Exporters Association (BGMEA) claimed yesterday as workers staged demonstrations demanding wages in different parts of the country, mostly in the capital and its adjacent districts.
The agitated workers blocked many streets and important highways finding no other means as they are finding it extremely difficult to make ends meet.
The BGMEA, the country's apex association of garment manufacturers, said many of the workers who have taken to the streets were not employed by its member organisations but added that they also fall under the purview of the trade body in a broader sense.
It also claimed that the rest 13 percent who have not cleared their dues mostly belonged to the small and medium factories who don't have big buyers behind them and who receive subcontracts from big factories.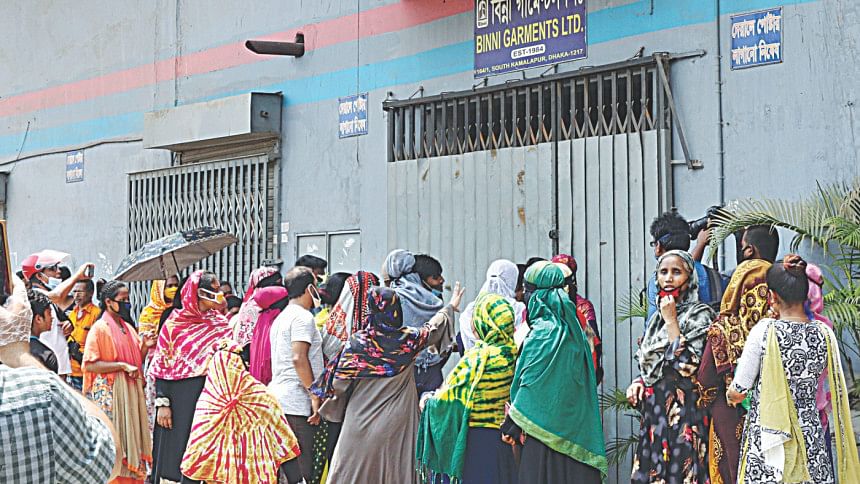 The BGMEA gave this information in a statement disseminated to reporters through a WhatsApp group yesterday.
Without public transport operating, how it could be expected that the salaries would be disbursed in a seamless manner, said Rubana Huq, president of the organisation.
"We will have glitches, but we will overcome. This has been caused as a consequence of a global crisis," she said.
Meanwhile, workers yesterday demonstrated in Dhaka's Mirpur and Adabor areas demanding salaries of March.
Agitations also took place in Savar, Ashulia, Gazipur and Narayanganj.
Around 100 workers of A-One (BD) Ltd in Dhaka Export Pressing Zone (DEPZ) staged sit-in program in front of BEPZA office demanding arrears of the last three months.
Workers said the authorities had earlier announced multiple dates to clear the salaries, but every time they came only to find the factory shut, and the situation was no different this time.
Contacted, Abdus Sobhan, general manager of DEPZ, told The Daily Star that, they were talking to the Italian factory owner and trying to resolve the matter.
Several hundred workers blockaded Dhaka-Mymensingh Highway at airport crossing point demanding the salary of March at around 11:00am.
"If we do not get our salaries we will have to die from starving as we are left with no money," said Asraf Ali, a garment worker.
The workers also blockaded Dhaka-Chattogram highway demanding arrears, reports our Narayanganj correspondent.
The incidents of unrest took place in Chashara, Sonargaon and Kanchpur areas in the district.
Mohammad Hatem, vice president of the Bangladesh Garment Manufacturers and Exporters Association (BKMEA), said the total members of the association is 833.
As of yesterday, the BKMEA could contact 513 units and found that 477 of them have paid salaries to their workers.