Rifat Murder: Questions over a human chain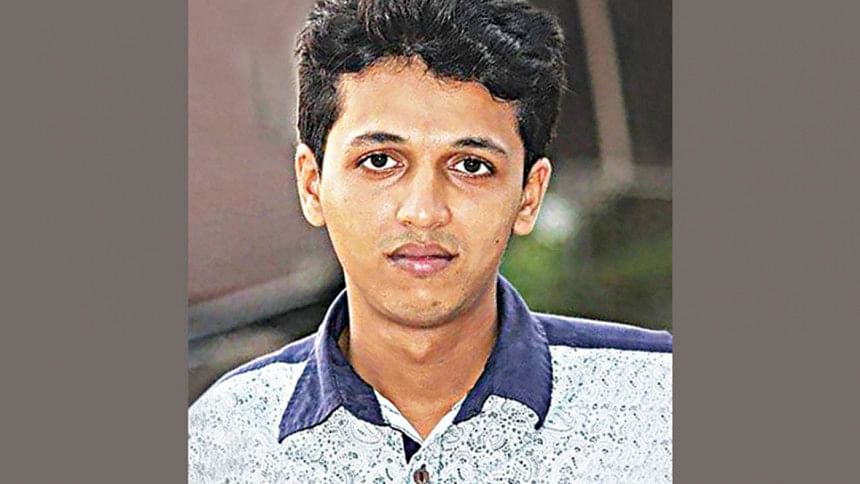 Eighteen days after Rifat Sharif was murdered in Barguna, a human chain was formed in the town to press for the arrest and punishment of his wife Aysha Siddiqa Minni.
A day after the programme on July 14, police took Minni into custody for questioning and showed her arrested in the murder case.
The next day, Minni was placed on a five-day remand. On the third day of the remand, police claimed she gave a confessional statement.
But the human chain, participated by several hundred people and held in front of the Barguna Press Club, has given rise to questions over it.
The Daily Star has talked to around 40 of the participants and many of them said they were asked to attend the programme by some local youths. Some of them said they did not even know why it was organised.
Many others denied that they were there that day.
"I attended the human chain after being asked by some local youths. I did not know why it was taking place," a fruit seller in Barguna Bazar told this newspaper yesterday.
Another youth who repairs mobile phones in the area echoed his statement. He said he was approached by a group of youths and that he had to take part in the programme, or otherwise he could not run his small shop.
Arifur Rahman Maruf Mridha, senior joint secretary of Barguna Awami League, was also seen at the programme.
He said Rifat's father Abdul Halim Dulal Sharif and some youths re-quested him to join the programme when he was passing through the area after dropping off his son at a school.
"I did not know what the demand was. I was really surprised when I came to know that they were calling for Minni's punishment," he said.
He also said, "Minni might have a hand [in the murder], but I believe those who attacked Rifat were involved in narcotics trade and are backed by some local influential people."
He did not name anyone.
Despite being showed photographs of the human chain, several of the participants denied that they attended it.
Talking to this newspaper, a number of those who joined the pro-gramme said they were invited on social media by some associates of Sunam Devnath, son of local lawmaker Dhirendra Debnath Shambhu.
One of the youths, Shateek Rubel, also uploaded a post on Face-book urging locals to join the programme, which was addressed by Sunam, among others.
The human chain came a day after Rifat's father, while speaking at a press conference at the Barguna Press Club, for the first time pointed to his daughter-in-law's involvement in his son's murder.
Sunam was present there as well.
Asked, Rifat's father Dulal Sharif said he did not organise the hu-man chain. Neither did he invite anyone. He, however, said he paid Tk 800 as rent for a loudspeaker.
Contacted, Janata Mike Shop Proprietor, which supplied the loudspeaker, said they received Tk 3,200 from a Jubo League leader named Maharaj.
The banner was made by Bright Digital Sign, which said it was ordered by some youths who identified themselves as "Rifat's friends". The banner cost Tk 800.
Advocate Kamrul Hasan Maharaj, president of Barguna Jubo League, however, said he paid for generator and loudspeaker during Rifat's funeral, not for the human chain.
Rifat, 25, was hacked to death by a group of men on June 26 in Barguna. Video footage of the murder shows Minni trying to save her husband.
Police have so far arrested 15 suspects, including Minni, over the murder.
The prime accused Sabbir Hossain Nayan, also known as Nayan Bond, was killed in a "gunfight" with police on July 2 in Barguna.
The case took a different turn after Minni, a student of Barguna Government College, was arrested on July 16 following a 13-hour police questioning at Barguna Police Lines.
A Barguna court placed her on a five-day remand the next day.
Minni and her family say she is innocent.
On July 16, Minni's father Mozammel Hossain alleged that local MP Dhirendra Debnath Shambhu and his son Sunam were pulling strings behind the scene.
Recently, Minni's lawyer Mahbubul Bari Aslam, also general secretary of Barguna District Lawyers' Association, said Minni was forced to confess her involvement in the murder. He also said she wanted to withdraw her previous statement to submit a new one.
The Daily Star has called Shambhu and Suman on their cell phones several times over the days, but they did not pick it up.
Around 9:00pm on Thursday night, these correspondents visited their party office in the district for comments.
Initially, the caretaker said Sunam was present at the office. But when he learnt that he was talking to journalists, he said Sunam was not there.
Earlier, in an interview with the newspaper, Dhirendra refused the allegation of his son's involvement in any crime. "My son is a very gentle and well-educated person who has been working as a lawyer at Barguna court."