Rape suspect killed in 'gunfight' with police
Three girls raped in 3 districts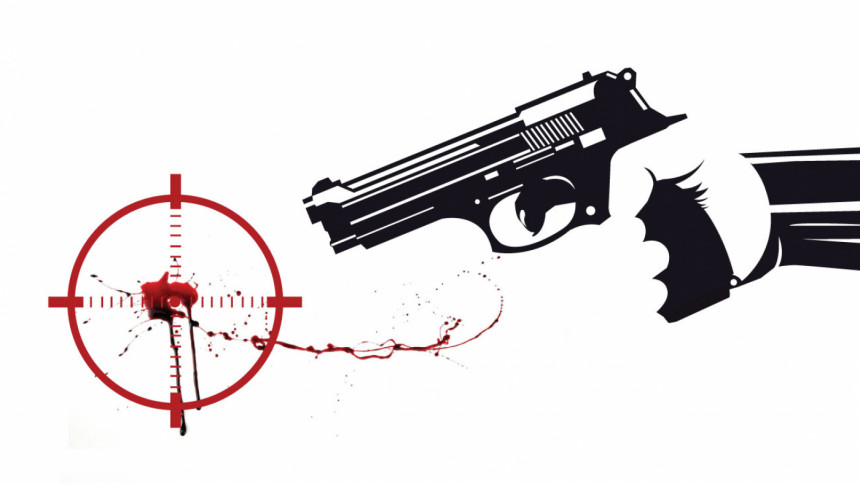 A rape suspect was killed in a "gunfight" with police in Meherpur early yesterday, while three girls were allegedly raped in three districts since Thursday.
In addition, four other accused were arrested and two more sent to jail.
The deceased rape suspect is Yakub Ali Kajal, 30, of Garadoba in Meherpur's Gangni upazila.
Kajal was accused in two cases -- one for raping a 14-year-old schoolgirl on December 20 last year and the other for throwing acid on a woman on April 8 this year, said Sazedul Islam, officer-in-charge (OC-investigation) of Gangni Police Station.
Police arrested him on Thursday evening.
The OC said the information Kajal gave led police to a hideout to recover hidden firearms early yesterday. On the way, Kajal's accomplices tried to take him away, around 3:30am, and opened fire on police, triggering the fight, he said.
When Kajal tried to flee, he was hit by two bullets. He was declared dead at Gangni Upazila Health Complex around 4:40am, said the OC. Kajal used to run a local gang, he said.
Police recovered a firearm and two bullets from the spot.
In Baniachang upazila of Habiganj, a first-grader was allegedly raped by a neighbour on Friday night.
Around 8:00pm, when the seven-year-old was in the courtyard of her house, she was abducted by Jahangir Miah, 20, and raped in a nearby bush, said the victim's mother.
Around one hour later, the family heard screams from the bush and found her gagged with a towel. She was taken to Sylhet MAG Osmani Medical College Hospital.
Rashed Mobarak, OC of Baniachang Police Station, said they were looking for the suspect.
In Kaliganj upazila of Jhenidah, a class-10 student of a madrasa was allegedly gang-raped by two youths on Friday night.
After raping her at a field, around 900 yards from her home, the criminals left her there with the hands and legs tied.
Family members said the girl was coming back home from a neighbour's house around 8:00pm. At that time, the criminals forced her into the field.
Locals rescued the girl early yesterday.
Family members said one of the rapists was Md Alamin, 19, of the same village. The victim could not recognise the other.
Kaliganj police sent her to Jhenidah sadar hospital for medical examination.
A case was filed.
In a separate incident in Kaliganj upazila, police arrested two youths yesterday for allegedly raping a seventh-grader on April 25.
The two are Khairul Islam, 22, and Mortaza Bappi, 23, of the upazila's Balidapara village.
In Tungipara upazila of Gopalganj, a first-grader girl was allegedly raped by her cousin on Thursday.
A case was filed against the accused, Milton Fakir, 22, on Friday.
The victim's mother said Milton is the son of her cousin. "I came to my father's house with my daughter 10 days ago. After having iftar on Thursday, I went to a neighbour's house, leaving my daughter at our house. At that time, Milton came to our house and took her to their under-construction building and raped her," said the mother.
AKM Anamul Kabir, OC of Tungipara Police Station, confirmed the incident.
In Moulvibazar, a court sent two youths to jail on Friday for attempting to rape a fifth-grader in Sreemangal upazila on Wednesday.
In Haziganj upazila of Chandpur, police arrested two youths early yesterday for allegedly getting a teenage girl pregnant after gang-raping her eight months ago.
In Bagerhat, a human chain was formed yesterday by Bagerhat district unit of National Women's Council demanding speedy trial for the rape and murder of a first-grader madrasa student on May 5.
Students from different schools participated in the programme in front of Bagerhat Press Club.
EDUCATION OFFICER SUED FOR RAPE
A 19-year-old woman lodged a case against an education officer in Jamalpur yesterday.
The accused is Md Majedul Islam, assistant upazila education officer in Melandah.
Quoting the woman, OC of Jamalpur Sadar Police Station Mohammad Salemuzzaman said she was raped multiple times after she started working at the house of the accused as domestic help one year ago. He also threatened her not to disclose the matter.
Sensing her pregnancy, Majedul hurriedly married her off to another person in a village of Jamalpur sadar two months ago. The incident came to light when she got the seven-month-old child aborted on Friday.
Police sent the body to Jamalpur General Hospital for an autopsy and DNA test, said the OC.
The accused went into hiding.
(Our Kushtia, Sylhet, Moulvibazar, Jhenidah, Faridpur, Bagerhat, and Mymensingh correspondents contributed to the story.)