Poverty reduction rate slows down
Hardcore poor drops to 12.9pc of population from 17.6pc in 2010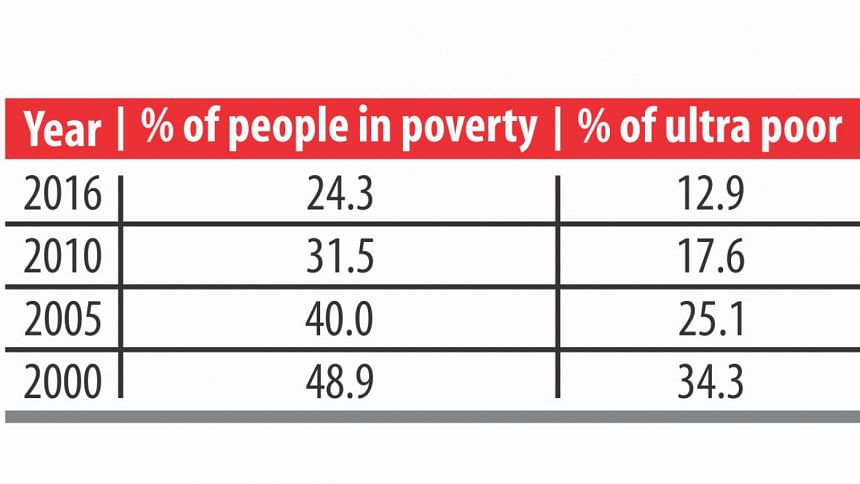 Bangladesh's rate of poverty reduction has slowed down in recent years.
The yearly average rate of poverty reduction has dropped from 1.7 percent, between 2005 and 2010, to 1.2 percent, between 2010 and 2016.
The average poverty reduction rate has been calculated from the data to be revealed through a flagship BBS (Bangladesh Bureau of Statistics) report today, officials told The Daily Star.
Experts noted with concern that a slower growth in agriculture was largely contributing to this slowdown and immediate policy interventions were needed to give the poverty reduction efforts momentum.
They also spoke of a drop in remittance, lack of job opportunities, wealth inequality and challenges of reaching the hard-to-reach poor people. 
According to the BBS' preliminary Household Income and Expenditure Survey (HIES) Report 2016, 24.3 percent of the population is now living in poverty, down from 31.5 percent in 2010.
And the percentage of the ultra poor also dropped from 17.6 in 2010 to 12.9 now.
However, poverty alleviation was faster during the previous five years and that was evident in the previous HIES reports done in 2005 and 2010.
Today's launching of HIES-2016 also coincides with the global observance of the International Day for the Eradication of Poverty. This year marks the 25th anniversary of the declaration of this day by the United Nations. 
This year's International Day for the Eradication of Poverty observance has kept forming of peaceful and inclusive societies in the core of its theme.
Experts noted that to attain the dream of building an inclusive society in Bangladesh, more investment was needed in agriculture, which employs 45 percent of the rural people.
The HIES is one of the core activities of the BBS. It contains a wide range of socio-economic information at the household level that has strong influence in the decision making process of the government.
The BBS generally releases HIES every five years but this time it is a year late.
Akhter Ahmed, who heads Bangladesh country operation of the International Food Policy Research Institute (IFPRI), said a prime reason behind slowing down of poverty reduction was a slower growth of the farm sector over the last few years.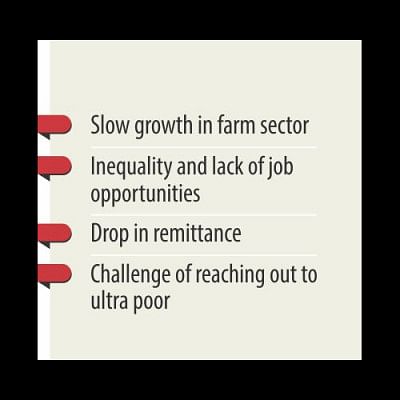 He said the farm sector growth slowed down to just 0.7 percent in 2012-16 period whereas it had posted a robust growth of 4.8 percent in the preceding five years.
"We've consistently posted a good GDP growth and per capita income is growing too. We've to understand that then why the rate of poverty reduction falters. Policy interventions are needed to invest more in agriculture so that farmers can grow more rice in less land and also get better prices by growing non-rice high-value crops," said Akhter.
World Bank's lead economist in Dhaka, Zahid Hossain, said, "It's good news that poverty reduction is taking place but bad news is the pace got slower." 
He identifies increasing inequality and lack of job opportunities a reason. He elaborates, giving reference to BBS Labour Force Survey, that employment rate was 3.1 percent during 2003-10 but it reduced to just 1.9 in the last six years. 
Zahid noted that it was paradoxical that poverty reduction slowed at a time when Bangladesh's GDP and per capita income showed growth. "Question remains who took the fruits of these growths, these must have gone to the richer section of the population," he said.

READ MORE: Rich become richer, poor get poorer
Mentioning the slump in remittance during the latest HIES survey period, he said remittance has direct bearings on rural economy and it plays a vital role in enhancing income of the poor people.
Distinguished Fellow Mustafizur Rahman of the Centre for Policy Dialogue (CPD), however, finds it natural. He said due to the elasticity of poverty reduction, the rate of reduction might get little slower.
He said now the new areas of poverty cut have to be through targeting more marginal groups, like victims of river erosion or people living in remote places. 
"Further reduction would be increasingly more challenging. It will require taking targeted programmes to reach the hard-to-reach people and also expand the social safety net programmes," explained Mustafiz.
Referring to overall economic growth indicators, which were very positive, he said, "Some of these growths are labour-displacing tech-driven growths, which we've to keep in mind."
On the point of inequality, Mustafiz said it would be interesting to see how that was reflected in the HIES today. As the BBS has tripled its sample size for this survey, Mustafiz believed it would give more insight on rich-poor, regional and rural-urban variations.