Poultry feed laced with antibiotics
Govt study on 14 brands find antibiotics in nearly 50 percent of the samples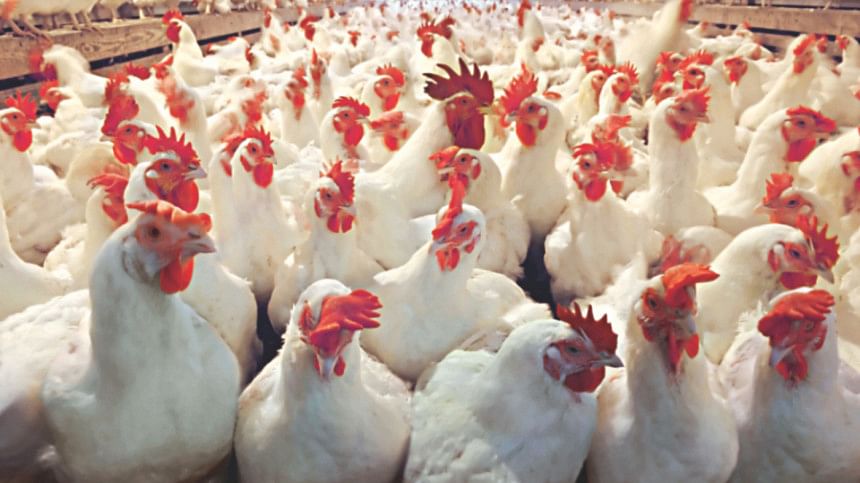 A government study has found various types of antibiotics in almost 50 percent poultry feed samples of 14 brands collected from four districts.
The use of antibiotics in poultry feed is banned in Bangladesh, yet some unscrupulous traders indulge in the practice to ensure low mortality and good growth of chickens, posing serious public health hazards.
The study titled "Value Addition and Standardisation of Nutritional Level in Selected Food items from Animal and Poultry Origin" was conducted jointly by Bangladesh Agricultural Research Council (BARC) and Patuakhali Science and Technology University.
Collected from Dhamrai of Dhaka, Barisal, Manikganj and Dinajpur, the samples were examined last month at SGS Chennai, an accredited lab in India.
The study found antibiotics including Lincomycin, Chlortetracycline, Oxytetracycline, Epichlortetracycline and Epioxytetracycline above the levels acceptable for human health.
For example, the permissible levels of Chlortetracycline and Oxytetracycline in poultry feed are 0.2 to 1.6 parts per million (ppm) respectively.
But the study found the level of Chlortetracycline to be 5,066.85ppm in one sample while that of Oxytetracycline 3860.59ppm in another.
"The presence of antibiotics in the poultry feed poses risks to public health because it creates antibiotic resistance in human bodies," Monirul Islam, director of Nutrition Unit of BARC, told The Daily Star.
If chickens are sold in the market less than seven days after being fed antibiotics, they would not be safe for human consumption, he added.
Moshiur Rahman, president of Bangladesh Poultry Industries Central Council, said the use of antibiotics in the feed is completely banned, but still a section of people are using the substance to have low mortality and high growth of poultry.   
"A section of traders are importing antibiotics through false declaration. They do it to allure small farmers to use their feed... the Ministry of Livestock should strictly monitor it. If one or two are punished, others would be discouraged."
He said although they have set a target that the poultry farms would no more be dependent on antibiotics after 2030, it is possible to stop the use of antibiotics in the poultry sector within four to five years.
ABM Faroque, former dean of Faculty of Pharmacy at the University of Dhaka, said all these antibiotics are popularly known as gross spectrum antibiotics -- used for a number of diseases, and they are a serious public health threat.
"These antibiotics create antibiotic resistant microorganisms in poultry. If such chickens are consumed, the microorganisms will enter the human body and multiply. The antibiotics will not work anymore."
The government should strictly monitor the use of antibiotics in any sorts of feed and ensure exemplary punishment, he added. 
Dr Abdul Jabber Sikder, acting director general of the Department of Livestock, said, "The use of antibiotics in poultry feed is banned. If anyone uses it, we will take stern action."
He added, "Still there is a lack of awareness among people in the field level, so we have to motivate them."
Mohammad Mahfuzul Hoque, chairman of Bangladesh Food Safety Authority, said, "It is very unfortunate and alarming. If antibiotics are found in the poultry feed, it will create antibiotic resistance in human body through food chain. We are working to contain the use of antibiotic."
In Bangladesh, 36 percent of the protein intake comes from poultry sector. Over 400 mills are supplying 3.61 million tonnes of feed, meeting up to 96 percent of annual poultry feed demand. But only a half of these feed mills are registered with the government.
According to the United States Department of Agriculture (USDA) report published last month, Bangladesh's poultry sector is moving towards exporting eggs and meat by 2024.
It said the gap between domestic demand and supply of egg and meat is closing with a growth rate of 15 percent a year.
 The USDA estimates 10 lakh entrepreneurs and 80 lakh people are involved in Bangladesh's poultry sector and commercially produce 10.22 billion eggs and 1.46 million tonnes of poultry meat annually.  
But according to the Department of Livestock, Bangladesh is already producing 15.52 billion eggs against the current annual demand for 17.13 billion.