Plan to Reopen Primary Schools: Health guidelines finalised for kids
Masks mandatory for all; Only two students to sit on each bench; schools to have handwashing arrangements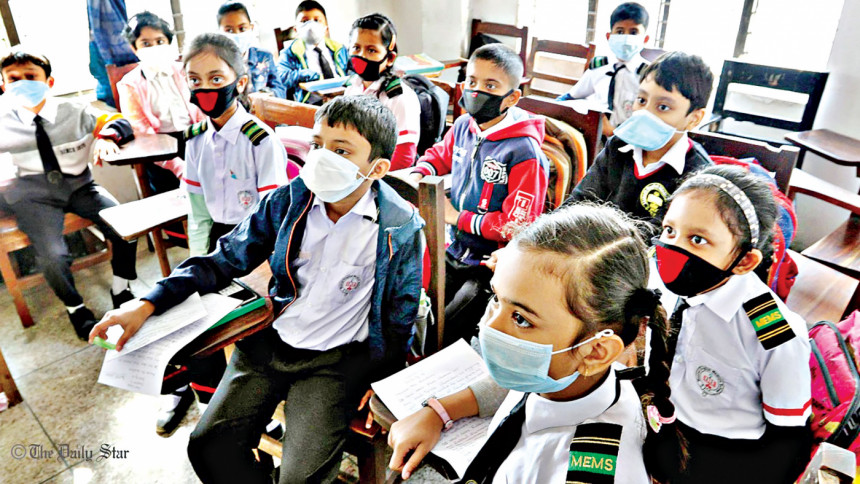 Only two will be allowed to sit on each bench at classrooms after the reopening of primary schools, and everyone in those institutions -- students, teachers and other staffers -- will have to wear masks.
All schools will also have to ensure arrangements for hand washing and measuring body temperature.
Although it is not yet certain when schools, closed due to the coronavirus pandemic, will reopen, the Ministry of Primary and Mass Education has finalised a plan for the reopening, incorporating these provisions following the Covid-19 health guidelines.
The ministry yesterday asked the authorities concerned, including Directorate of Primary Education, deputy commissioners and primary education officers, to make necessary preparations in this regard, said relevant officials.
They also said the government will reopen the educational institutions when the pandemic eases.
"We have finalised the reopening plan and directed the relevant authorities to make preparations in line with the plan," primary and mass education ministry's Additional Secretary Alamgir Muhammad Mansurul Alam told The Daily Star.
The ministry also asked officials concerned to prepare drafts of posters and leaflets to educate students about the health rules. Those will be presented before senior officials of the ministry for approval.
Mansurul said they would also launch a campaign highlighting the health rules through the media. "We will go for the campaign only after the government takes a final decision on the reopening."
According to the plan, school authorities can hold classes shift-wise and on alternative days to ensure physical distancing among students.
All schools will be cleaned, classrooms and office rooms will be disinfected regularly. Cleaning and disinfection will take place after every shift and following every day of classes.
Measures will be taken to maintain physical distancing inside classrooms among students. No indoor assembly will be allowed, according to the plan.
The authorities should prioritise the mental health of the students and make schools a place of joy. Students must be encouraged not to hug each other, said the finalised plan.
"All schools should have a separate reopening plan and they should take measure in line with our plan. If the authorities think they can arrange classes for half the students, they should do it in turns," Mansurul said.
The plan is also to discourage the use of papers at classrooms and encourage more and more online classes.
Besides, the school authorities must ensure everyone is following the health rules properly.
Asked who would bear the cost of the cleaning and disinfection activities, Mansurul said the government, the school committees and others can share the expenses.
"For that, schools need to prepare a budget," he added.
PARENTS' REACTION
As parents came to know about the plan for the reopening, some of them were found confused, while some criticised it.
"This has left us confused. We don't want schools to reopen now even if the infection rate drops. It's a matter of life and death. Thirty to 40 people are still dying every day due to coronavirus," Mahmuda Akter, mother of a class-II student, told this daily.
Ziaul Kabir Dulu, president of Obhibhabok Oikya Forum, a platform of guardians, said it would be impossible for the government to maintain physical distancing among students during class hours. Besides, parents too will gather in front of schools to pick and drop their children.
"There are more than 80 students in each classroom. How can you arrange a bench for each pair of students?" he asked.
Currently, four, five or even six students share a single bench inside crowded classrooms.
Besides, many primary schools have only one classroom and one or two teachers. "Who will monitor all these health protocols?"
He, however, said if the government reopens the schools, it must bear all the additional costs needed to ensure hygiene at the institutions.
DPE's Primary Education Annual Sector Performance Report 2019 supports his comments.
According to the report, 749 government schools are running with only one teacher, 1,124 schools with only two teachers, and 4,018 schools with just three teachers.
Besides, 6,546 have only one classroom and 2,809 have two classrooms. "This situation hampers teaching and learning," said the report.
There are over 65,500 government primary schools across the country.
All educational institutions have remained closed since March 17 due to the pandemic, hampering academic activities of about two crore students of more than one lakh primary schools and kindergartens.
These are not reopening at least until October 3, according to a government announcement.
The government has cancelled Primary Education Completion (PEC) and its equivalent Ebtedayee Education Completion exams as well as this year's Junior School Certificate (JSC) and its equivalent Junior Dakhil Certificate exams.
Instead of public exams, students will have to appear in final exams at their schools.
The PEC and its equivalent exams for fifth-graders and JSC and its equivalent exams for eighth-graders were scheduled to take place in November. These are the two largest public exams in the country.
Besides, first- and second-term exams at primary schools and half-yearly tests at secondary schools have been postponed.
This year's Higher Secondary Certificate and its equivalent exams have also been deferred for an indefinite period from April 1.