No Eid joy for them this time
Thousands face food crisis in flood-hit areas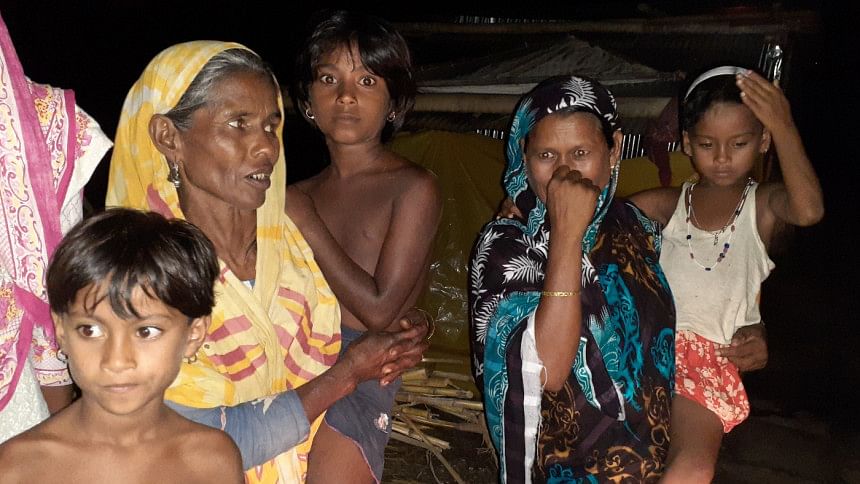 Sixty-year-old Hormuj Ali of Char Kharibari Shoal village in Nilphamari's Dimla upazila, along with his six family members, returned home from local flood shelter but almost nothing of his home was left.
The devastation of the mighty Teesta devoured his homestead. Sitting on a piece of wood in his ruined yard, the elderly was worried about upcoming Eid-ul-Azha as he was completely empty handed.
Although the man received 10 kg rice from the government ahead of Eid but the amount was so insufficient that it would be finished a day before the festival arrives.
Talking to The Daily Star on Wednesday, he said, "I don't know how I could manage some money to bring some special food for my family members on the special day."
Like Hormuj, millions of flood victims are in the same condition. Eid-ul-Azha would bring no joy to those struggling with sufficient supply of food and drinking water. 
In the flood-hit regions, many people have left their houses and taken shelter on flood centres, roads, embankments, rail lines and other safe places.
While visiting Char Sonaigazi-Char Jatindranarayan embankment at Shimulbari union in Kurigram's Phulbari upazila, our correspondent found a large number of polythene wrapped huts.
Villagers in the area took shelter and kept their belongings inside the huts. Some of them were planning to cook using firewood stove while some collecting water and firewood.
The same picture was seen by the two sides of Kurigram-Ramna rail line at Thanahat union in Kurigram's Chilmari upazila.
Banesa Begum, 55, of Char Sonaigazi, said, "I along with my family took shelter on the embankment about four weeks ago as the sudden flood destroyed my homestead."
Asked about their Eid, she said, "All our Eid preparation, including our children's dresses, were washed away in the recent flood. Eid is meaningless to us as we do not have the ability to celebrate the festival."
Another flood victim Safiar Rahman, 65, of Char Gobordhan in Lalmonirhat's Aditmari upazila, said, "Our crops, fishes and everything else have been washed away. How can we celebrate Eid?"
In Gaibandha, around 2.50 lakh people have been affected by flood. Almost all of them are at a miserable state. So, celebrating Eid appears to be a luxury to them.
"We have become homeless. Our houses were eroded by the Brahmaputra around a month ago. Now, we are desperately searching for a new place to live. So, this year Eid means nothing to us," said Morzina Begum, 35, of Aglar Char in Fulchari upazila.
Another victim Ali Akbar, 50, of the Kawyabata Char in the same upazila, said there remained waterlogged for the last 35 days.
"We can't move and none gave us relief. So, we can't think of any celebration like Eid."
In Sirajganj, flood-hit people are struggling to survive. They too will have no festivity of Eid-ul-Azha this year.
"We are struggling to get food for survival every day. We have no joy for the Eid," said Jamiran Begum, of Betilchar village in Chowhali upazila.
About 3.38 lakh people have been marooned in floodwater in the district.
"We have already started distributing special relief among the victims ahead of Eid," said Abdur Rahim, district relief and rehabilitation officer.
In Munshiganj, around 40,000 people have been affected by flood. Many of them cannot trade cattle for the Eid. They have got no dry land left to sacrifice animals.
"This year, it's quite impossible for us to sacrifice an animal because our houses have been submerged. Eid will pass like any other ordinary days," said Rahmam Hossain, a resident of Medenimandal village in Louhajang upazila.
In Manikganj, although floodwater has started receding slowly, flood situation remains unchanged as all the rivers were flowing above danger level.
Our correspondents from Nilphamari, Lalmonirhat, Bogura, Pabna and Manikganj contributed to this report.