MPO for new institutions in a month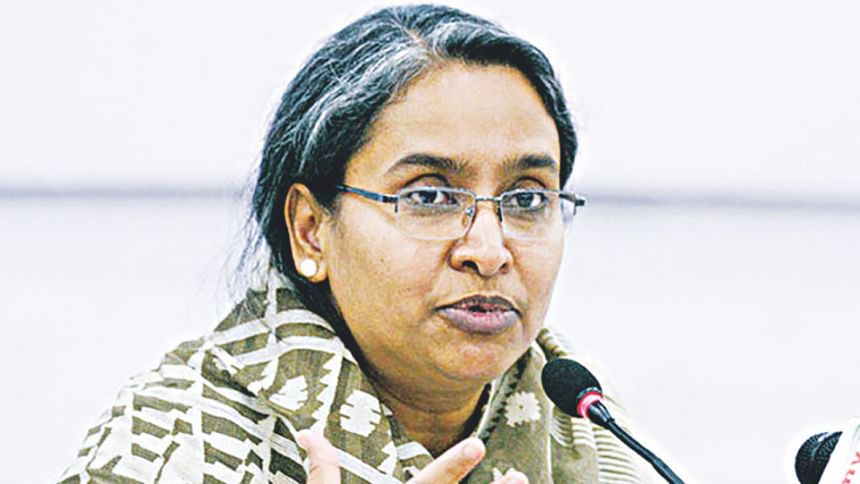 The government is likely to start bringing new private secondary educational institutions under its Monthly Pay Order scheme by a month, Education Minister Dipu Moni said yesterday.
"We have taken all preparations and are hoping to announce MPO enlistment by a month," she said at a meeting at the secretariat with education beat reporters.
She discussed several issues including violence against women, flawed coaching system, combined admission tests, laws and policies relating to education and private universities.
Asked how many institutes would be brought under the scheme, the minister said applications for the MPO enlistment had been sought from private educational institutes.
According to the applications, she said, around 2,500 institutions are eligible to get the benefits.
The ministry is now scrutinising the applications for finalising the list, Dipu Moni added.
MPO is the government's share in the payroll of non-government educational institutions. Under the scheme, the government gives 100 percent basic salaries to the teachers of non-government schools. The teachers also get a small amount a month as allowances through the scheme.
"There are some obstacles. Considering the financial aspect, we need to look into whether we can bring all the eligible institutions under the MPO scheme.
"We want all the eligible institutions to come under the scheme at one go," the minister said.
More than 4 lakh teachers and employees of 26,340 secondary schools, colleges, madrasas and technical institutes are getting the MPO benefits at present.
After a suspension by a BNP-led government for around six years, the MPO scheme was revived by the Awami League-led government which brought 1,624 secondary and higher secondary schools and colleges under the scheme.
But since then, no new school has been brought under the MPO.
Several thousand teachers and employees of government-recognised educational institutions have long been demanding for resumption of the MPO facilities.
UNIFORM ADMISSION TEST
At the meeting, the education minister said she was in favour of introducing a uniform admission test to public universities.
"I know that some universities, especially the major ones, oppose the plan for various reasons. But the uniform entrance test is very important for students and guardians," said Dipu Moni.
Under the system, admission seekers will be enrolled at universities based on the merit list prepared from a single test. For example, students would take one test for a place in any of the science and technology universities and another test for a place in any of the agriculture universities.
This would exempt the admission seekers from time, costs and travels required to take separate admission tests at different public universities across the country. At present, only the medical colleges have a uniform entrance test.
The education ministry in 2010 decided in principle to introduce a uniform admission system, also known as cluster system.