Migrant Workers: Fate of 1.5 lakh up in the air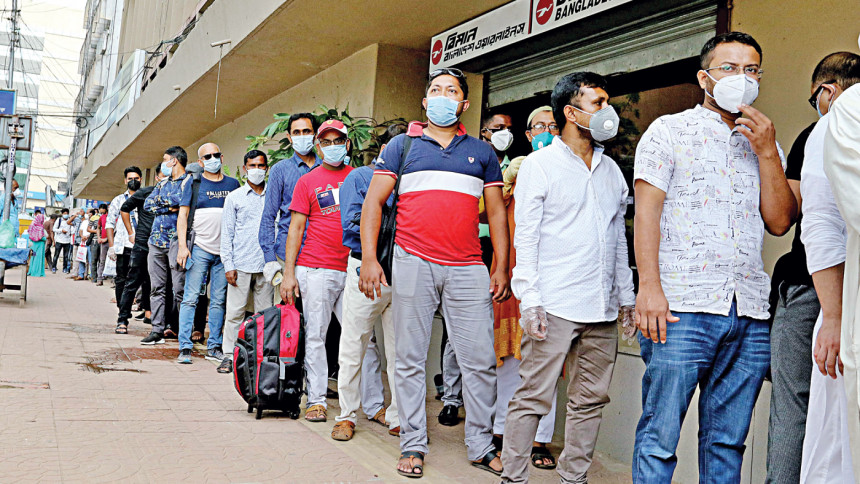 Over 1.50 lakh Bangladeshis are eagerly waiting to return to their workplaces and studies abroad amid a shortage of tickets for the limited number of flights leaving Dhaka. 
They might lose their jobs and have their visas cancelled if they fail to reach the countries on time.
Many of them came back ahead of the pandemic on vacation or for some other reasons, but were unable to fly back because of the coronavirus restrictions.
The rising demand has sent the ticket prices soaring since the international flights from Dhaka resumed on June 16 on a limited scale.
"Finding no ticket for economy class, I was forced to buy a Qatar Airways ticket for business class spending Tk 5.02 lakh. The ticket should be less than Tk 1.50 lakh at any other time," said Mohammad Hossain, who works at a private firm in the UK.
"I had no choice. I might lose my job if I fail to reach London in a week," he told this correspondent.
Migrant worker Anwar Hossain said he had to borrow from his relatives to buy an economy ticket to Italy from the Emirates, spending Tk 1.67 lakh, which is over three times the usual fare.
"My visa would have expired and I would be in trouble if I failed to reach Italy on time," he said.
Airlines officials and the Association of Travel Agents of Bangladesh (ATAB) said before the pandemic, an economy class ticket to any destination in Europe used to be around TK 40,000. But a ticket costs around Tk 2 lakh nowadays.
For the USA and Canada, a ticket now costs between Tk 3 lakh and 3.50 lakh, almost four times the previous rate.
ATAB President Monsur Ahmed said, "People keep calling us asking for tickets. We feel helpless."
Citing government officials M Shahadat Hossain Taslim, who runs Dynasty Travels Ltd, said around 1.20 lakh migrant workers were desperately waiting to return to different Middle Eastern countries, about 25,000 to different European ones, about 5,000 to the USA and Canada and about 1,000 to Australia and New Zealand.
Aviation expert Kazi Wahidul Alam said the Civil Aviation Authority of Bangladesh (CAAB) should allow the local and more foreign airlines to operate from Dhaka to cope with the demand. The airlines should also be allowed to increase their number of flights from Dhaka.
Qatar Airways used to operate 21 flights and Emirates 28 flights from Dhaka each week. Both are now restricted to three flights a week.
Air Arabia was granted permission to operate two transit flights on Dhaka-Sharjah route each week. The budget airlines used to operate 28 flights before the pandemic.
CAAB Chairman Air Vice Marshal M Mafidur Rahman said only Biman, Qatar, Emirates, Turkish and Air-Arabia airlines were allowed to operate a limited number of flights so as to avoid crowding at the airport.
"Several other airlines have applied for resuming their operations in Dhaka. We will decide after evaluating the Covid-19 situation," he added.
Biman is now operating one flight on Dhaka-London route a week.
The national airliner was supposed to resume flight operations to Dubai and Abu Dhabi this week. But the decision was postponed after the foreign ministry asked Biman not to carry any passengers from there.
Turkish Airlines is yet to resume its flight operations from Dhaka.
Meanwhile, Rahat Rafee, who returned to Bangladesh from Germany on February 15 for a month, said he bought a Qatar Airways ticket for over Tk 80,000, which used to be less than Tk 38,000.
But that flight on July 2 was cancelled and the airline authorities told him that he will have to wait until August.
"I had a three-month visa, which has expired. If I cannot reach Germany within six months, I will have to start the visa process from scratch. I might also face trouble where I work part-time besides studying," added Rafee.
BANGLADESH EMBASSIES
M Tauhidul Islam, labour counsellor at Bangladesh embassy in Manama, told The Daily Star that the mission was working to help expatriate Bangladeshis regarding visa issues.
Officials at Bangladesh missions in different Gulf countries said many Bangladeshi expatriates were requesting them to help them renew the visas that expired during the pandemic.