Impact of Rohingya Settlements
Locals face graver food insecurity
Says an int'l report on food crises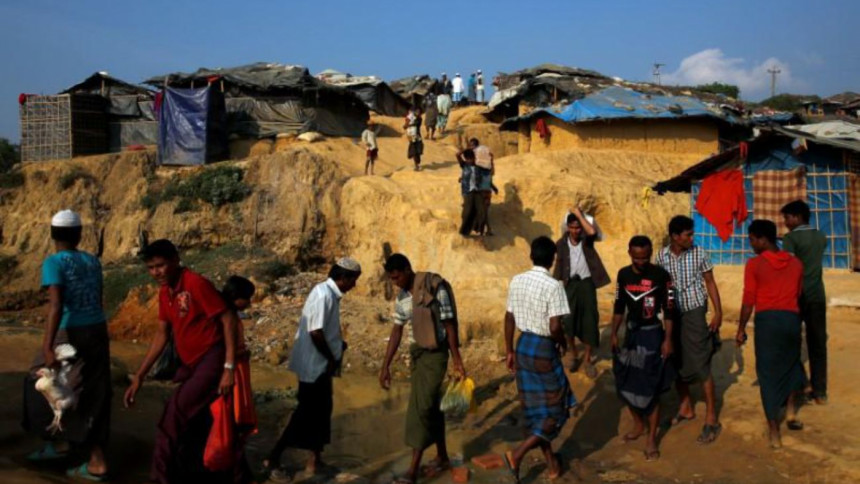 Locals in Cox's Bazar are facing increased food insecurity as an impact of the influx of Rohingya refugees, according to a global report released yesterday.
The "2019 Global Report on Food Crises (GRFC)" was released by the Global Network against Food Crises, whose members include the United Nations' Food and Agriculture Organization (FAO), World Food Programme, and the European Union.
"In Cox's Bazar the influx of refugees has aggravated the already-fragile situation of one of the poorest and most vulnerable districts in Bangladesh and the host populations face higher levels of food insecurity than the Rohingya refugees from Myanmar," the report said.
"Many have lost access to farm lands, fishing grounds and forest resources and have been deprived of their livelihoods. Many of them have been compelled to work as wage labourers, but the availability of cheaper refugee labour has made jobs scarce and pushed down daily wage rates."
According to the report, the locals also face decreased access to basic services and an increase in staple food prices because of higher demand.
Food security for host communities showed a marked deterioration, with the percentage of households with poor or borderline food consumption increasing sharply from 31 percent in 2017 to 80 percent in August to September 2018, the report said.
"Yes, there is a crisis. The crisis will be aggravated further in the coming days. Locals are using the agricultural lands for commercial purposes as it is more profitable. The amount of agricultural land is on the decline and it will have adverse impacts on the local community," Md Kamal Hossain, deputy commissioner of Cox's Bazar, told The Daily Star.
Between August 2017 and March 2018, at least 100 hectares of agricultural land in Teknaf and Ukhiya have either been occupied by Rohingya settlements or rendered useless by sandy soil flowing down from the mountain slopes, the report said.
"Local farmers in Teknaf and Ukhiya have always faced a lack of fresh water for agricultural production. However, fecal contamination levels in the affected areas has intensified scarcity of clean water for cooking and normal daily hygiene, while the population increase has massively increased overall demand for fresh water."
The report said almost 2,000 hectares of forest reserves have also been damaged due to settlements, which has deprived the local community of earning a living from the forest resources.
"Around 750,000 kg of timber, vegetation and roots are collected daily from the forest for cooking fuel," it said.
Since the crisis escalated in August 2017, a ban has been placed on fishing in the Naf River for security and border control reasons.
"This prohibition has placed significant pressure on an estimated 30,000 to 3,000 fishermen and their families," the report said.
Speaking to The Daily Star, Refugee Relief and Repatriation Commissioner (RRRC) Md Abul Kalam said, "Yes, local community is facing some problems but the crisis is not as big as the report is portraying. In the Rohingya Response programme, more than three lakh locals were included."
The worst food crises in 2018, in order of severity, were in Yemen, the Democratic Republic of the Congo, Afghanistan, Ethiopia, the Syrian Arab Republic, the Sudan, South Sudan and north Nigeria. These eight countries accounted for two thirds of the total number of people facing acute food insecurity -- amounting to nearly 72 million people.
According to the report, 14.7 million people facing food insecurity and in need of urgent action are from four countries in South and Southeast Asia (Myanmar, Afghanistan, Bangladesh and Pakistan), which accounts for 13 percent of the GRFC 2019 total.
The report warns that war, extreme weather and economic downfall in 2018 have left more than 113 million in dire need of help.
The study covered acute food insecurity data for 53 countries and excluded 13 countries and territories including North Korea, Venezuela and Western Sahara due to a lack of recently validated data.