Killings on Campuses: No punishment in most cases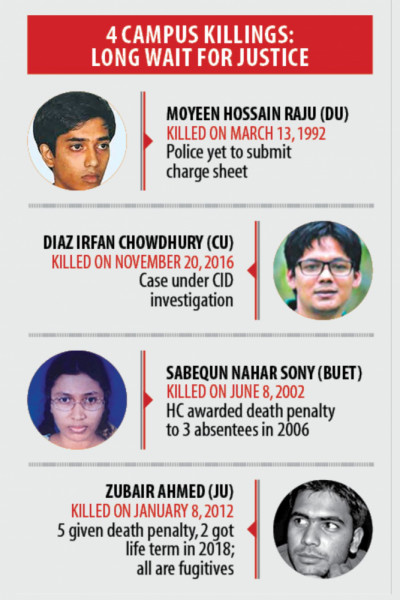 Delays in investigations and no punishment of perpetrators of gruesome campus murders have fostered a culture of impunity at public universities. 
Political analysts, and former and current student leaders say the link between mainstream political parties and student fronts is a key reason behind the lack of justice in such killings. 
The Daily Star looked through newspaper reports and books on student movements and found that no one was brought to book for at least 151 killings that took place at universities since independence. 
The floodgates to the murders opened in 1974 when DU saw its first student killing after Chhatra League men fired on and killed seven. 
The incident may also have begun the present culture of impunity.
Four years after those killings, a court sentenced Shafiul Alam Prodhan, the then general secretary of BCL, and others to life-term imprisonment. But they all were set free during Ziaur Rahman's rule.  
Since then no other perpetrators of campus killings has faced any punishment. The campus witnessed sensational killings including that of Chhatra Union leader Moyeen Hossain Raju in March 1992. He was shot while participating in an anti-terrorism procession on the day.
Raju's classmate Abdullah Mahmud Khan said that a case was filed in this regard but police never submitted a charge sheet. 
Campus killings have come under the spotlight again after the murder of Abrar Fahad, a second-year student of electrical and electronic engineering department at Buet, at the hands of BCL men. 
Abrar's father Barkat Ullah filed a case accusing 19 including BCL leaders and police have so far arrested 10 BCL activists.   
But if history is anything to go by, then not much can be expected of it.
Usually activists of ruling-party backed student organisations took part in the killings. 
The Daily Star found the highest of at least 74 people killed at Dhaka University, followed by 29 at Rajshahi University and 19 at Chittagong University.
Besides, 16 others were killed at Bangladesh Agricultural University in Mymensingh, seven at Jahangirnagar University, two each at Islamic University in Kustia and Bangladesh University of Engineering and Technology (BUET), one each at Mawlana Bhashani Science and Technology University in Tangail and Shahjalal University of Science and Technology in Sylhet.
At Chittagong and Rajshahi universities, which were Shibir strongholds, the student front was at fault for more killings than any other party. 
On Buet campus, Sabequn Nahar Sony, a second-year student of chemical engineering, was killed when two factions of the BNP-backed Chhatra Dal exchanged fire in June 2002. 
The execution of the verdict in the Sony killing case is yet to take place as police had failed to arrest the main accused Muki and Tagor even after 13 years, said Sony's father Habibur Rahman. 
The High Court in a verdict in March 2006 awarded life imprisonment for three absentee killers.  
In another incident, the body of Diaz Irfan Chowdhury, a Chittagong University student and BCL assistant secretary, was found hanging in his flat near the university campus in November 2016. 
Diaz's mother Jaheda Amin Chowdhury claimed Diaz was murdered and then she went on several hunger strikes demanding justice. 
The victim's family members later met the Assistant Superintendent of Police Jasim Uddin Khan of Criminal Investigation Department (CID), Chattogram, also the investigation officer (IO) of the case, to let him know that the accused were roaming free on campus.
Advocate Jubaida Sarwar Nipa, elder sister of Diaz, told The Daily Star, "We asked the IO why they are not arresting the accused. He sought evidence from us," she said, asking whether it was the family's responsibility to collect evidence. 
Asked why justice was delayed, she said it was due to the negligence and unwillingness of the administrations concerned, coupled with interference from influential political leaders. 
Even the investigators are still in the dark as the IOs have been changed at least thrice in the last three years.
Contacted, ASP Jasim Uddin Khan of CID, Chattogram, and also the IO of the case, refused to make any comment on the matter. 
"Parent organisations misuse student organisations politically. They also save student leaders from punishment, taking advantage of different loopholes," lawyer Jyotirmoy Barua told this newspaper
In another incident, Zubair Ahmed, an honours final-year student of Jahangirnagar University, was tortured and stabbed to death by some BCL men in January, 2012.
Six years later, the HC sentenced five BCL men to death over the killing. But, the decision is yet to be executed. 
"No one was punished as they [perpetrators] escaped the country. We are helpless… It's the state's duty to bring the culprits back," the victim's elder brother Abdullah Al Mamun told this newspaper.
At Dhaka University, Islamic history student Abu Bakar was killed in February 2010, in a clash between factions of BCL at AF Rahman Hall. A committee formed by the hall authorities is yet to submit its report nine years after the incident. 
Police arrested eight BCL men in the case filed by a student, but they were all released later.
Frustrated with the negative changes, Dhaka University history department supernumerary professor Syed Anwar Husain said, "Student politics has now become dirty politics.
"Ruling parties should take the responsibility to create a healthy environment on campuses. But most of the times, the perpetrators do not even face trial. On the contrary, they are sheltered by ruling parties," he said.
Communist Party of Bangladesh President and former student leader Mujahidul Islam Selim also blamed political links of the perpetrators for the impunity they enjoy. "Chhatra League and Chhatra Dal do politics of looting when their parent parties – Awami League and BNP -- are in power. That is why such killings take place," he said. 
"Ensuring exemplary punishment to the killers and exercising idealistic politics could establish peace on the campuses," he observed.